Not everyone has the luxury of owning a big kitchen, clad with storage space.
When you want to make the most out of every inch, you need to adopt as many space-saving tactics as you can. So, here are some trends that you will definitely want to try this year.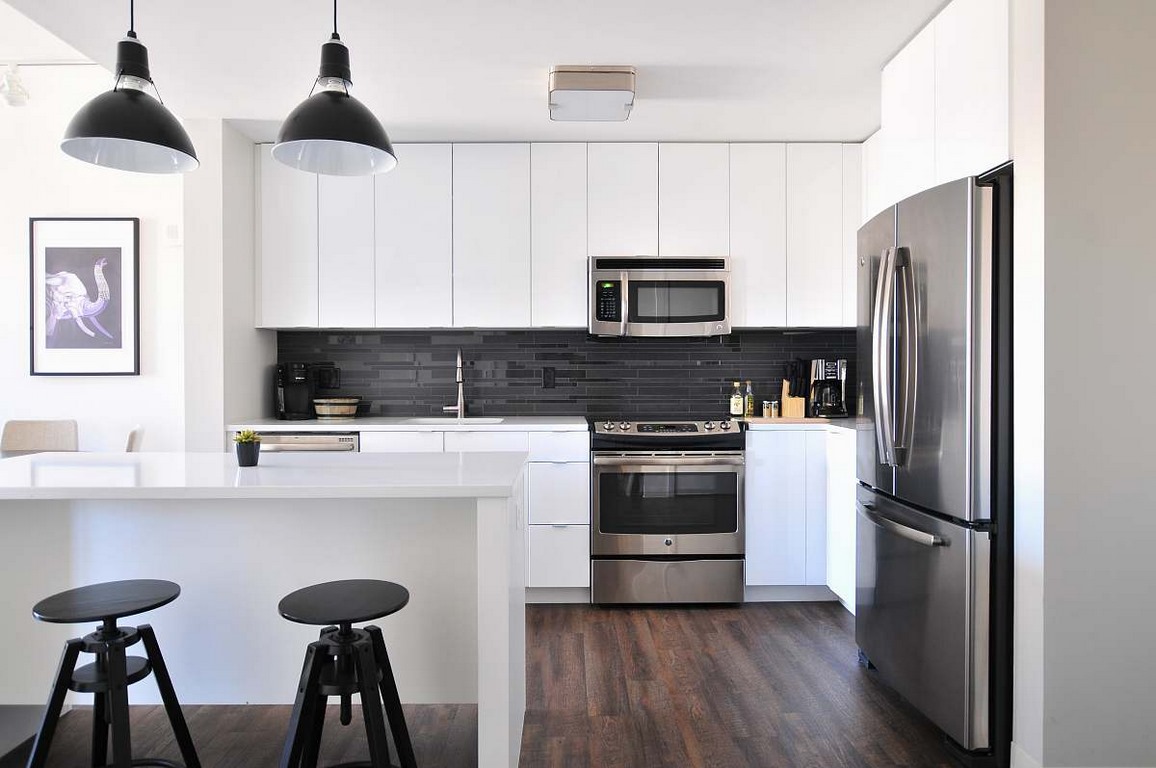 Install RTA Cabinets Over One Wall
If you have a small kitchen, you might want to make the most out of the space you have. That being said, rather than putting just a couple of RTA cabinets here and there, you might want to pack up just one wall with cabinets.
Tall rta kitchen cabinets are a great choice here, as they will use all the empty space in your kitchen.
"Creating a bank of cabinetry along one wall is a great way of streamlining and opening up space.
Tall wall units are particularly suited to narrow, gallery-style kitchens as using this space ensures the area feels less cramped than if filled with larder-style dressers," recommends Tom Howley, UK-based interior designer.
Create a Storage Bench
Have you ever wondered how much space goes unused in your dining nook? Most people use chairs and for aesthetic purposes, no one really likes putting anything underneath them. Not to mention that it would make pulling the chair very difficult.
This is why you may want to opt for a storage bench instead. These benches have hidden compartments where you can store your kitchen stuff, whether it's bulk purchases, rarely used kitchen electronics, and so on.
Set Up Invisible Hardware
Many times, hardware takes up a lot of the space. You might not notice it until you realize you are constantly bumping into it.
Consider installing invisible hardware to make the place seem bigger and less cluttered.
"When you lean up against the counter, you don't want to feel a handle poking into your side.
You also want a clean surface where you see the materiality of the surface. We have been generally seeing less hardware and more integrated pulls or touch-to-open cabinetry.
It makes working much more efficient," says Stephanie Goto, a professional interior designer.
Put Up a Pegboard
Pegboards are a great way to save space in the kitchen. There are many pre-fabricated pegboards you can buy in stores, but if you have a special design in mind, you can have them custom-made.
This way, you can make the most of the wall space that usually goes unused.
---
Read Also:
---
Get a Mobile Kitchen Island
Kitchen islands might seem like they take space, but in truth, they offer you more space. After all, you will need a flat area to prep food or eat on it.
You'll be tempted to get a table – but it would be a much better idea to add a kitchen island instead.
This way, you can use the space underneath for storage and save space throughout the rest of the kitchen.
"Don't think that if you have a tiny kitchen you can't have an island. You can; you just need to put it on wheels so that when you're working and you need an island, it's there, and when the guests arrive, you can push it over to the side or move it into the dining room or living room and let it be the bar," says kitchen and bath designer, Ellen Cheever.
Go for Small Appliances
Technology is taking a greater step nowadays, which means there are a lot of options for high-tech, small-sized kitchen appliances.
After all, if you have a small family and a small apartment, you probably don't need that two-foot fridge taking up your whole kitchen.
There are also many choices for other appliances as well; flat stoves, mini ovens, and so on.
Unless you are cooking for a battalion, you don't need the full-sized models. A convection oven will work better in this case, as it is small enough to simply put on your countertop.
The Bottom Line
Regardless of the size of your kitchen, you always need to make the most out of what you have.
By using these space-saving techniques, not only will your kitchen look cleaner and less cluttered, but you'll also be able to stay organized.