When brush bristles fan out or clump together or when paint runs down a wall or just doesn't roll out at all, it's time to find out why. Understanding paint is the key.
Choosing a paint brush or roller sleeve has more to do with the type of paint than the surface itself. There are exceptions to the rule but understanding the paint or stain is used for the job will make the difference.
For example, staining a fence using a nylon brush with oil-based stain will be difficult; using a bristle brush will make the project much easier. The reason is quite natural.
How to Choose a Paint Brush or Roller Sleeve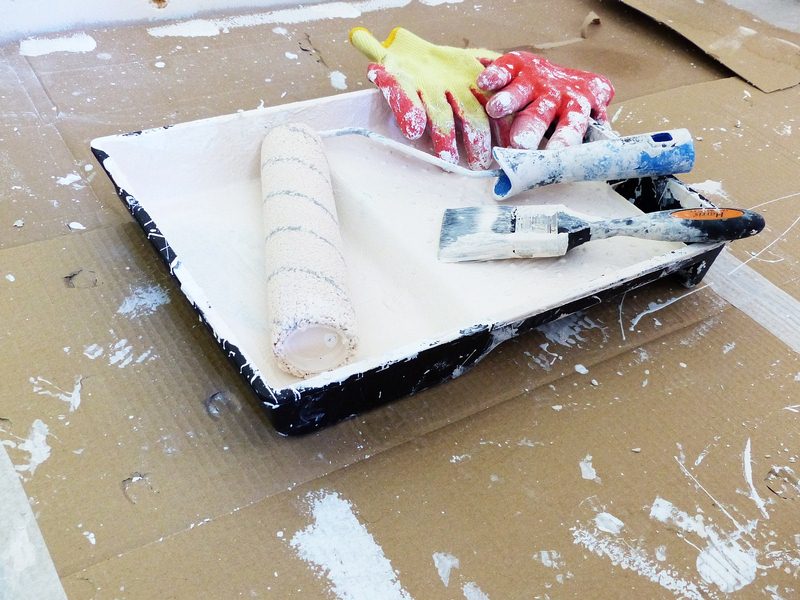 ---
Read Also:
---
Natural with Natural, Man-made with Man-made
The popular choices for homeowners these days are acrylic latex paint products. Acrylic and latex are man-made materials. The best choice for these is a brush also manufactured with man-made materials.
Polyester and nylon are not naturally occurring materials and work extremely well with acrylic or latex. Oil-based paints apply best with natural or pure bristle brushes as the components compliment each other.
Think of when a dog has a bath; the fur fluffs up because it absorbs the water. The same thing happens when a natural bristle brush is used with acrylic latex paint. The water from the paint is absorbed by the bristles, causing them to fan out. This makes achieving a clean edge when painting trim or cutting in a wall very difficult.
The opposite is true when using a polyester or nylon brush with an oil-based paint. The solvent in the paint slightly melts the polyester or nylon hairs of the brush, clumping them together and making it difficult to brush the paint out on any surface. Women often use clear nail polish to prevent nylon stockings from running as the acetone in the polish melts the nylon threads together; the same principle applies here.
What Makes Paint Appear Shiny or Dull?
The type of paint has more to do with the roller sleeve than the surface being painted does. Consider why paint looks the way it does. Why does some paint appear very shiny and other paint appear very dull? The length of time the paint is ground or blended in the manufacturing process has a great deal to do with these results.
The labeling on roller sleeves can be very deceptive. They are generally described regarding the type of surface they will be applied to, not the type of paint they will be applying. For instance, a roller sleeve for a "semi-smooth" surface is likely to have a 10 to 15mm roller pile, or about 3/8 to 1/2 inches depth. If the plan is to use a semi-gloss paint, no problem. If the application is a flat finish paint, there will be problems.
Dull looking or flat paint is quite coarse in nature so a thick or high pile sleeve is necessary as the roller fiber will be slower in drawing the paint in. Shiny or gloss paint is high ground until it is blended to be extremely fine. The roller fiber can pull glossy paint in quite easily so a low pile roller will work well.
The same theory applies in reverse. If the fiber draws the paint in easily, it will release it easily, too. This is why a high pile roller sleeve with gloss paint will have the paint running down the wall; too much paint with very little resistance. Flat paint with a low pile roller sleeve? Too little paint with too much resistance will make it very difficult to roll it on the wall and the roller will have to be frequently reloaded.
Phenolic Rollers, Slit Foam Rollers, Lambswool, and Exceptions
Phenolic Rollers
When applying any acrylic latex or water-based product, us a roller sleeve with a phenolic core. Most roller sleeves are made this way now but there are still inexpensive sleeves available with the old style cardboard core. Although oil-based paint won't fare much better, a water-based product on a roller with a cardboard sleeve will have the core soaking up the water and swelling it.
The sleeve will probably have to be cut from the roller cage before you can proceed with your job. Phenolic cores won't absorb any paint, they slip off the roller cage easily and, in bulk, won't cost much more.
As with every rule, there are exceptions. If painting a cinder block wall, a brick wall or any other severely uneven surface, the paint and the surface will require equal attention to get the job done well. When painting a stipple ceiling, a slit foam roller will form its way around the peaks and valleys of the stipple, giving a uniform finish regardless of paint type.
Slit Foam Rollers
Foam brushes or foam roller sleeves are the best choices for most clear finishes on wood because they create the fewest bubbles. An exception to this rule is the use of foam applicators of any kind when using clear lacquers for your project. The lacquer solvent will attack the foam and melt it into a stringy mess.
Lambswool Roller
Lambswool roller sleeves, while expensive by comparison to most roller sleeves, will last a long time if properly cleaned and cared for. They are an exception to the inexpensive bulk buy; do some price comparisons when these are on sale as they are economical if a lot of painting is planned.
In order to make the right choices for roller sleeves and brushes, it is necessary to ask the right questions. The information provided here will assist in achieving a job well done.