Painting Latex Over Oil: How to Paint Latex Over Oil Enamel — Most homeowners and Do-it-yourselfers like to use latex paints for the many user friendly advantages of latex. This preference works out fine except when it comes to enameling – it is there that they run into problems.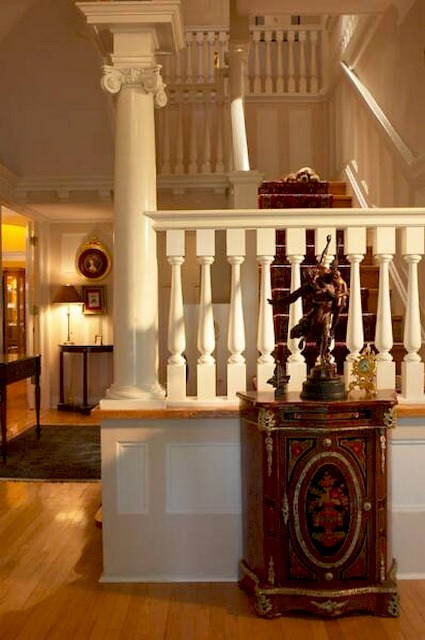 Painting Latex Over Oil: How to Paint Latex Over Oil Enamel
Professional painters on the other hand tend to go with the paints that make their work stand out. Quality of finish rather than odor or clean up conveniences guide their selection process.
All is fine and well until it comes time to paint the woodwork in that new house that the painter enameled with oil based paint.
The woodwork in the new house was professionally painted at the time of construction and the painter used his favorite oil enamel – because it leveled out so well and made him look good. So, now that it has come time to repaint the trim – how do you go about painting latex paint over oil based enamel?
Must Read: How to Paint Faux Italian Plaster, Mottled Wall Technique
Clean – Dull – Dry
Let's start with the universal rule for repainting. Clean, dull and dry. You can paint over any painted surface that fits that description. Let's look at these three points before we begin thinking about putting on any finish paint. First it must be clean.
Clean
Dirty and contaminated surfaces will repel coatings applied over them. If you want the paint to "stick" the substrate must be clean. A good cleaner for repainting woodwork is Krud Kutter's "Prepaint Cleaner". Spray it on and wipe it off. No need to rinse it off.
Give the cleaner some "dwell" time to penetrate into any grime before wiping it off. If it has been awhile since the last painting, clean it twice, and / or use a scouring pad in conjunction with the cleaner. Don't scour if you are unsure about the age of the paint on the surface or if the trim is old – pre-1978 (see the following caution – do not disturb any lead based paint)
Dull
( Note: do not sand or scour a pre-1978 painted surface as it may contain lead –see EPA lead page before proceeding )
I highly recommend dulling the previous enamel before painting it. The only exception to this rule is where there is the presence of lead based paint, in that case, simply clean the surface thoroughly and use one of the recommended primers listed below.
Sanding, resurfaces the substrate and provides a fresh, clean, anchor for the primer. You are always better off if you sand. You can accomplish both cleaning and dulling in one step by using the scour pad with the cleaning. You can do this in lieu of sanding.
One of the nice qualities of based enamel is that they sand easily. Latex paints are gummy and sticky and will gum up the sand paper when you sand them. Oil paints do not gum up the paper making a light prepaint sanding possible. Latex paints are better prepared with the scour pad along with the prepaint cleaner.
Use fine sanding paper (220 grit) or sanding sponges, you want to degloss, and level out any old brush marks and knock off any debris off of the old paint. Once sanded, remove the sanding dust with a shop vac and follow that up with a wipe down using a micro fiber tack rag. Don't use a "regular" tack rag before using a latex paint, the oil in the tack rag will repel the latex paint.
Dry
I will skip any lengthy dissertation on this other than to say the surface needs to be dry, allow the prepaint cleaner to dry etc…
Priming
This is the critical step when converting over from oil to latex. You must prime. Use either an oil primer or shellac based primer for the priming.
There are some latex primers that may work, but you may get a crackle finish with some of the latex primers. I don't take the chance, oil and shellac primers have been used for years for converting oil to latex, stick with the sure thing.
Recommended Primers
Xim 400 white (oil)
Zinsser's Coverstain (oil)
B-I-N (shellac)
Use good ventilation with these primers during and after priming, as the are each have a strong odor.
Once the woodwork is primed you may paint with the latex enamel of choice from this point onward and you have successfully converted over to latex.