Bathrooms are one of the busiest rooms in every household. It is the room the entire family jams up on a workday morning, trying to get ready for school and work.
It is also the room where we do all our self-care routines and relax in the evening. Also, while our guests might not see our bedrooms, there is a pretty good chance they will have to use the toilet. The bathroom, therefore, needs to be practical but also inviting.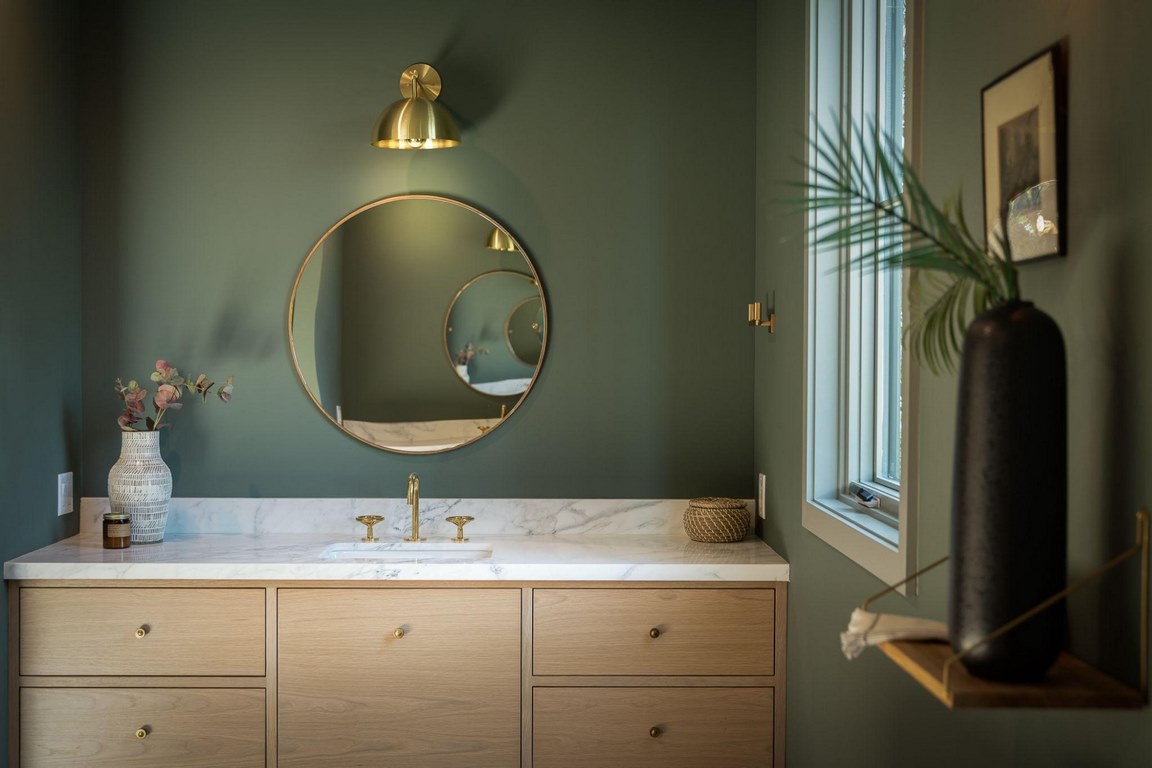 Because they are used often, and because of the humidity, bathrooms can quickly start looking unpleasant.
Every house has that old damp bathroom rug that lays there, waiting to be replaced. There are many things that you can do to make your bathroom look great and improve its hygiene.
Sure, you can change the tiles and the floors, but let's take a look at five things you can do to remodel your bathroom easily and affordably.
Repaint
The most efficient and economical thing you can do that will add both to the hygiene and the appearance of your bathroom is to repaint it.
As walls can get moldy, giving them a fresh lick of paint is always a good idea. Besides, it opens up thousands of possibilities for a new look.
Going for lighter shades will help reflect the light and make the room look bigger. Darker colors, on the other hand, can make the space feel really comfy and stylish if applied strategically just to some of the walls.
You can play around by creating a contrast between your walls and tiles or personalizing the bathroom by using several of your favorite colors.
Further, you can experiment with different finishes. For example, the space can feel larger if you paint your ceiling with paint that has a sheen.
Finally, try performance paint – paints that have also an extra function such as being more resistant to humidity. You can opt for a classical semi-glossy paint or a modern and stylish matte one.
---
Read Also:
---
Renew Your Fixtures
Another great way to bring a new shine to your bathroom that doesn't have to be expensive is changing your fixtures.
Old taps and shower heads could be leaky and less functional because of limescale. The build-up is not only preventing good water flow but can make the fixtures look dirty and unattractive.
Installing new bathroom fixtures is easy, but can be highly effective. It leaves plenty of space to play with different designs, colors, and finishes.
Depending on your style, you might go for a matte black minimalist mixer tap, or for something a little more daring, shiny bronze or golden vintage taps. Your sink and shower will instantly look more luxurious.
Refresh Your Tile Grout
The grout between your tiles might seem like a small detail but it can drastically change the look of your bathroom.
Not only is it a place where mold grows very quickly, but, if you have white or any lighter-colored tiles, dirty grout can be very noticeable.
For a good long-term re-grouting, you will need to grind the old grout out and refill it with a new compound.
Once you have hand-cleaned the old one, the easiest way to replace it is by using a grout pen that you can find in the local hardware store.
For an extra touch of creativity, you can pick an unexpected color for your grout. Contrasting grout and tile combinations are very popular right now, and also very convenient.
Accessorize
The bathroom is full of little things that, by being replaced, could easily change the feel of the whole room.
You might ignore the damp rug on the floor, but the things you touch with your hands every single day, like the soap tray or the towels, contribute significantly to the overall bathroom comfort. Replacing these accessories with fresh varieties is a change that won't break the bank.
Think about the toothbrush holder, soap tray, toilet-paper holder, shower curtain, hooks, and towels. All very easy to replace.
With a little extra effort, you could also change your towel rails, toilet seat, and mirror. There are a million variations in the design you can create when accessorizing.
You could match all the details for a classic bathroom feel, or opt for a more eclectic style by getting accessories with different colors and patterns.
Bring in More Light
Nothing really changes a room as much as light. A bright bathroom looks bigger and is more functional. If you have a natural source of light, don't shut it with heavy blinds.
If you need privacy, dress up your window glass with some patterned self-adhesive foil. This will bring an extra designer touch without blocking the light.
Furthermore, you can do a lot by tuning the wattage of the bulbs. We suggest that you increase the wattage and choose a brilliant white instead of soft-white for the main source of artificial light, but decrease the wattage for the mirror light.
Many bathroom activities require a powerful central light source, but a glaring mirror light might not be functional nor flattering when you are trying to apply makeup, for example.
For this reason, use a lower-wattage, preferably energy-efficient LED bulb, and place it at eye level on both sides of the mirror.
If you have extra funds, you could also change the light fixtures altogether. This doesn't have to require a great outlay but may add a lot to the atmosphere.
Play with the materials, textures, and designs, and don't shy away from making a statement, for example, with a chandelier.
Functionality, hygiene, and comfort are essential for a bathroom, and the good news is that they are very easy to attain.
Renewing your bathroom doesn't have to become an encompassing enterprise and you don't need to spend a fortune.
With the easy tips we have provided you in this article, the bathroom will become your favorite room in the house, and you will be looking forward to spending some well-deserved me-time in it.
Don't forget to always have some amazing smelling soaps, multi-ply toilet paper, and soft clean towels. Enjoy!