We spend around half our energy budget on heating and ventilation, so learning about the best HVAC systems is an excellent proposal.
The best HVAC system should be airtight; with all ducting being fully insulated to prevent loss of heat in winter and loss of cool air in the summer.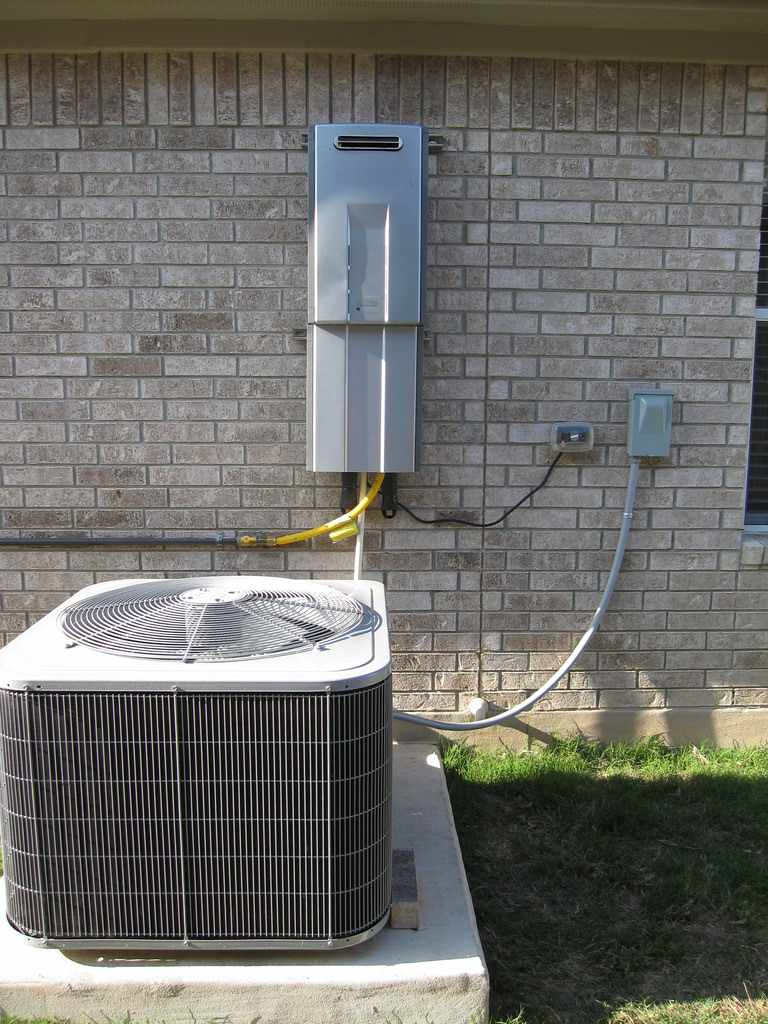 What is the Best Home HVAC System?
A home HVAC system consists of a furnace that supplies hot air through ducting under the floors and in the walls of our homes during the winter months. The furnace is most efficient when fired on natural gas.
The ductwork also supplies cold air in summer produced by an air conditioning unit. So what is the best home HVAC system? The system should be energy efficient and approved by Energy Star.
It should include an air purifier and a humidifier/dehumidifier. The air filters should be disposable and easily changed, all ducting being insulated, well supported, and leak-free.
Introduction to Learning about the Best Home HVAC Systems
The working principles of Heating, Ventilation, and Air Conditioning (HVAC) systems are not too difficult to understand.
Learning about the best home HVAC systems can save you money on energy bills, as at least half of our energy use in the homes is consumed by these systems. On average, a new AC unit costs $3500 and $5950 with the installation.
Maintenance of the main components along with temperature control are the main culprits that run away with our energy.
In this article we will learn about the best HVAC systems that can be used to heat our homes in winter and cool in summer, and what components they should comprise of.
We begin with an overview of a typical home's HVAC system, including the furnace, A/C unit, and ducting.
Overview of a Typical Home HVAC System
---
Read Also:
---
Hot Air Heating System
This consists of a furnace that can be run on electricity, natural gas, or heating oil. A typical oil/gas furnace is shown below.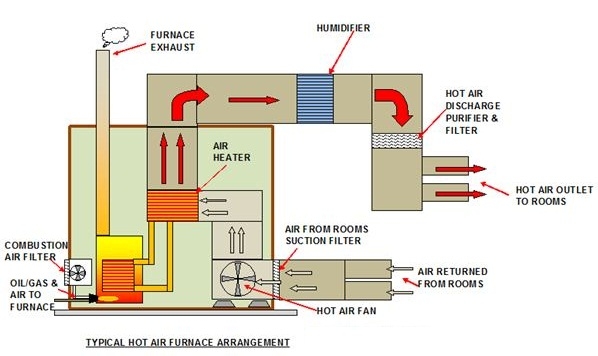 The electrical ones are mostly obsolete, being very expensive to run and posing more health risks. I once had a bungalow that was heated by an electric hot air system, and Caroline our youngest girl, had asthma.
We found that this type of heating brought on frequent attacks, due to the dust and dry air.
I lifted a few floorboards and found some of the ducting to be lying on the dusty solum (the space between the ground and floorboards) blowing dust up through the floor vents.
I reconnected these and put a few dishes of water about the house, which definitely helped Caroline to breathe more easily.
That was over 30 years ago. Nowadays, humidifiers and air purifiers prevent children and adults with allergies from being irritated by hot air heating.
The furnace heats up the air through a heat exchanger, then a fan circulates hot air around the room via underfloor and wall ducting. The cooler air is returned through another set of ducting back to the furnace.
It is imperative that this ducting is insulated and as leak-free as possible by checking the underfloor ducts.
The wall ducts are difficult to check as they are behind the plasterboard. (If you suspect duct leaks behind the plasterboard, a professional HVAC contractor can perform diagnostic tests on the system.)
Air Conditioning Systems
Briefly, an A/C unit operates on the principle of a refrigerant gas being circulated by a compressor through condenser coils that are cooled by the outside air, changing the gas to a liquid.
It then passes through an expansion valve that cools the refrigerant, before being passed through a set of (evaporator) coils.
The air from inside the house is passed over these cold coils and is cooled, meanwhile turning the refrigerant back to a gas that is fed back to the compressor to start the cycle again.
The cooled air is circulated through the ducting by a fan; keeping the rooms in the house at a comfortable temperature.
Both the heating and cooling systems should be controlled by a programmer and a room thermostat. A typical air conditioning unit is shown below (from Wikimedia Commons).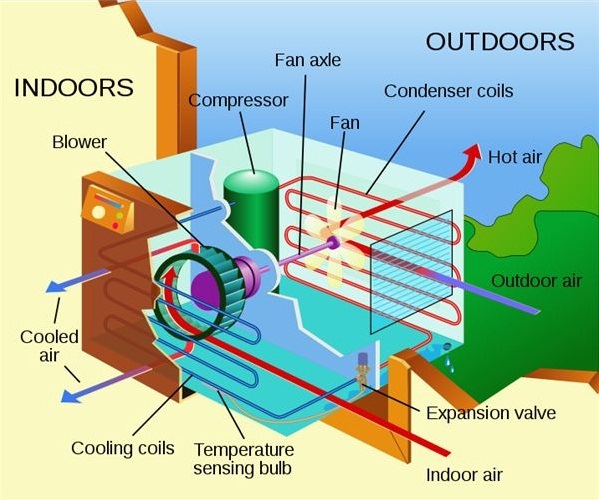 Ducting
As we have seen before, the ducting must be checked for leaks as some experts estimate as much as 20% of energy is lost through leaks and poor insulation.
Ductwork should be well insulated and adequately supported to avoid sagging sections and vibration that can promote leaks from joints. I have included a sketch below to illustrate this, and how the air is circulated.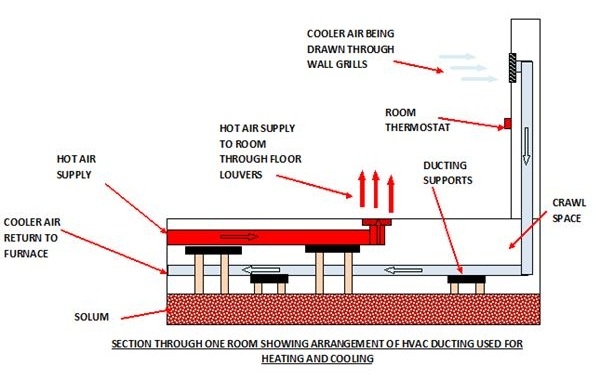 Components of the Best HVAC Systems
The best HVAC systems should have the following components:
Air Quality
Air Humidifier/de-humidifier
It is important that the air is neither too wet, nor too dry. This is controlled by a humidifier to add moisture to the air, and a de-humidifier which eliminates the moisture from the air.
The modern purification systems contain a fine paper or cloth filter to remove fine dust and particulates.
They can also have an integrated plate that is coated with a catalyst that reacts with a UV light, removing chemicals as well as odors from the air stream.
Furnace
An energy-efficient furnace as recommended by Energy Star and the EPA will be the most economical to run either on natural gas or heating oil. A furnace of this category can qualify for a government tax credit.
An insulated acoustic enclosure will ensure the quiet running of the unit as combustion and air circulating fans can be noisy.
An easily changed disposable combustion air filter is a must as these need regular replacing.
Some modern units have a device that enables zoning of air to different rooms; this is an energy-saving component of the furnace unit.
A programmer is also essential to set furnace operating times. A programmer that allows time and day operation is best. This enables weekday and weekend timing control of the furnace operation.
Air Conditioning Unit
Most of the requirements already noted above for furnace can be applied to the A/C unit, with the following additions:
It is imperative to have the refrigerant charge checked regularly; at least before the summer season starts. Low refrigerant content can reduce the efficiency of the A/C unit by up to 25%.
The pressure and quantity of the airflow should also be checked, optimum settings ensure maximum efficiency and comfort.
References for the Best Home HVAC System
Energy Star: Efficient heating and cooling
Common Things That Go Wrong in HVACs: https://www.dreamlandsdesign.com/common-things-wrong-hvac/
Image via Flickr by Roger Mommaerts: https://www.flickr.com/photos/rmommaerts/4517106662