Of course! Table saws are great and they cut really well, but when it comes to portability and comfort, you can't beat a miter saw. Though miter saws and table saws share some of their features, you can't substitute one for another.
Miter saws are great as they do intricate cutting jobs precisely. Besides, there is a portability concern as many miter saws come up with battery-powered. However, our concern is not a battery-powered saw in this article.
If you're interested, you can find a comprehensive article on the cordless miter saw on our website or by simply just searching.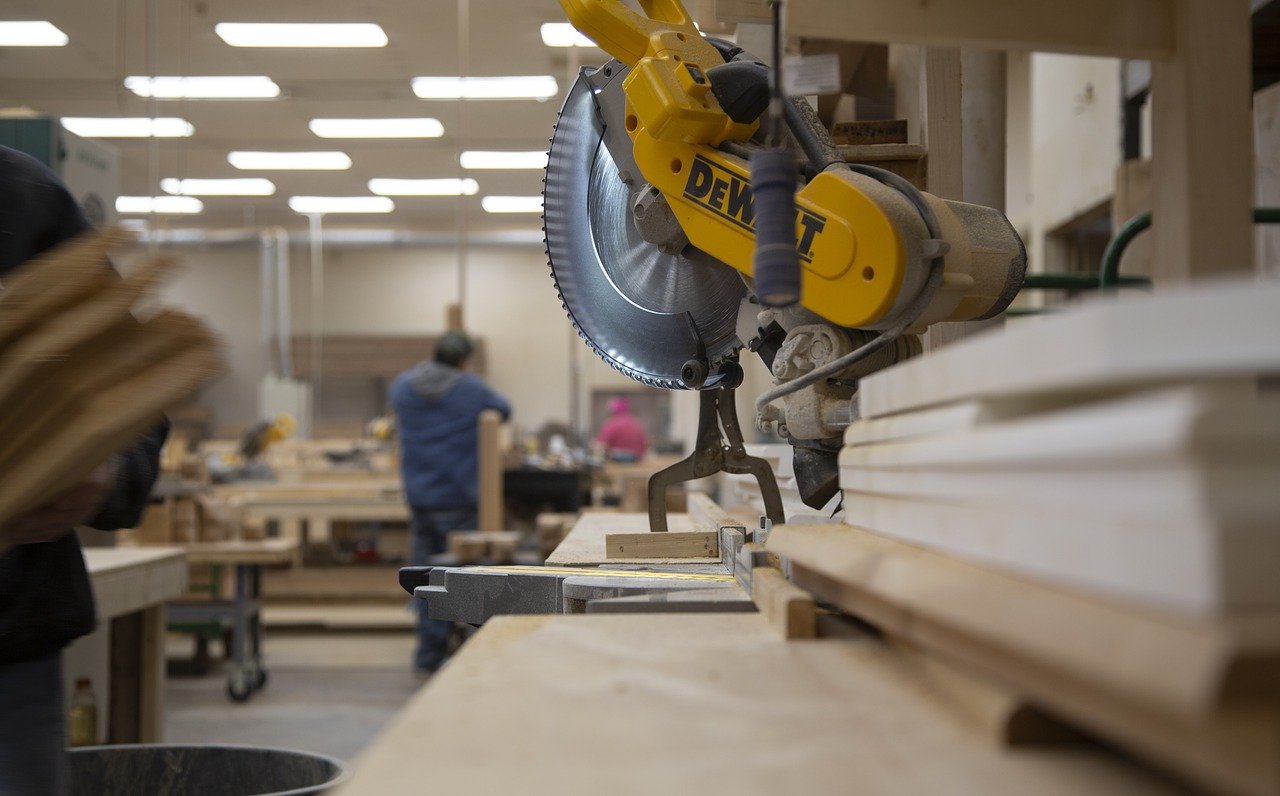 In this article, we're going to discuss different types of miter saws and what they're good at. Besides, we're going to share the features you must have in your miter saw.
So, make sure you read this article, before purchasing as we'll be telling you What to Know When Buying a Miter Saw.
Different Types of Miter Saw
Basically, there are three types of miter saw in the market available right now. Those are,
Compound miter saw
Dual bevel miter saw
Sliding miter saw
Compound Miter Saw
This type is most common over the home workshops and other garages. This one is a simple type as it comes up with fewer features. It's a fixed position miter saw.
With this, you can cut a one-way bevel as it tilts only one side 45 degrees. It's easy to operate and you can set it anywhere.
However, the market says, it's an economical choice if you have straight light jobs to do with it.
Dual-Bevel Miter Saw
This type gives you more versatility than a compound one as it tilts two ways and allows you to cut your wood or non-ferrous metal objects from different angles without moving your material.
It tilts 45 degrees to the right and 45 degrees to the left as well. A Dual bevel miter saw comes up with a different blade option by the way.
Sliding Miter Saw
Now, this is the most versatile form of miter saws available right now. As a sliding miter saw moves forward and backward and it gives you great comfort.
It also improves your cutting length and depth. A sliding miter saw is for heavy and long tasks.
Though sliding miter saw come up with a compound method and tilts only one way. There are exceptions that make a dual bevel miter saw. Those are a bit heavy and require more space.
---
Read Also:
---
Different Types of Blade Sizes
For miter saws, there are basically three types of blades available. Those are (measures in diameter)
7 and a ¼ inches
10 inches
12 inches
7 ¼ Inches
This type of blade is used in a compound miter saw. They are light and easily cut through a 2 inches depth wood piece.
10 Inches
The cutting depth of this blade is 3 ½ and this blade is a bit heavier. This size is perfect for cutting decks and fences.
12 Inches
The heaviest blade size and it's basically used on a sliding miter saw. Crown molding, baseboard cutting are easy with this size of the blade.
But this size blade requires a proper setup as it's a bit heavy and operating this is a bit tough.
Features to Check When Buying
As we're done with the miter saw types and blade types for a miter saw, let's check out what features you must have in your miter saw.
Positive Stops
This feature allows you to lock your material at an exact position. It makes cutting easier and makes sure that your material isn't moving.
Laser Guide
When it's a precise cutting job, a laser guide can be a way out. It projects a thin line of light on the material you choose to cut. This makes cutting more comfortable and precise.
Dust Collector
When you're cutting woods, you don't want your garage or workstation to go full of dust. In this case, you need a miter saw that comes up with a dust collector.
Some of them have to feature of attaching a wet/ dry pack.
Soft Start
This is basically the startup of a machine. The soft-start feature manages the intensity of motor start-up. This gives you the assurance of a decent and refined cutting.
Scale
To make your measurement clear and precise, you need a scale that's marked accurately and clearly. Make sure your miter saw has that.
The Fence or Material Support
The material support deck has to be sturdy and stable. It'll make sure that you're cutting really well and accurately.
Blade Guard
The blade guard is basically for safety. It'll make sure no harm is occurring if you accidentally slide your hand.
Trigger-Lock and Blade Tooth
The trigger lock helps you to control your machine instantly and easily. Buy a miter saw with a good trigger lock. Blade tooth count depends on you.
If you go for a lower tooth count, you'll get a few rough finishes. If you want soft finishes, go for a higher blade number.
Battery or Electricity
As technology is improving day by day, battery-powered miter saws are available now. If you want a portable miter saw to take it here and there, that a battery-powered miter saw will be good for you.
But if you're buying it only for home tasks, why waste the money? An electricity-powered miter saw will be enough for you.
Conclusion
So, this is what to know when you're buying a miter saw. We've tried to discuss the types of miter saws and the blade sizes along with what features do you need to get the best miter saw.
If you have any questions or queries, feel free to leave a comment below or contact us directly. To read other articles, keep checking our website.
Thank you!