When you're looking to buy a miter saw, it's easy to become bogged down with all the terminology and end up feeling stuck.
We're here to help you with that today.
If you're a highly accomplished woodworker, this brief guide is not for you. If, on the other hand, you don't know the difference between a sliding or non-sliding miter saw and you want a little clarification on compound miter saws in general, you're in luck.
We'll look at each of these miter saws in turn so you can determine which best meshes with your woodworking needs.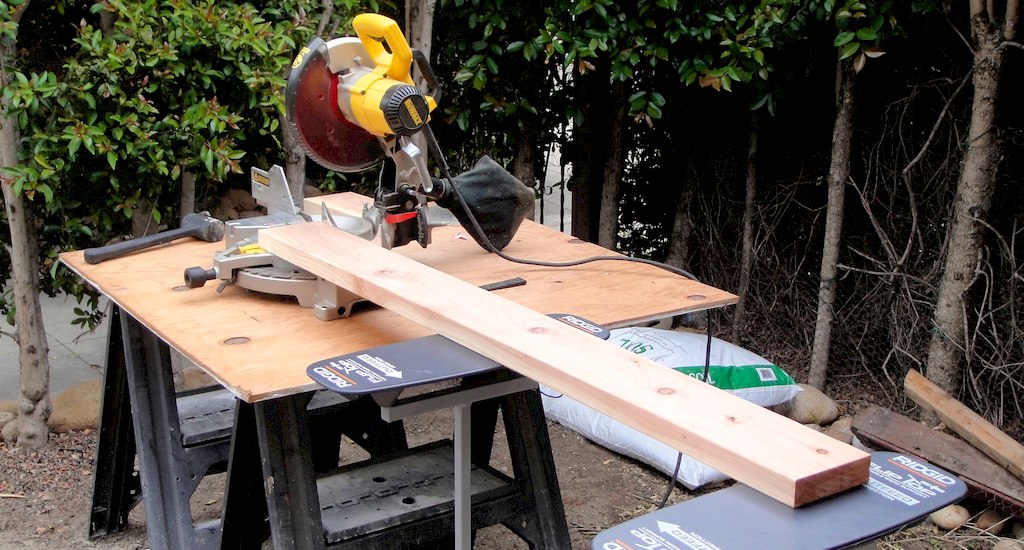 ---
Read Also:
---
Why Do You Need a Miter Saw in The First Place?
If you're confronted with any woodworking project where you need to cut angles or bevels in trim work, you'll know the pain and time consumed of trying to do this by hand.
With larger projects, it's really not a practical option.
When you're looking to make angled crosscuts, there's no substitute for a great miter saw. Once your angle is set, all you'll need to do is hold your workpiece against the fence and you'll get clean, accurate cuts every time with practically no effort.
While you might think buying a miter saw will immediately solve your problem, you'll be confronted with an immediate decision.
Which type would work best?
We'll look first at the simpler compound saw which is actually deceptively versatile and gives you much more latitude than an entry-level miter saw limited to miter cuts.
Compound Miter Saw
Non-sliding models are often referred to as compound miter saws.
Don't be fooled into thinking non-sliding saws are limited. You'll still be capable of churning through a range of applications.
You'll have 4 basic cuts at your disposal thanks to a pivoting arm you can tilt to angles other than 90 degrees:
Angle
Bevel
Compound
Cross-Cut
This gives you much more latitude than a standard-issue non-compound miter saw.
Since you can execute bevel cuts, a compound miter saw works well for any project where you need to create corners that fit snugly and securely together.
To give you a concrete example, picture frames and moldings are classic fodder for a compound unit. You'll also be able to create accurate trim work for the outside of your house. Baseboards, door, and window trim are also a cinch to work on with the best compound saw.
Compound saws also come into their own if you need to undertake any heavy-duty cutting of wide workpieces.
Assuming you've got the right blade in place, you'll even be able to work with metal using a compound saw.
As a rough guideline, you'll be able to cut through boards to 6 inches wide with a non-sliding miter saw assuming you've got the right blade in place. With no rails to get in the way, a compound model is ideal for working with these wider boards.
Our favorite compound miter saw overall is hands-down the DeWalt DWS715 12-inches.
Sliding Miter Saw
Giving the outstanding functionality of a standard compound miter saw, you might be wondering why you should bother with a sliding saw.
Well, when you're working with oversized crown moldings as you'll commonly find on upscale houses or the jumbo baseboards on period homes, you'll be working with material up to 12 inches wide.
You can certainly take care of this with a compound saw but you'll need to cut twice and flip the workpiece. For a one-off project, this perhaps presents no problem. If you're continually engaged in this type of work, though, that time and effort soon add up but there's an easy answer.
With a sliding miter saw, you'll get a bigger and heavier saw that's capable of commensurately heavier-duty cutting.
The saw head slides on rails so you're getting a much more specialized unit that stretches the definition of portability but in return, a highly capable beast.
While sliding saws are costly, you'll get a rapid return on investment if you frequently work on larger projects.
As well as making those cuts in wider boards, you can deal confidently with trim work and you'll also be able to cut much longer lengths without the need to flip your board.
Angle cuts are a breeze and you'll be able to create precise specialty corners. You'll get a neat and accurate fit.
Sliding saws can also help you churn through lumber, bigger boards, and logs.
Sliding saws come in single and dual-bevel variants.
As is self-evident, a single-bevel sliding saw allows you to make cuts in just one direction. To make a cut in the other direction, you'll need to flip your workpiece, reset the angle, and cut again.
You'll save yourself a lot of grief with a dual-bevel sliding saw. You can make cuts to both rights and left. All you need to do is use the pivot arm to flip your saw and you'll get unerring accuracy with the minimum of effort.
Our overall pick for best sliding miter saw is the DeWalt DWS780, a dual-bevel model with a full laser kit.
If money is no object, consider the Festool Kapex KS 120 sliding saw, which produces commercial-grade cuts and has built-in dust collecting port.
Verdict
As with most aspects of assembling a workshop and power tools, make your buying decisions personal.
Think closely about your intended usage and seek out the best solution for you rather than hoping for a one-size-fits-all answer.
For smaller jobs and anything requiring cutting longer materials, a compound miter saw is an obvious choice.
If you're looking for a little more versatility and you also need to increase cutting capacity, a sliding miter saw makes more sense. These are undeniably more expensive but you should keep one thing in mind…
Building up the best woodworking equipment is something that can take a lifetime and should never be rushed into. Looked after properly, these tools can last you a lifetime, too so you should never begrudge spending out on your woodworking arsenal.
Come back soon for more handy hints to make your life easier and don't forget to bookmark our site making Miter Saw Judge your go-to power tool resource.