By default, stock lumbers are unevenly squared off. You can accomplish many woodworking projects with it.
But if the project requirement is precise cutting, you will need to know – how to square a board with a table saw of your own.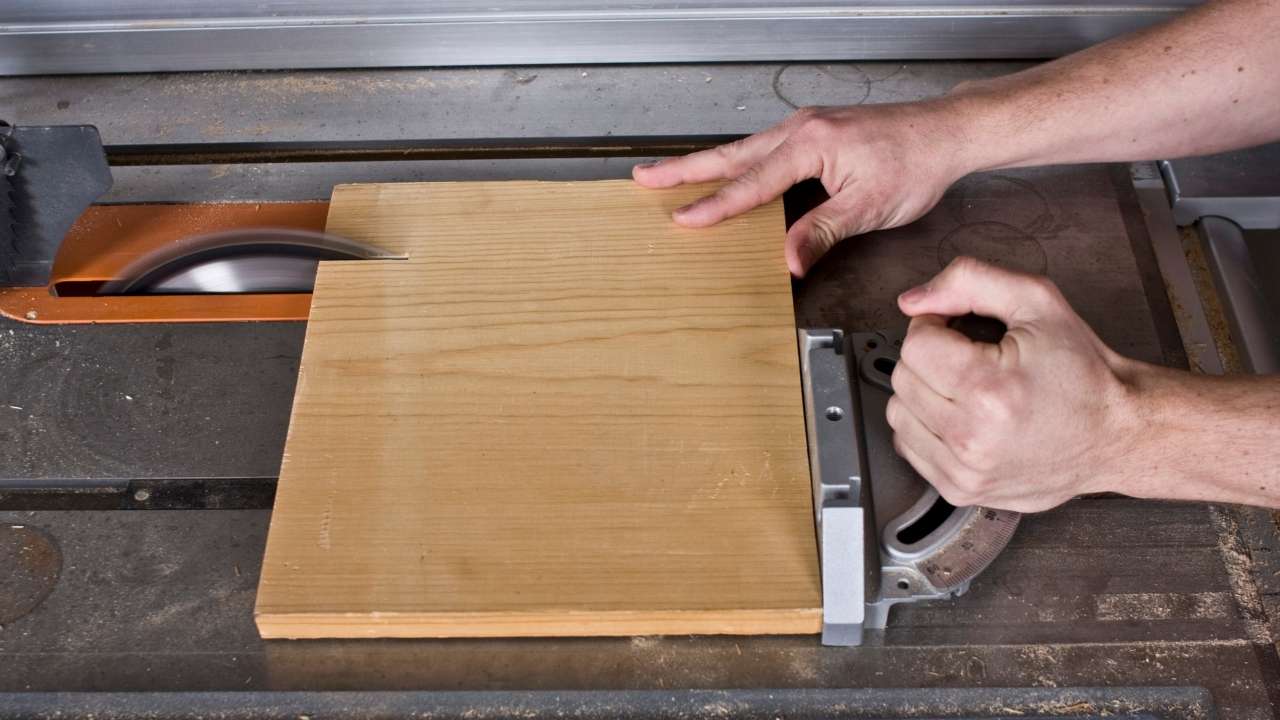 So, what are the steps to square a board?
This write-up will teach you the step-by-step process of squaring a board with a table saw.
Let's roll on together.
Squaring a Board with a Table Saw – Step by Step Process
A hybrid table saw for woodworking is a powerful tool that is efficient in making a straight cut, either against or with the grain. This is why table saws are the most used power tool to square a board.
---
Read Also:
---
Required Materials
A pencil
A ruler
Table saw
Splitter
A framing square
Hand gloves
Goggles
Earplug
Step 01: Marking the Board
Like all wood cutting projects requiring a precise result, squaring a board project also requires marking utensils (pencil and ruler). With these utensils, you can mark the dimension needed on the wood stock. Consider a wooden or metal work bench with a smooth top to get the marking job done precisely.
You will also be required to take help from a framing square. This measuring tool will especially be helpful if you want to continue a horizontal line in the vertical direction above the wood surface.
It is essential to keep the cut both with and opposite to the corresponding grain square.
Step 02: Adjusting the Guide
In this step, you have to prepare the wood stock to pass over the blade of the table saw. You can complete this process without taking any assistance from tools. Since precise cutting is the prime focus of this DIY project, you will need some assistance.
For this, you can use a clamped strip, or a guide or fence of the table saw.
A clamped strip is responsible for managing the movement of the wood stock on the table saw table. Scrap wood is used to make these clamped strips and bound to your workpiece away from where you intend to square the board.
Before choosing this option, you have to make sure that the strip is perfectly parallel to the edge you want to cut to preserve a right square.
At the same time, guides or fences are a widely used option for squaring a board. These options will let you create a limit of the board's movement on the table when the blade passes over the wood stock.
Setting up and adjustment process of the fences or guides is too straightforward. You can make multiple squaring cuts in a row with the help of them.
Step 04: Picking the Correct Blade and Adjusting it
The precise square cut requires the right blade. After you get prepared with your lumber, it is essential to pick the correct blade for your project.
You have to keep in mind that, just after installing the blade, you can't start running the table saw. Blade adjusting is another essential part of the project.
Since the project requires precise cutting, it would be best to pick a fine-tooth blade. This type of blade will ensure a professional-grade result. Moreover, they are much efficient in cutting thick and denser wood pieces.
Then, adjust the blade height in such a way so that it stays slightly above the board's height. As a result, you will get an accurate square cutting through the lumber's width.
Step 05: Completing the Cut
Now you are all prepared to start the square cutting. Follow all the standard techniques of using a table saw, especially when making a square cut with fences or guides.
Moreover, ensure wearing safety gear since the table saw blade is extremely sharp.
Tips and Tricks when Working with a Table Saw
A few tips and tricks when working with a table saw will ensure that you will get precise square cutting all the time.
Don't push the table saw to cut
You will find that professionals are cutting quickly and easily. But you mustn't follow professionals since you are a beginner. Don't hurry to complete the project pushing the table saw to make the square cut.
Add an additional length working table for better stability
You can do this by merely adding many scrap wood to the existing table saw's end. As a result, when dealing with larger wood stock, you will get additional support.
For more information about the Best Hybrid Table Saw please visit www.comfyhomecorner.com for their reviews.
Last Lines
Hopefully, the process of how to square a board with a table saw will help you a lot to make your DIY square cutting project successful.
You will also never look for an answer about what power tool you should use to make a square cut.
Don't avoid using a pencil and ruler. Both utensils will assist you in making a straight and precise cut.
All the very best!