Before we start using, a beginner should know about the basics of a circular saw.
We take an example of the SKIL 7-1/4 inch circular saw. This is a saw that I have actually had in my workshop for quite some time. So you should know about some of the components before you start using it.
Your saw is maybe corded or cordless. The one we are using an example in this article is a corded cheap circular saw under $100.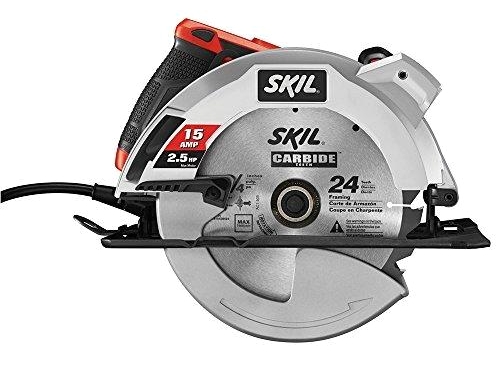 Components of a Circular Saw
Blade: As you can see from the above image there is a 24 teeth circular blade. Then there is an upper guard and a lower guard. The lower guard is retractable with this lever.
Shoe/Base plate/Bottom of the Saw: This is what slides over the material in which you're cutting on the top.
Handle: We have a comfortable and ergonomic handle outback & up towards the front.
Lever on the front: This allows us to adjust the bevel of the saw. So if you loosen this, you're able to go from zero degrees to up to 45 degrees on this particular saw.
Height adjustment: On the back of the saw is the height of adjustment. So if you're going through thicker or thinner material, you need to adjust how far the blade goes through to the material.
So if you adjust this lever, you're able to adjust the height in which the blade or the depth at which the blade goes through the material.
Blade Change:  When it comes to changing out the blade, each saw has its own specific tool. But if we engage the tool & tried to loosen the bolt, that the blade spins. So each saw has a blade locks. You are able to remove the blade now.
So that's pretty much all the basics of the saw.
---
Read Also: Do You Know How Reciprocating Saw Uses? Let Us Teach You!
---
Circular Saw Uses
Let's talk about its main uses. As far as its main uses, the circular saws, pretty much you're going to be seen them in the majority of life.
First, it's going to be used a lot on dimensional lumber, like 2×4, 2 blades, 2×10. It's going be cross-cutting them, making bevel cuts and notches in anything else that's needed.
The other main thing that you'll see circular saw ripping sheet good materials such as plywood, OSB and any other. It is really good for ripping and sizing each specific project.
Even though there are some other uses for it, but really the sweet spot for these circular saws is in dimensional lumber in plie woods.
So now there is a sort of big brother to the circular saw and that's called a worm drive circular saw. Most of the contractors prefer this saw.
It's great for if you're a framer, it's a hard-working saw, is very noisy because of the drive system that's set up in this.
So, Those are the two circular saws. You're going to see in the marketplace pretty much the majority of the time.
Now, that's, you know, a little bit more about circular saws and some of the parts and components. And the main uses, it's time to start putting this thing to work.
Which Type of Saw Blade to Use?
I have two different types in front of you. The first one is a normal blade that comes with a saw. This is a 24 tooth seven quarter ounce saw blade.
Now, this is good for one thing. And it's eating wood. It's super fast. It cuts very, very fast. The only downside to this blade is its cut quality.
Now when the blade is new, it cuts pretty clean even on plywood. But as it gets older, man, you gotta lookout.
The next on the list is a 60 tooth saw blade. This blade is what we used to cut finished plywood. Amazing enough, it produces a very clean cut with little to no tear-out.
Now, of course, when you're working with these saws, changing out the blades or doing anything like that, please remember to unplug them or disconnect the battery.
And of course, lastly, you would wear some safety glasses, at least to the minimum, while you're using these saws because they love to throw sawdust.
So now you know how to use a circular saw. It Is a very good general-purpose power tool to have around the house in anybody's toolbox. This is a great addition.