Ever wondered how your dream home would look before even a single brick is laid or paint is applied? CGI, or Computer-Generated Imagery has the solution! In simpler terms, CGI is a digital artist's brush, creating vibrant, lifelike visuals from mere ideas.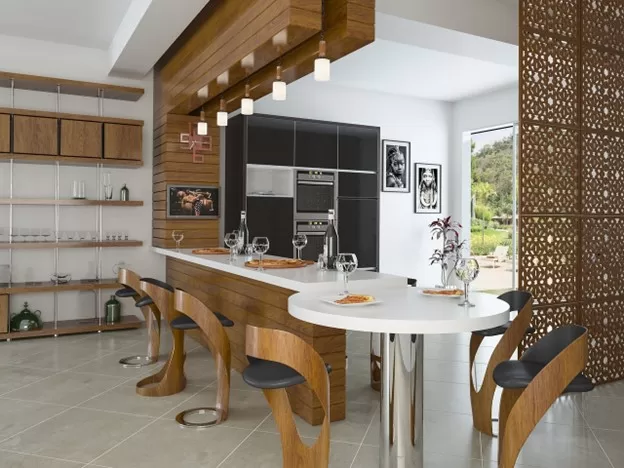 Gone are the days when we had to rely solely on rough sketches or our imagination. Today, technology has integrated seamlessly with home design, allowing us to visualize spaces, furniture, and décor in real time.
Whether you're a design enthusiast looking to renovate a cozy corner or someone planning a whole new space, CGI offers a glimpse into the future of your home. And trust me, it's as exciting as it sounds! Let's explore how CGI can turn your dream home into a visual reality.
Realistic Visualization: See Your Dream Before It's Real
Imagine being able to walk through your future living room before even picking out a paint color, or seeing how that plush velvet sofa would look against your planned feature wall. Sounds like something straight out of a sci-fi movie, right? But with CGI, this is entirely possible!
Computer-generated imagery offers photo-realistic renditions of rooms, furniture, and even minute details like textures and light reflections. These high-definition images go far beyond what traditional 2D sketches can capture.
The advantages are manifold. First off, you get a visceral sense of your space, so you can pick out and amend any design elements that don't quite fit before they become costly mistakes.
Ever put on a shirt in the fitting room and realized it just wasn't your thing? Think of 3D furniture rendering as the fitting room for your home – it allows you to try before you buy.
Plus, there are some fantastic apps and tools available, some even on your smartphone, that empower you to create your own virtual rooms.
---
Read Also:
---
Custom Furniture Design: Tailoring Every Piece to Your Taste
So, you've found the perfect spot in your living room for a custom-built bookshelf or have a quirky corner that you think could be the ideal home for a unique piece of furniture.
You sketch it out, measure the space, and even imagine it there – but will it really fit? Will it truly be as magical as you hope? Enter CGI!
Computer-generated imagery isn't just for grand-scale projects; it's ideal for designing custom furniture tailored to your unique tastes and needs.
Imagine sculpting a virtual model of that bookshelf, playing with its dimensions, choosing wood types, and even adding a splash of color – all on your computer screen.
You can place your custom-designed furniture in your CGI-rendered room to see how it complements the existing design. No more guesswork or crossing your fingers!
CGI helps you take the design reins, providing a panoramic view of how each piece will gel with your space. It offers peace of mind and ensures that what you're envisioning will turn out to be a harmonious part of your dream home. It's like having a test run for your furniture!
Interactive Room Design: Dive into Your Space
Ever wished you could jump straight into a magazine's interior design spread and shuffle things around a bit? Perhaps move that lamp just a tad to the left or switch the rug's orientation?
Well, with CGI's interactive room design, it's almost like you can! This isn't just about static images anymore. We're talking about dynamic, interactive experiences that let you walk through spaces, tweak elements, and get a feel for the room's flow.
Here's the even cooler part: If you've ever tried on a Virtual Reality headset, imagine using that VR technology integrated with CGI.
You could literally immerse yourself in your redesigned space! Change wall colors with a click, swap out decor items on a whim, or even see how the afternoon sunlight filters through your chosen drapes.
It's like being in a video game, but the level you're playing is your very own dream home. It's not just design, it's an experience – and you're in control!
Lighting and Atmosphere Evaluation: Illuminate Your Space Right
Light can make or break a space. Too stark, and a room can feel like a clinical office; too dim, and you're venturing into haunted house territory. But finding that perfect balance? It's sheer magic. And guess what? CGI's got your back here too.
With CGI, you can visualize precisely how the morning sunbeams will dance on your breakfast nook or how your chosen pendant lights will cast warm, cozy glows come evening.
But it's not just about natural light; you can also play with different lighting fixtures, test various brightness levels, or even see the mood shifts with colored lighting.
It's a lighting playground! Before committing to any fixtures or making changes to your window placements, you can ensure the ambiance is just right. After all, lighting isn't merely functional – it's the source of atmosphere, setting the mood for every memory made in your dream home.
Cost Efficiency and Error Minimization: Design with Confidence and Savings
Building or renovating a home is a big undertaking. It's not just about the vision but also the budget. And isn't it frustrating when a misjudged design choice or unforeseen problem sets you back both time and money? Thankfully, CGI offers a savvy solution.
By visualizing your plans in rich, detailed graphics, you can pinpoint and amend potential hiccups before they escalate into costly mistakes.
Think of it as a dress rehearsal for your home's grand debut! You can trial multiple layouts, furniture choices, and even structural changes without the hefty costs of real-world trial and error.
Moreover, when you're juggling budgets, seeing your design come alive virtually can help you prioritize where to splash out and where to save. With a clear visual guide, making informed decisions becomes a breeze.
In essence, CGI doesn't just help design your dream home – it ensures you do so wisely, keeping your purse strings and peace of mind intact.
Conclusion
As we journeyed through the wonders of CGI in home design, it's evident that we're living in a golden age of technology meets creativity. With tools that offer lifelike visuals, interactive experiences, and savvy savings, designing your dream home has never been more exciting – or achievable.
So, whether you're starting fresh or just sprucing up a corner, remember, CGI is your trusty sidekick. Embrace this digital magic, and watch as the home of your dreams materializes right before your very eyes.