As urbanization continues to lead to the shrinking of natural habitats, the value of outdoor spaces is more important than ever. With this, the demand for expert landscape design and construction has increased significantly in recent years.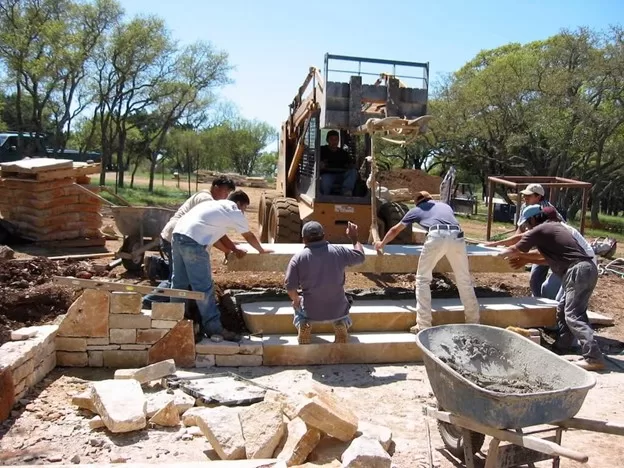 Professional landscape construction by ADU builders is an art form that involves the creation, restoration, and preservation of outdoor spaces.
It is the process of transforming a barren land into a breathtaking and functional landscape that suits the environmental and aesthetic needs of the client.
Landscape construction involves a range of activities from excavation, grading, planting, and construction of structures such as retaining walls, water features, and outdoor living spaces.
The process requires a deep understanding of the local ecology, plant life, and soil and rock types to create a sustainable landscape.
Here, we will delve into the art of landscape construction and explore the techniques, processes, and materials used to create stunning outdoor spaces.
Designing Functional and Beautiful Landscapes
Transforming Outdoor Spaces: The Art of Landscape Construction is an in-depth guide to creating stunning outdoor environments that combine functionality, beauty, and sustainability.
One of the key aspects of landscape construction is designing functional and beautiful landscapes that enhance the natural beauty of the surroundings while providing practical solutions to various needs. Whether it's creating a space for relaxation, entertainment, or play, designing a functional landscape requires careful planning and attention to detail.
Our team of experienced landscape architects and designers understand the intricate balance between form and function and are committed to creating outdoor spaces that not only look great but also serve a practical purpose.
From selecting the right plants and materials to designing custom features that blend seamlessly with the natural landscape, we take pride in creating outdoor spaces that are not only visually stunning but also highly functional.
With our expertise in landscape construction, we can transform any outdoor space into a beautiful and functional oasis that will be enjoyed for years to come.
---
Read Also:
---
Implementing Sustainable Landscaping Practices
Implementing sustainable landscaping practices is an essential aspect of landscape construction. Sustainable landscaping practices aim to create beautiful and functional outdoor spaces that have a minimal impact on the environment.
By incorporating sustainable practices, landscape construction professionals can reduce water usage, improve soil quality, and promote biodiversity. This can be achieved through various means, such as using native plants, installing efficient irrigation systems, and utilizing organic fertilizers.
In addition, professionals can implement permeable paving and rain gardens to manage stormwater runoff and prevent erosion. By incorporating these sustainable practices into landscape construction, professionals can help to create outdoor spaces that are not only beautiful but also environmentally responsible and sustainable for years to come.
Incorporating Hardscapes for Added Dimension
Incorporating hardscapes for added dimension is an essential aspect of landscape construction that can transform any outdoor space into a beautiful and functional area.
Hardscaping refers to the use of non-living elements in landscape design, such as stone walls, walkways, patios, pergolas, and other structures that can add visual interest and create a sense of balance and harmony.
Hardscaping can also provide functional benefits, such as defining outdoor living spaces, creating privacy, and improving accessibility.
When planning a hardscaping project, it is essential to consider the site's topography, soil conditions, and climate to ensure the selection of materials that are durable and appropriate for the environment.
The use of hardscapes can elevate any outdoor space and create a beautiful and functional landscape that can be enjoyed for years to come.
Choosing Appropriate Plant Species
When transforming outdoor spaces, selecting the right plant species is crucial for creating a successful landscape. It is important to consider the local climate, soil type, and sun exposure in order to choose suitable plants that will thrive in the given conditions.
Careful planning and research can ensure that the selected plants are well-suited for the environment, reducing the need for excessive maintenance or replacements.
Additionally, selecting native plant species can provide numerous benefits, such as attracting local wildlife and supporting the ecosystem. Overall, choosing appropriate plant species is a key component in creating a sustainable and visually appealing landscape.
Enhancing Outdoor Living Areas
Enhancing outdoor living areas has become increasingly popular, as people look to make the most of their outdoor spaces. Whether it's a small balcony or a sprawling backyard, homeowners are investing in creating beautiful and functional outdoor spaces for relaxation and entertainment.
Landscape construction professionals play a crucial role in this process, bringing their expertise in design, hardscaping, and soft scaping to transform ordinary outdoor spaces into stunning retreats.
From adding features such as fire pits, water features, and outdoor kitchens, to creating comfortable seating areas and incorporating landscaping elements such as plants, trees, and lighting, outdoor living areas can be transformed into an extension of your home that you'll love spending time in.
With the right guidance and execution from landscape construction professionals, enhancing your outdoor living area can be a seamless and rewarding experience.
Overall, landscape construction is a complex and rewarding profession that requires a deep understanding of design, engineering, and horticulture principles.
A skilled landscape contractor can transform an outdoor space into a beautiful and functional environment that enhances the quality of life for the property owner and their community.
As with any construction project, a successful landscape construction project requires careful planning, attention to detail, and a commitment to quality craftsmanship.
The art of landscape construction is a vital element of our built environment, and the professionals who practice this craft should be commended for their dedication to creating beautiful and sustainable outdoor spaces for generations to come.