Many homeowners decide to undertake a bathroom remodeling project. This may be in preparation to sell the house and get as much money as possible or simply to revamp the space they plan to stay in for years to come.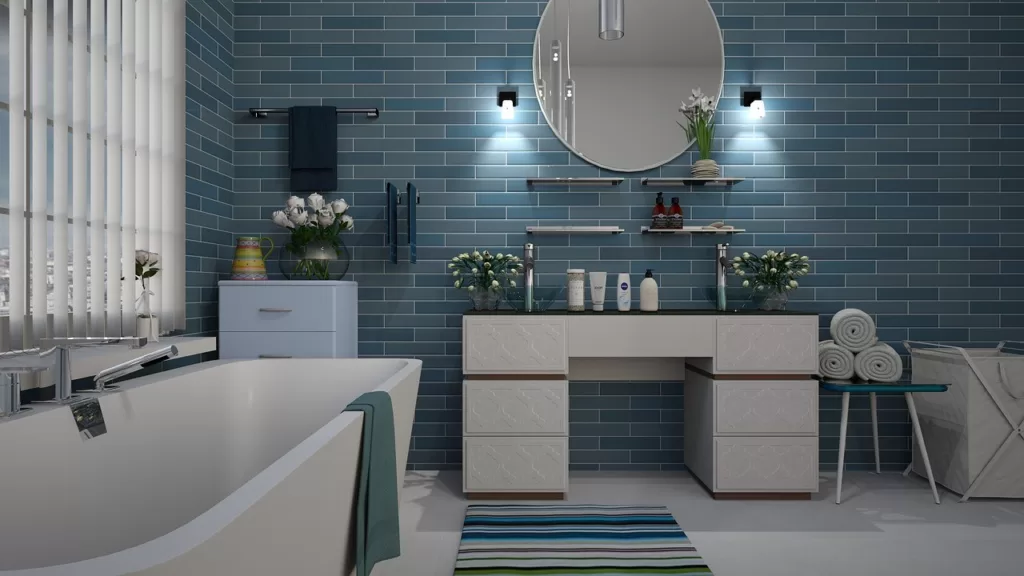 If you're considering this type of project, it's important to consider the year's top trends. The last thing you want to do is spend time and money on a new bathroom that already looks outdated the moment it's finished. With this in mind, let's take a look at some of 2023's top bathroom trends to give you a few ideas.
#1 White is Out, But Lighter Tones are Still In
In years passed, bathrooms have been white – as white as possible. After all, that makes it look clean, right? Now, the all-white look for homes is beginning to fade out more and more.
That's not to say a dark bathroom is your only option. Those who still want the essence of lighter tones are opting instead for taupe, cream, and light pinks.
This includes gold! Depending on the tone, gold is very light and goes with almost any cabinet color.
#2 Decorative Lighting
Just a light bulb in the wall or ceiling isn't going to cut it. You now have the choice of pendants, sconces, and ornate ceiling lights for showcasing decorative lighting. These beautiful, modern bathroom lighting contribute to a soothing atmosphere while at the same time still supporting the room's functionality.
#3 Creative Usage of Tile
A bathroom has to have tile, but it doesn't have to be bland and boring. Consider textured tiles and mix them with a flat surface, either the wall or floor (or both).
Geometric tiles have always been popular, but new colors, shapes, and finishes are trending this year. One popular option is to use geometric patterns and install them so the pattern fades out into a solid design.
In years past, large format and faux wood tiles have been popular, but now homeowners are experimenting with micro-tiles, vertical tile orientations, natural stone tiles, and combinations of different tile materials for a one-of-a-kind look that no one else on the block has.
Tile can be installed on the walls of a bathroom rather than paint or wallpaper! This is especially true for textured, decorative tiles. The shapes add decorative interest, dimension, and artistry to a previously boring space.
We encourage you to find uniquely textured tiles that can catch shadows or reflect light, contributing to your bathroom's overall mood.
---
Read Also :
---
#4 Nature-Inspired Elements
Natural wood tones and serene spaces are a key part of interior design in 2023. This means incorporating exterior elements in the home with materials and organic features.
This includes dusty blues and greens especially. Adding natural touches to the space, like wood mirrors, gives the space a contrast to make it interesting and inviting.
Your shower can be covered in stone. Stone is a classic material and a statement on its own. Don't forget the bathtub! Stone, bronze, copper, and even polished wood are rising alternatives to the traditional porcelain tub.
Marble, granite, and quartz will always be popular bathroom countertop choices, but 2023 is making way for a whole new era of stone. Consider stones like Calacatta Viola, Ceppo Rosso, Verdes, and Honey Onyx.
Sink basins, shower benches, and even tubs are being carved from coal, creating a distinct natural focal point.
Of course, no natural-themed room is complete without plants. Live plants are an especially popular bathroom accent used to create the perfect natural aesthetic.
If your bathroom receives natural light, a snake plant is an easy and low-cost addition that will immediately elevate your space. This isn't just about looks. Indoor plants can also help improve air quality and have been proven to boost your mood as you settle in for some much-deserved peace and quiet.
#5 Spa-Like Bathrooms
Speaking of rest and relaxation, there's a shifting mindset when it comes to bathroom design. Instead of seeing bathrooms as strictly task-focused, homeowners now consider them as spaces in which to relax and take care of their minds, souls, and bodies.
Bathrooms can and should serve as a respite from the outside world. When remodeling, make your bathroom a place to decompress and recharge.
Make your room feel like you've been whisked away to a spa! In order to do so, select luxurious finishes, like natural stone and unlacquered brass, a large soaking tub, and cabinets that look like you'd see in a high-end hotel.
#6 Modern Mirrors With Backlights and Irregular Shapes
This year we are also seeing more unique decor incorporated into bathroom mirrors. A fun mirror brings a touch of whimsy to a small or sparse space.
Why not combine function and modern style? Backlit vanity mirrors are perfect to brighten up your grooming routine.
A mirror with built-in lighting will leave you feeling like a superstar! Backlit mirrors emit an even amount of soft light all around you. Plus, LED-backlit mirrors last longer and can help you save energy compared to traditional overhead vanity lighting.
#7 Floating Shelves
Looking for a quick fix that makes a big difference? Incorporating open-air shelving into your bathroom is a great way to add storage and give your space a more airy feel. HS & Sons – Frisco Bathroom Remodeling contractors recommend using organic elements, like natural wood or stone, to combine some of the other current trends listed here.
#8 Colorful Cabinetry
An unexpected pop of color can do a lot for your bathroom. A popular color for this in 2023 is burnt sienna, as it adds an element of warmth while keeping the overall feeling of the bathroom minimal and classy.
#9 Frameless Cabinets
Interior designers in Europe have been keyed into this trend for years, and it's finally made its way over the pound.
Opt for a frameless vanity for a sleek and seamless appearance, one that is perfect for minimalist and contemporary bathrooms. As an added bonus, with the removal of the face frame, you'll also have more storage space.
#10 Separate Vanities
They say "Two is better than one," and master bathroom vanities are no exception. Double-sink vanities are big in 2023. New bathroom designs separating the floor plan into his-and-her areas are becoming increasingly popular.
Vanities on opposite walls or countertops separated by a wall cabinet or doorway distinguish personal space and often feel more high-end compared to massive double-sink vanities.
Hopefully, this list got the wheels in your head turning. Remember, you can combine several of these ideas for a new bathroom look that is perfectly on-trend!