In an era where environmental consciousness is paramount, making sustainable choices at home has never been more crucial, and there are many things you can do to help with this.
From reducing carbon footprints to conserving resources, various eco-friendly options are available to transform your living space into a beacon of sustainability, from eco-friendly flooring to energy-saving lighting.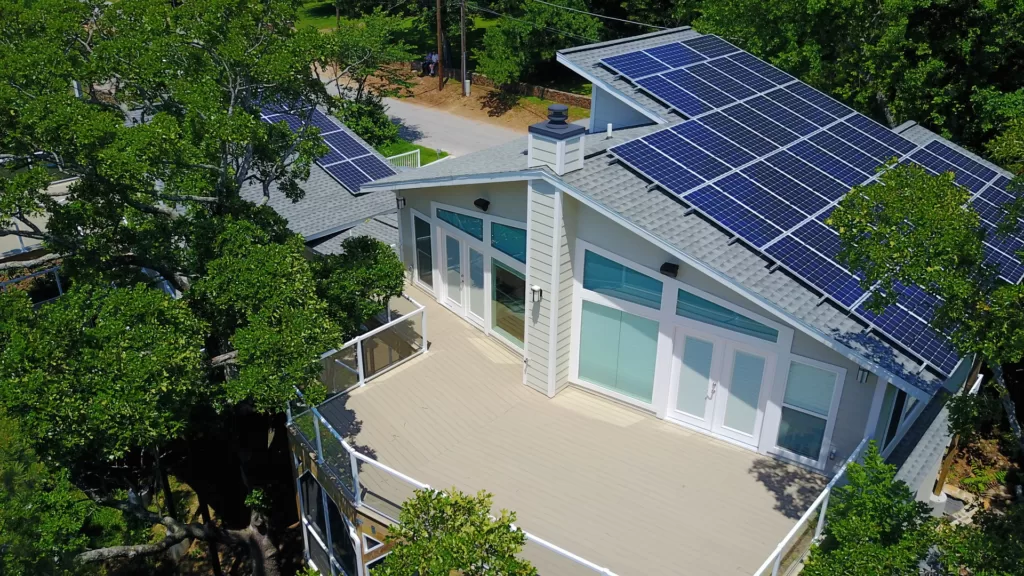 This article will explore different sustainable options to make your home eco-friendly, embracing a greener and more responsible lifestyle.
Energy-Efficient Lighting: Illuminating the Eco-Friendly Way
Say goodbye to traditional incandescent bulbs and embrace the energy-efficient glow of LED and CFL lights. These bulbs consume significantly less energy, last longer, and emit lower levels of greenhouse gases.
Investing in these smart lighting systems that you can control with your phone or computer and schedule your lights can enhance energy savings.
Additionally, consider incorporating natural light into your home design by strategically placing windows and using light-colored curtains that do not obstruct your windows to make the most of daylight hours.
Renewable Energy Sources: Power Your Home Sustainably
You can take a giant leap towards sustainability by harnessing the power of renewable energy sources for your home, and there are various options to consider. Solar panels, wind turbines, and hydropower systems are excellent alternatives to conventional electricity and can save you money while doing something worthwhile for the planet.
Solar panels have become increasingly accessible and affordable, allowing homeowners to generate electricity and sell surplus energy back to the grid. While the initial investment may seem substantial, the long-term benefits for your wallet and the environment make renewable energy sources an option you should consider.
---
Read Also :
---
Green Building Materials: Building A Sustainable Home
When renovating or building a new home, consider using eco-friendly building materials. Bamboo, cork, and reclaimed wood are excellent alternatives to traditional hardwoods, as they are renewable, have a lower environmental impact, and are perfect for floors.
Plenty of reputable companies like Lake & Co Flooring can supply and install eco-friendly flooring materials in your home, and there are other things you can do. Recycled steel, glass, and concrete are also sustainable choices for construction. Additionally, choosing materials with high thermal mass and insulation properties can enhance energy efficiency, reducing the need for excessive heating or cooling.
Waste Reduction & Recycling: Reduce Your Carbon Footprint
Implementing effective waste management practices is crucial for a more sustainable home, and this will also be highly beneficial for the planet. Set up a recycling station in your kitchen or garage for paper, plastic, glass, and metal items. You can also compost organic waste, making excellent fertilizer for your garden, especially if you grow your fruit and vegetables.
You can consider adopting a "zero-waste" lifestyle by choosing products with minimal packaging, opting for reusable items, and supporting businesses committed to sustainable packaging practices. Doing this can significantly reduce the rubbish sent to landfills and help you and your family live more sustainably.
Save Power: Choose Energy Efficient Appliances
You can also consider upgrading your home appliances to energy-efficient models, which will all state their efficiency ratings. These appliances, from refrigerators and washing machines to dishwashers and air conditioners, consume less energy and can ultimately reduce your utility bills.
When replacing appliances, choose products with high energy-efficiency ratings and features like programmable thermostats and load sensors, which enhance overall energy conservation. Ensure they are Bluetooth compatible so you can control them from your Smartphone or computer.
Insulate Your Home: Keeping Your Home Cosy
Proper insulation is vital to help you maintain a comfortable home environment while minimizing its energy consumption, and you can do this by ensuring your home is adequately insulated.
Choosing eco-friendly insulation materials, such as recycled denim, cellulose, or sheep's wool, not only enhances thermal efficiency but also reduces the environmental impact of traditional insulation materials.
These options often have superior insulation properties and are free from harmful chemicals, contributing to a healthier indoor environment and are kinder to our planet.
Conserve Water: Harvesting Rainwater
Another excellent eco-friendly idea for making your home more sustainable is harvesting rainwater, as water conservation is vital to sustainability. Installing a rainwater harvesting system allows you to collect and store rainwater for various non-potable uses, such as watering plants, flushing toilets, and washing cars.
It reduces dependence on municipal water supplies and helps mitigate the strain on local water sources, promoting a more sustainable water management system. It is simple and affordable to install and can benefit the planet and your wallet, so it is worth doing.
Transforming your home into an eco-friendly haven involves small, intentional changes and larger, long-term investments. Every step towards sustainability contributes to a greener future, from energy-efficient lighting to harnessing renewable energy sources.
As responsible stewards of the planet, we can make choices that positively impact the environment. By adopting these sustainable options, you create a more eco-friendly home and inspire others to join the movement towards a sustainable and environmentally conscious lifestyle.