Many older bathrooms have weird-looking tank-type toilets with the top of the tank flashing with or sitting above the countertop.
If that's the case with your bathroom, you should consider investing in a relatively new low-profile toilet to create a fresh new look in your bathroom.
These toilet designs are very sleek and eye-catching due to their low profile. Besides, you can extend a countertop right over them!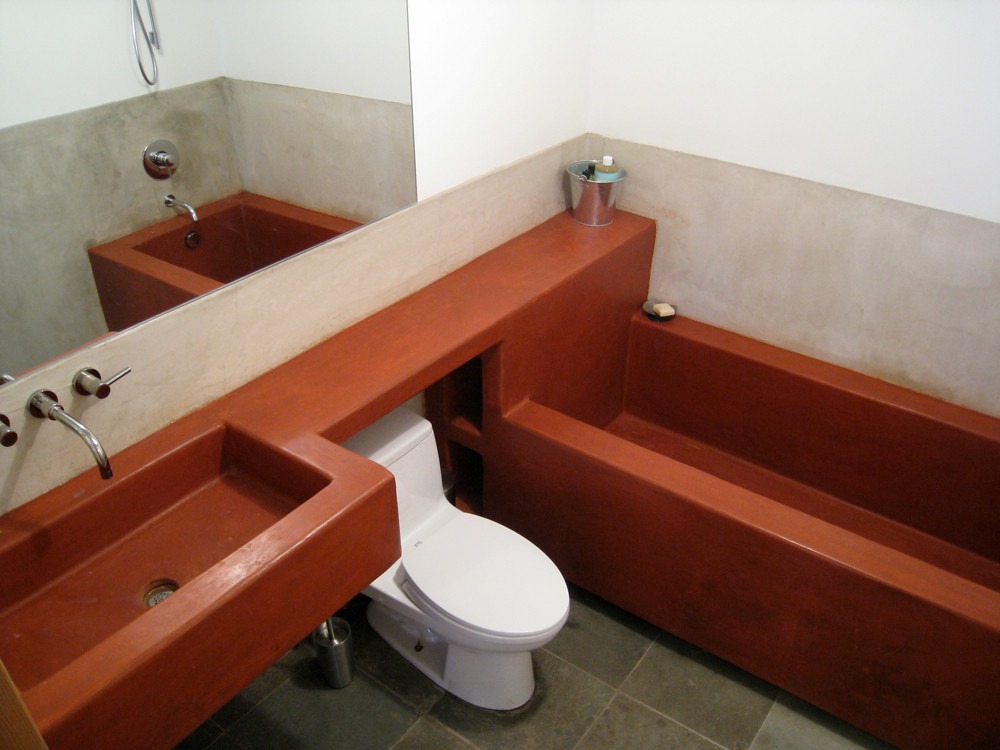 Redesigning Your Bathroom with a Low-Profile Toilet
There are several low-profile toilet models to choose from when shopping for these nifty, contemporary toilet designs. Just be creative and research luxurious bath fixtures that will completely remake your bathroom's look.
Kohler, for instance, has a great photo gallery to inspire you with more than just bathroom fixtures, so it's worth viewing.
In most cases, low-profile toilets are available as one-piece styles, so stick with that category. Also, be sure to measure the overall height of the toilet unit from the floor to the bottom of your counter before you remove your old toilet. This will ensure that the new toilet you choose will accurately fit the vertical space.
Additionally, you can decide between a round-front or elongated toilet bowl to ensure the toilet will fit the horizontal space. In most cases, you may want to opt for a pressure-assisted flush model when purchasing low-profile toilets.
These special toilet models use pressurized air to provide a powerful flush while significantly saving water. So, keep this information in mind, and you'll undoubtedly find your ideal low-profile toilet.
---
Read Also:
---
Low Profile Vs. Low Height Toilets
Low-profile toilets are sometimes referred to as low-height toilets. However, calling them low height toilets brings some confusion since toilets with low height seats are sometimes referred to as low height toilets.
When referring to low height toilets, remember that it may also mean toilets with low height bowls, making them easy to use for short people and children.
Overall, both low seat and low tank toilets fall under the category of low height toilets but come with their own unique uses, considerations, and characteristics to think about when purchasing one of them.
In our context, a 'low height toilet' refers to a toilet with a low height tank, which means an overall short height toilet.
Most low-profile toilet models on the market actually have a taller Comfort Height seat, making them perfect and easy for tall adults, seniors, and people with knee problems.
But, if you need a low-profile toilet that features a lower seat height as well, consider the KOHLER K-3722-0 San Raphael Toilet. It has a much shorter standard height seat of about 15 inches. However, other low-profile toilets have a comfort-height seat of 17+ inches.
Final Thoughts
Overall, KOHLER K-5172-0 San Souci is a great low-profile toilet. However, if you're looking for a reasonable price range, then the Swiss Madison SM-1T803 Chateau Toilet is an excellent choice. If you have a smaller bathroom, consider the KOHLER K-4007-0 San Souci Toilet with a round-front bowl.
Generally, short-profile toilets are perceived as a statement of elegance and luxury in the world of bathrooms. However, they may be necessary for certain circumstances, such as when you need a toilet system to fit under your bathroom counter or spaces with height constraints where a regular toilet system may not fit.
For either reason, you need to have multiple choices to make an informed choice. Ultimately, you'll need to choose your ideal low-profile toilet that suits your individual needs and requirements.