In today's fast-paced work environment, a well-decorated office can enhance productivity, boost employee morale, and convey your company's values and culture.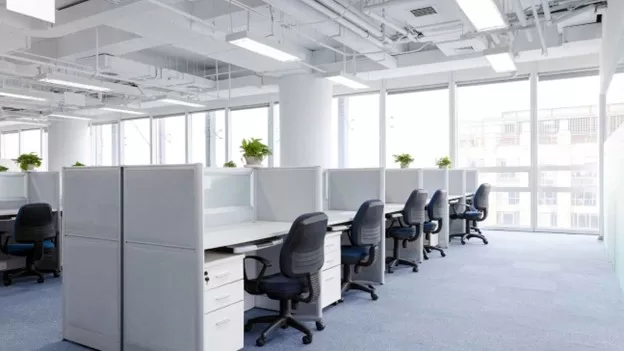 Fresh and innovative office decoration ideas can transform a dull workspace into a vibrant and creative hub.
Let's explore ten inventive office decoration ideas that combine functionality, aesthetics, and creativity to rejuvenate your office space.
10 Innovative Office Decoration Ideas
1. Open Floor Plans
Open floor plans are a revolutionary stride in innovative office decoration, breaking the barriers and cubicles that once segmented the workspace.
This concept nurtures an environment of increased interaction and collaboration among employees, fostering a harmonious and integrated workspace. It enhances the accessibility of team members, promoting seamless communication and the exchange of ideas.
The unobstructed layout allows natural light to permeate the office, contributing to an uplifting and more inviting atmosphere. However, it's crucial to strike a balance.
Alongside the open areas, provide quiet zones or booths where employees can concentrate on tasks requiring focus and minimal disturbances.
The implementation of open floor plans must be executed thoughtfully to ensure that it caters to all employees' diverse work styles and needs, combining the buzz of collaborative spaces with the serenity of individual work zones.
2. Wood Slat Wall Panels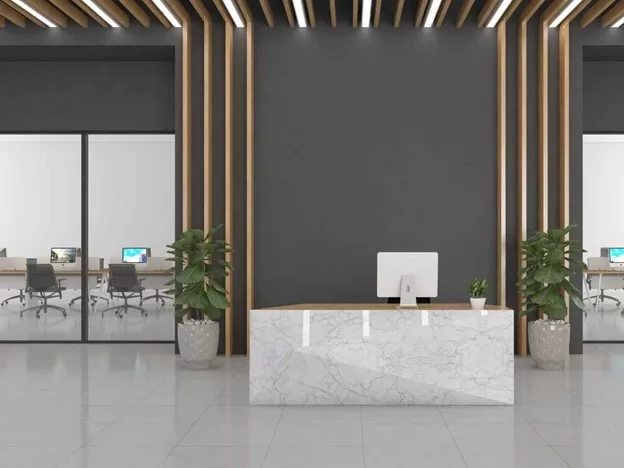 Integrating wood slat wall panels is an innovative office decoration idea, marrying aesthetic appeal and functional utility. Wood's natural, warm, and inviting characteristics lend a touch of organic beauty to any office space.
The slat panel's streamlined, parallel design creates a textured, geometric pattern on walls, adding depth and interest to interiors. Beyond their visual allure, wood slat wall panels offer practical advantages.
They can serve as effective room dividers in open-space offices, delineating areas without obstructing light or airflow. Wood's natural acoustic properties can also reduce noise, creating a calmer, more focused work environment.
With sustainability a growing concern, opting for eco-friendly, reclaimed, or sustainably sourced wood slat panels further underscores a company's commitment to environmental responsibility.
In essence, slat wood wall panels enhance the office space with a balance of style, functionality, and sustainability, making it a brilliant choice for modern office decor.
---
Read Also:
---
3. Creative and Functional Furniture
Embracing creative and functional furniture is a paramount innovative office decoration idea, as it effortlessly blends aesthetics with practicality.
In the modern workplace, furniture is not just a practical requirement but a reflection of the company's style, values, and attention to employee well-being.
Investing in ergonomic chairs and desks ensures employees' physical comfort and health, reducing the likelihood of work-related aches and issues.
Additionally, utilizing modular furniture designs adds a layer of flexibility, allowing the workspace to evolve based on the specific needs and activities at any given time.
Imagine movable desks, reconfigurable seating areas, and multi-purpose fixtures that swiftly adapt to different scenarios and functions.
This adaptability maximizes space utilization and empowers employees to mold their environment as per their tasks, promoting efficiency, collaboration, and satisfaction in the workplace.
4. Incorporate Greenery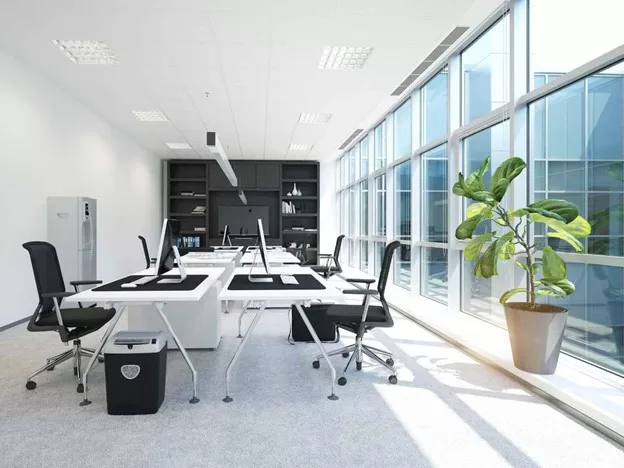 Embracing the concept of Green Spaces in office decoration is a refreshing and innovative approach to enhancing the workspace's aesthetics and environmental quality.
The inclusion of green elements, such as indoor plants and vertical or hanging gardens, not only revitalizes the office ambiance but also contributes substantially to the well-being and productivity of the employees.
The Greenery aids in purifying the air, reducing stress, and fostering a connection with nature, transforming the office into a lively, healthy, and inviting workspace.
By thoughtfully integrating low-maintenance plants, creating designated plant zones, and ensuring proper care and sustainability practices, offices can blend functionality and beauty smoothly, promoting a harmonious and vibrant work environment.
5. Themed Meeting Rooms
Themed meeting rooms emerge as a captivating and imaginative office decoration idea, infusing energy and creativity into the otherwise mundane routine of meetings and conferences.
These uniquely designed spaces can transport team members into different atmospheres, such as a serene beach setting, a lush forest ambiance, or the vibrant era of the 1980s, sparking inspiration, creativity, and a fresh perspective on problem-solving and brainstorming.
Themed meeting rooms can subtly influence the mood and mindset of employees, fostering relaxation, openness, and improved communication.
The chosen themes can also resonate with the company's ethos, projects, or goals, providing a consistent and reinforcing environment for team discussions and decisions.
This innovative approach to meeting spaces underscores the importance of the environment in enhancing productivity, collaboration, and overall employee satisfaction in the workplace.
6. Utilize Natural Light
Harnessing natural light is a timeless and innovative decoration idea that profoundly impacts a workplace's ambiance and its occupants' well-being.
The infusion of sunlight reduces dependency on artificial lighting, cutting energy consumption and creating a brighter, more airy, and more welcoming environment.
Exposure to natural light has been scientifically linked to enhanced mood, alertness, and employee productivity. It can also help reduce eyestrain, a common issue in office environments.
To effectively utilize natural light, ensure windows are large and unobstructed, and opt for light and sheer window treatments that allow maximum light penetration.
The office layout should also allow sunlight to permeate the space evenly, possibly by positioning workstations and communal spaces near windows.
This simple yet impactful approach to office decoration contributes significantly to creating a healthy, vibrant, and sustainable work environment.
7. Multifunctional Spaces
Multifunctional spaces are a modern and innovative office decoration idea, epitomizing flexibility and optimal use of space.
These adaptable areas can seamlessly transition from one function to another, from a quiet reading area to a lively collaborative space or from a casual lounge to a formal meeting room.
Incorporating multifunctional spaces in office design involves using versatile furniture, like foldable tables, modular seating, and movable partitions, which can be easily rearranged to suit various needs and activities.
This flexibility not only maximizes the utility of available space but also empowers employees by giving them a choice of settings for different tasks.
Multifunctional spaces can facilitate spontaneous interactions and collaborations, fostering a dynamic, innovative, and synergistic workplace environment.
In essence, they reflect and support the multifaceted nature of modern work, enhancing both efficiency and creativity in the office setting.
8. Artistic Elements
Incorporating artistic elements into office decor is a phenomenal and innovative idea, weaving creativity, inspiration, and personalization into the professional environment.
Art transcends the mundane, offering visual stimulation and emotional resonance, fostering a sense of connection, and invigorating the workspace.
It could range from vibrant paintings and intricate sculptures to local handicrafts and unique installations, each adding a distinctive touch to the office aesthetics.
Beyond mere decoration, art is a conduit for expressing a company's ethos, values, and vision. It can reflect the organizational culture, create talking points, and contribute to a cohesive and engaging environment.
Additionally, featuring art from local artists or involving employees in creating artistic elements can enhance community and collaboration.
In essence, artistic elements infuse life, energy, and a spark of the extraordinary into the office space, enriching the work experience and fostering a culture of creativity and appreciation for diverse expressions.
9. Incorporate Technology
In the age of digitization, integrating technology into office decor is an invaluable and innovative enhancement. The seamless inclusion of cutting-edge tech tools streamlines operations, facilitates smoother communication, and contributes to a sleek, modern aesthetic.
Consider integrating smart boards in meeting rooms for interactive presentations, installing advanced lighting and climate control systems for optimal energy efficiency and comfort, or setting up video conferencing equipment with high-quality audio for effective remote collaboration.
Even smaller additions, like ample charging stations and accessible ports, reflect consideration for employees' tech needs. It's essential, however, to ensure that technological integration is unobtrusive and harmonizes with the overall office design.
This balance ensures that the office remains a human-centered space, augmented by technology to enhance efficiency, collaboration, and comfort, thus fostering a dynamic and forward-thinking work environment.
10. Bold Colors and Unique Finishes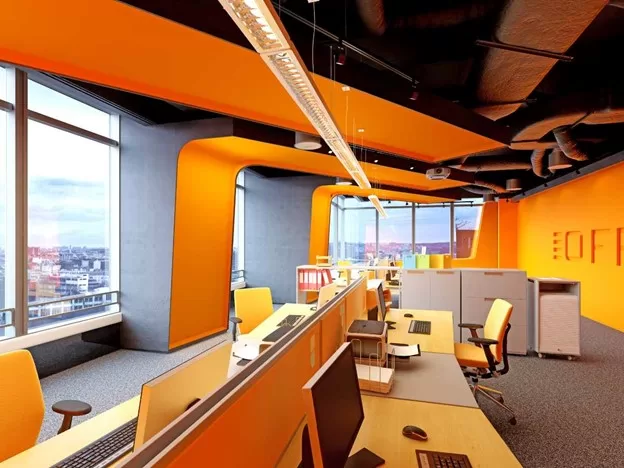 Bold colors and unique finishes can breathe vibrancy and life into any office space, serving as an innovative and exciting office decoration idea. The careful selection of a bold color palette can influence the workplace's energy, mood, and productivity.
Bright, energetic colors stimulate creativity and enthusiasm, while soothing tones provide a calm, focused atmosphere. Integrate these colors into walls, furniture, and accent pieces to infuse personality and character into the workspace.
Complement this with unique finishes such as exposed brick walls, polished concrete floors, or reclaimed wood elements. These finishes add texture, depth, and a distinct aesthetic appeal to the office environment.
They reflect the organization's style, ethos, and attention to detail, creating a space that resonates with employees and leaves a lasting impression on clients and visitors.
This combination of bold colors and unique finishes creates a dynamic, inspiring, and attractive workplace that enhances employee satisfaction and overall productivity.
Verdict
A well-thought-out and innovative office decor can significantly impact employees' well-being, creativity, and productivity.
It's not just about aesthetics; a good office design can effectively reflect your company's culture, mission, and values, fostering a sense of belonging and commitment among your team members.
Embrace these innovative office decoration ideas to create an engaging, productive, and comfortable work environment.