The global pandemic has, for sure, changed the working pattern. It has transferred a person from an office working desk to his home chair to perform the same work they have been doing for years.
Essentially, it is the working medium that has been changed, not the work or its quality. The practice that started with remote working has immensely boosted productivity.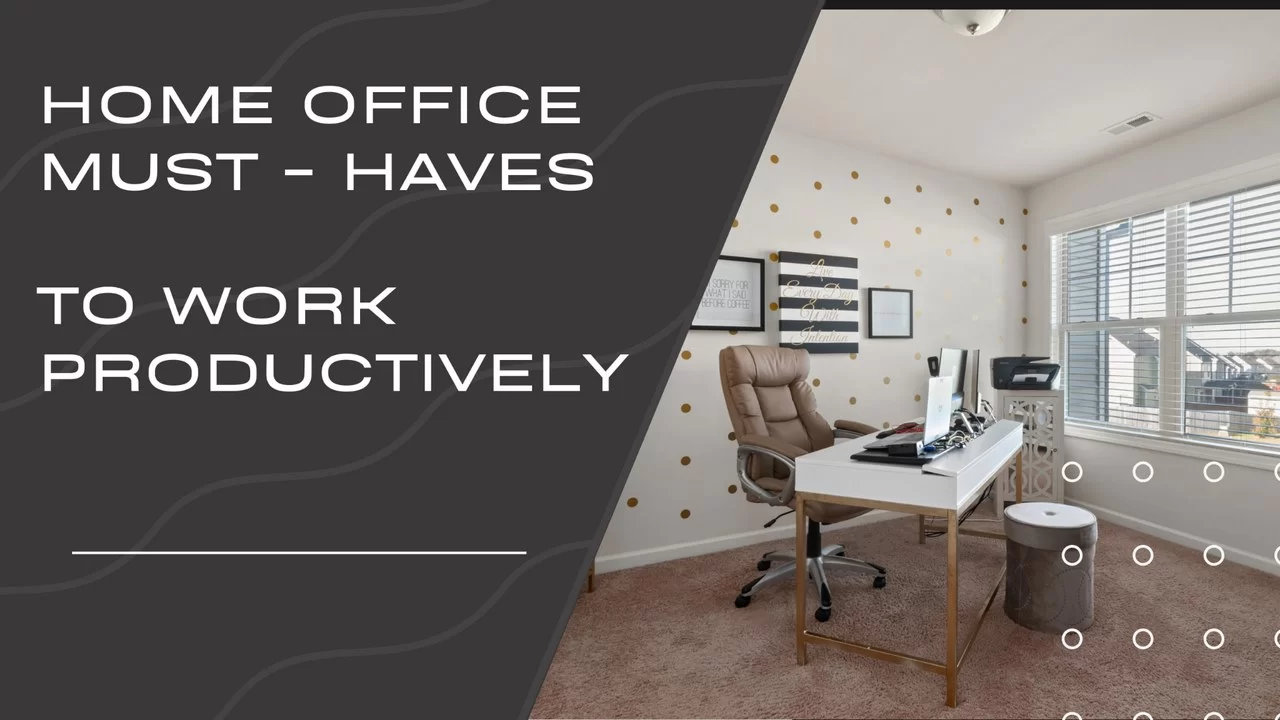 Many existing and new businesses have taken on a new height of prosperity. Even though people enjoy working in their comfort zones, they still require some tactics to enhance their productivity.
Home offices are pretty appealing and attractive. However, one should transform it into a potential working space, not a cozy and comfy spot.
This post will highlight some practical features to optimize your working strength. Moreover, it will enlist home office essentials for better productivity.
Transforming Your Home Office to Enhance Productivity
Your home is your comfort zone. Therefore, transforming it into a home office might be challenging for many. On the other hand, physical offices always have a working environment for growth and productivity. Creating a similar environment at your home requires some essential things.
Whether you live in a luxurious or small-spaced apartment, you must follow these guidelines to maximize your productivity.
---
Read Also:
---
Look for a Quiet Spot
You have always observed a morbid silence at your office. That's the reason behind your focus and high productivity. Before grabbing the furniture for your home office, designate a quiet location.
Many working remotely adjust their desks in the living room or next to their kids' rooms. As a result, they cannot work properly due to the lack of peace and focus.
If you don't have sufficient space, you can use a French door to create a separate working space. Moreover, if you have a basement, it would be ideal for working.
You can create an ADU if you have saved some money for yourself. Hence, designate a proper working spot for delivering high-quality work.
Design Your Workspace
If you have a cubical in your office, you must create a similar one at home. Designing and planning your workspace should be your next potential step. Layout the room so that it must provide a suitable spot to work.
You can start by making a floor plan on the page. For instance, you can designate a place for the desk, chair, and other things.
Also, look for other essential items to aid the work. If you plan to establish an ADU, ensure to install a cooling, heating, and proper ventilation system. As long as the place is comfortable, you can produce high-quality work. Moreover, you must ensure that all essentials are quickly accessible.
Optimal Lighting and Ventilation
Good lighting and ventilation allow you to concentrate properly on your work. These are essential elements that can either enhance or decrease your working capacity.
Hence, optimizing your home office with these essential requirements if you plan to work remotely. Ensure daylight enters and brighten up the room.
Moreover, the space must have good ventilation and exhaust vents. Sunlight and fresh air activate your body's dormant cells and enhance their activities. Natural light has a significant influence on your mood and working efficiency.
Installing fluorescent flood lights will enhance visibility, especially working at night. Therefore, ensure to have lighting elements, such as lamps, table lamps, and bulbs.
Home Office Decor
Invest in your home office to create a pleasant atmosphere. Customize your home office so you can work comfortably at home. You can plan on adding some essential elements for your desks, such as table lamps, printers, report covers, stationery items, humidifiers, and other necessary items.
Paint your walls in a soothing and relaxing color. Moreover, you can hang abstract paintings to set up an attractive working environment. You can have indoor plants to have oxygen and freshness. These plants maintain a healthy indoor environment by absorbing hazardous elements.
You can add either a wooden or glass desk for your office work. Complement that with a comfortable ergonomic chair. You can also plan to have a bookshelf in your working space. It will give your office a professional look, ultimately boosting productivity.
A Good Internet Connection
Ensure to establish a good internet connection. It is possible that you cannot work unless you have a stable internet connection. Nowadays, everyone is connected through digital platforms.
You must submit daily reports, attend online meetings, and perform daily tasks. All these things require a stable internet connection.
Therefore, you must have a proper internet connection at your home office. This way, you will work properly without any disruption.
Along with a stable connection, ensure to have a laptop or computer to facilitate the work. You cannot finish remote work without these devices. Therefore, grab them immediately for efficient working.
Designate a Storage Space
Like a regular office, you must have a storage room or cabinets. This storage space helps you to accommodate essential items, including paper clips, printer ink, files, or business cards.
If you do not have cabinets, you can create them out of a cardboard box. Moreover, don't forget to tag those boxes with names such as "stationery items."
You must avoid putting confidential files in boxes. For this purpose, ensure a safe location, such as a locked cabinet. Keep your things arranged and sorted, so you don't feel any inconvenience.
Final Thoughts
For efficient working, you need several work-from-home essentials. You cannot work unless you have an ergonomic chair, high-speed internet, an efficient laptop, good sunlight, ventilation, and, most importantly, your personalized working space. Therefore, grab all these essential items before you plan on starting a home office.
Your home office is a place that can help you to achieve success. Ensure to invest in the space by adding all the essentials.
A person cannot work well in an unfavorable environment. Plan a suitable place for working. Thus, design your workspace in a way that can boost your skills and working efficiency.