Ever wondered about the secret to creating a sanctuary that everyone can enjoy? What if I told you, it's easier than you think? How to Design a Wheelchair-Friendly Garden is not just an art; it's also empathy in action.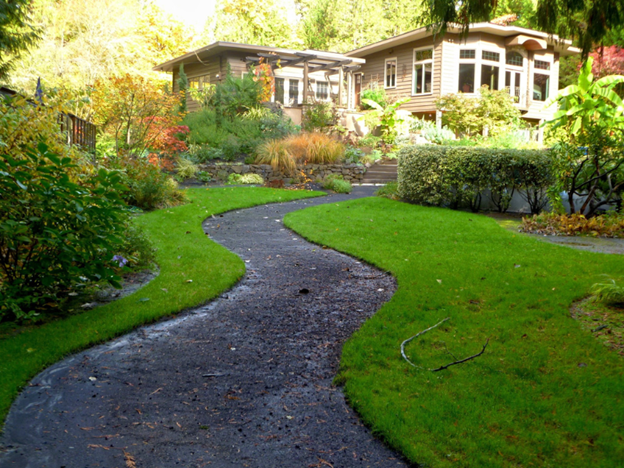 Picturing this garden feels like stepping into Monet's painting: vivid colors, delightful scents, and soothing sounds everywhere. But here's the catch – our canvas is designed for all, regardless of mobility.
We'll journey together through accessible pathways winding between raised beds brimming with life. We'll chat about smart watering systems that simplify maintenance while enhancing plant health.
Surely enough, we'll touch surfaces too, because who wants slips when admiring beautiful blooms or watching birds by water features?
Understanding the Importance of Designing a Wheelchair-Friendly Garden
As someone who has been involved in creating wheelchair-friendly spaces, I can tell you that well-being goes beyond having access to basic needs. It's about being able to engage with life fully and independently. And this is where designing a wheelchair-friendly garden comes into play.
The idea behind an accessible garden design isn't just about how to design a wheelchair-friendly garden, but why it matters.
It provides individuals with mobility challenges with not only physical benefits but also emotional well-being through their connection with nature.
A well-designed outdoor space offers opportunities for exercise, interaction with plants and wildlife, and even therapeutic gardening activities. But let's delve deeper into the key aspects that make these gardens so essential.
---
Read Also:
---
The Benefits: Beyond Physical Mobility
We often think of accessibility as purely physical – making sure there are no obstacles in the path or ensuring surfaces are easy to navigate on wheels.
However, creating a garden for people with limited mobility extends beyond these considerations. There's more mental upliftment when one interacts directly with greenery without any barriers blocking them from enjoying simple pleasures like touching leaves or smelling flowers.
Mental Wellbeing Through Nature Connection
Nature has long been recognized for its healing effects on our minds. For those facing daily challenges due to mobility issues, cultivating an intimate relationship with their environment helps improve their mood and reduce feelings of isolation or loneliness.
The simple act of planting seeds can bring immense joy by instilling a sense of accomplishment and anticipation as they watch their plants grow over time.
Key Considerations for Wheelchair Accessibility in Gardens
Designing a garden that's accessible to wheelchair users involves careful planning and thoughtful decision-making. But don't fret; we've got you covered with some crucial elements you need to consider.
Advantages of Raised Beds in Accessibility
The beauty of raised beds lies not only in their aesthetic appeal but also in their functional benefits. For one, they make gardening more enjoyable for wheelchair users by bringing the soil closer to hand level.
Raised beds can be made from various materials, such as wood or metal, each offering unique advantages. Selecting the correct material is essential, depending on your needs and desires. Whether it's sturdiness or longevity you're after, raised beds have plenty to offer.
A well-designed raised bed system allows easy access all around the plantings while reducing physical strain on gardeners who use wheelchairs. This setup encourages independence and gives everyone an equal opportunity to enjoy nurturing plants from the seedling stage up until harvest time.
Making Maintenance Easier with Self-Watering Systems
Say goodbye to manual watering chores. With self-watering systems incorporated into your garden design, keeping plants healthy becomes much simpler—especially for individuals using wheelchairs.
Self-watering planters are an excellent addition because they allow continuous water supply directly at the root level, which reduces stress on plants and ensures consistent growth patterns throughout the seasons without the constant attention required by traditional methods like hose irrigation or rainwater collection systems – making them perfect candidates when designing wheelchair-friendly gardens.
If this sounds too good-to-be-true (but trust us—it isn't), there's even more convenience wrapped up within these smart tools: they can also be incorporated into raised beds, creating a dynamic duo that lets gardeners with mobility challenges enjoy their passion without unnecessary hurdles.
These systems offer convenience and ease of maintenance. They provide the plants with exactly what they need while giving you more time to enjoy the fruits (and vegetables) of your labor.
These tools aren't just about giving a helping hand to gardening enthusiasts with physical challenges. They're also an open invitation for everyone else to rethink how they garden.
Pathways and Surfaces for Easy Navigation
The journey through a garden should be smooth, akin to the glide of a figure skater on ice. For individuals using wheelchairs, this starts with designing wheelchair-accessible pathways that provide easy navigation. Just like the gardener who knows every nook and cranny of their cherished plot, understanding your landscape is crucial.
Achieving this isn't as daunting as you might think. It begins with making sure pathways are wide enough – at least 36 inches in width is recommended. This gives ample space for mobility aids such as wheelchairs or walkers. Learn more about pathway dimensions here.
Finding Balance: Non-Slip Surfaces Meet Wheelchair Mobility Needs
When it comes to surfaces in gardens designed for those using mobility aids, balance plays an essential role—balance between smoothness needed for effortless movement and traction required to prevent slips or accidents. Creating non-slip surfaces in the garden helps achieve this harmony.
We all know how rain can turn even sturdy walkways into slip zones quicker than one can say "raindrops." Hence, choosing materials that offer good grip while wet is paramount. These could range from textured concrete to resin-bound gravel—just make sure they don't impede motion.
Navigating Glare: Choosing Paving Slabs Wisely
Bright sunlight may add sparkle to your morning coffee, but remember when it bounced off your screen during that Zoom call? Quite bothersome, right? The same holds outdoors too; glare can disrupt visibility significantly, especially if you're reliant on visual cues when navigating around objects.
To tackle these challenges head-on (and let's face it, we've had enough squinting), consider integrating anti-glare paving slabs into your garden's design. By reducing reflected light, these special paving slabs can make a world of difference in enhancing comfort and ease of navigation for wheelchair users.
There are a bunch of choices for paving slabs that work well for wheelchair users, from non-glare textures to sun-absorbing colors. Need some help picking? Take a look at this handy guide.
Incorporating Water Features and Planting Options
When designing a wheelchair-friendly garden, incorporating water features and choosing the right plants are as essential as ensuring accessibility. Let's explore how you can make your garden not just accessible but also visually appealing.
Water Features in Wheelchair-Friendly Gardens
A well-placed water feature adds an element of tranquility to any garden space. For individuals with mobility challenges, interacting with these elements brings about a sense of joy and connection with nature. The trick is to design them at a height that's comfortable for someone seated in a wheelchair.
You might be thinking about fountains or small ponds, but there's more to it than meets the eye. Aquatic planters, which are shallow containers filled with aquatic plants, add another dimension of greenery while making sure everyone gets access regardless of their physical ability.
The placement matters too; positioning your water feature close to pathways makes it easier for people using wheelchairs or walkers to appreciate its beauty without having difficulty navigating around it.
Irrigation Systems: An Important Consideration
Maintaining hydration levels in plants can be quite a physical task; this is where irrigation systems come into play. With an efficient watering system integrated into your wheelchair-friendly garden design, gardening becomes less tedious and more enjoyable.
Irrigation systems provide many benefits, including saving time on manual watering tasks, providing consistent moisture for healthier growth, and preventing overwatering issues that could lead to root rot, among other things – all leading up to one goal: Making life easier so anyone (regardless of whether they're in a wheelchair or not) can enjoy gardening.
From soaker hoses to drip irrigation systems, you have numerous options. The key is to opt for something that caters to the requirements of your garden and makes gardening convenient.
Growing Plants in Wheelchair-Friendly Gardens
The joy of gardening lies as much in growing plants as it does in creating an accessible space. However, choosing appropriate plants isn't always straightforward, but don't worry. We've got some tips up our sleeve.
FAQs about How to Design a Wheelchair-Friendly Garden
How do you make a garden wheelchair accessible?
To make your garden wheelchair-friendly, start by adding wide and smooth pathways. Use raised beds for easier access to plants. Incorporate self-watering systems for low maintenance.
What is the best path surface for wheelchairs?
The best pathway surfaces are firm and non-slip like concrete or compacted gravel. Anti-glare paving slabs can also be useful in reducing glare from sunlight.
How tall should a wheelchair-accessible garden bed be?
A raised bed designed for a seated gardener should ideally stand between 24 and 36 inches high. This height allows for comfortable gardening while sitting in a chair or on a stool.
How do you garden with mobility issues?
Gardening with mobility issues involves planning an accessible layout, using easy-to-reach raised beds, and automated watering systems, choosing low-maintenance plants, and utilizing adaptive tools as needed.
Conclusion
Designing a wheelchair-friendly garden? Not as tricky as it may appear. Raised beds, self-watering systems, and smooth pathways are key.
Choosing the right materials is vital too – non-slip surfaces for safety, and anti-glare paving slabs to protect eyes from sharp reflections.
It's all about attention to detail. And let's not forget water features and plant selection! They bring life, sound, and color into our accessible oasis.
Truly an art of empathy in action! The journey on how to design a wheelchair-friendly garden may be long but rewarding nonetheless. With these tips at hand, everyone can enjoy the therapeutic beauty of gardening, no matter their mobility level.