You're planning a gathering and you're so excited!
You have the perfect guest list and you've already planned the décor, the food, and some activities to entertain your guests throughout the evening.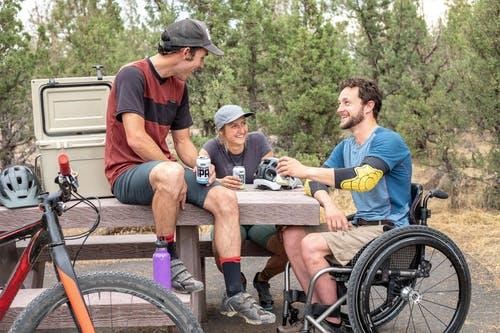 But wait! You just remembered that one of your guests is in a wheelchair and you don't have any way for them to access the house!
You have stairs at the front door and back door so you're going to need a quick and simple solution to cater to your guests.
You need a simple solution for a temporary wheelchair ramp, and quick!
Building a Temporary Wheelchair Ramp
We've got you covered! It's really quite easy to make a temporary wooden wheelchair ramp that can go right over the stairs.
All of your guests will be able to comfortably use the ramp and then you can remove it when you're finished.
You can even store it away if it is ever needed again!
You can build a temporary ramp on your own and the process will not take you very long at all.
It's a simple fix that can be used over and over again and removed at will. We've put together a simple guide to help you through the process from start to finish.
Before getting started, make sure you have the right tools for the project on hand.
Check out the WoodJoy Tools Facebook page for some helpful tool reviews.
Supplies You Might Need
You will need some tools in order to make a temporary wheelchair ramp. You will need the obvious items, like wood, but we want you to be fully prepared for the task at hand.
Make a list and check it twice to make sure you have everything you need to get the job done without having to make multiple trips or try things multiple times.
Here are our recommended tools to have available.
Tape measure
A square or angling tool (protractor)
Plywood – we recommend 3/4-inch for strength
Saw – we recommend a circular saw
Wood for posts for stability
Wood glue
2-inch nails or screws
Hammer or drill
Most of these things can be acquired from a local store. If you have a local hardware store that you prefer, they are a valuable resource.
You can also check out the aforementioned Facebook page for recommendations on the tools used in the process.
Click here to know more about woodworking gadgets.
The Process
Alright, you've gathered your tools so let's get to work!
The following steps will walk you through the process with all of the details you need to get the job done and have a viable temporary ramp.
Let's get started!
1. Measurements
Before you get started, you will need measurements to prepare your ramp. Start by measuring the length from the ground to the top of the doorsill.
This will tell you how tall it needs to be overall and give you some figures to determine a suitable angle for your ramp.
The ADA provides some guidelines here that can help us out. Their recommendation is that for every foot off the ground the ramp will rise, you should have 12 inches of ramp length.
So if you are 5 feet off the ground, you will need 50 feet of the ramp to accommodate the angle.
The rules also state that you don't want your slope to be more than 4.8 degrees.
This is specifically for unassisted wheelchair use, so it is designed for someone who is wheeling themselves up the ramp. Assisted wheelchair use can be slightly steeper.
Here is another example here to keep it simple. If your front steps have 2 steps and a height of 2 feet, you should plan on 24 feet of ramp length.
This may seem long to you but it's ideal to make their trip up the ramp easier.
2. Cut and Prepare Wood
Cut plywood to meet the necessary length to reach the top of the stairs. Use the measurements as defined in Step 1.
As you are cutting wood, be sure that you prepare a small landing for the top.
Do not try to notch wood to "fit" over the stairs because this will leave a bump for the wheelchair driver to have to maneuver over and it is not user-friendly.
This landing space will be added length to your ramp overall and should be large enough that the person in the wheelchair can turn and maneuver at the top of the ramp as necessary.
3. Supports
Now that you've prepped wood for your ramp, it's time to create supports to hold the ramp in place when it is in use. Use your circular saw or a hand saw to make wooden posts for the ramp.
These posts are meant for stability and support and will run the length underneath of the ramp.
These are not ramped to ground posts. They run the length and will provide added support to the ramp overall. You need 4 posts to support the landing of the ramp and then 2 posts for every two feet of length.
4. Prepare The Ramp
You've got everything cut prepped, measured, and angled so now it's time to put the ramp together.
Use wood glue if you are securing plywood together to make a thicker surface. Then beginning piecing your ramp pieces together to create the ramp length and attach your posts as needed.
Do this for the length of the ramp and attach nails or screws every 6-8 inches for the length of the ramp.
5. Landing
Now finish up with the landing. Remember to attach your posts and piece everything together appropriately.
Conclusion
Voila! You have a ramp ready to go and use. When your event is over or the ramp is no longer needed, you can easily piece it apart without tearing it up.
The nice thing is you can set it aside in case you were ever to need it again.
These steps help create a temporary solution for a wheelchair ramp without having to purchase anything expensive or spend days constructing a solution.