These front porch Christmas decorating ideas will let everyone know you are celebrating the season and greeting visitors with a warm holiday welcome.
When you deck the halls, don't forget the porch. Extending your seasonal decorating outdoors shares your Christmas spirit with the neighborhood. Choose one of these front porch Christmas decorating ideas to dress your home's exterior in holiday style.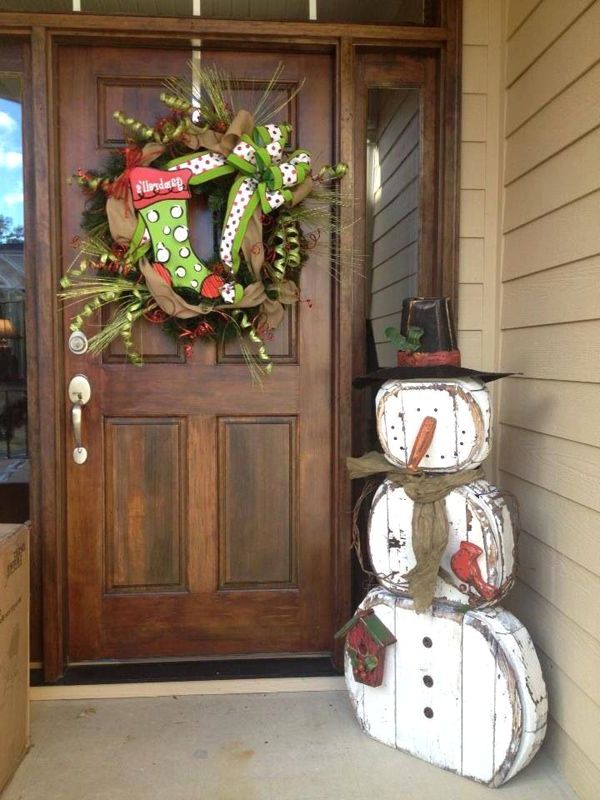 Front Porch Christmas Decorating Ideas
Choose front porch Christmas decorating ideas that complement the style of your house, reflect your favorite holiday tradition or appeal to your sense of style. Use these Christmas decorating themes to inspire your creativity and turn your front porch into a festive and inviting display.
---
Read Also:
---
Rustic Christmas Decorating Theme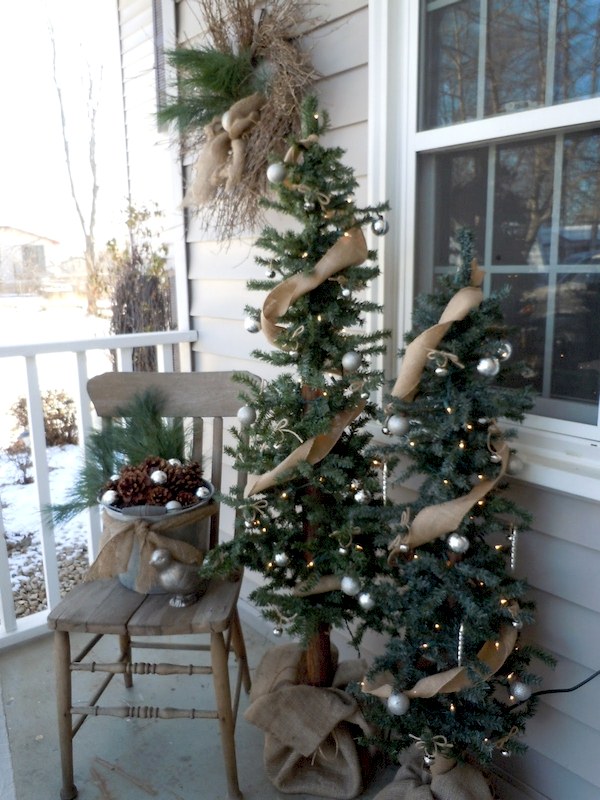 Choose a rustic holiday decorating theme for your porch if you live in the country or just enjoy blending your décor with the natural beauty of the outdoors.
Choose pre-lit green garland for your rustic porch. Wrap the garland around the porch railings and front door. Choose garland that is frosted to look snow covered or use spray snow to frost it yourself. White lights are best for a natural look. Fill hanging wicker baskets with frosted Christmas greens.
Hang a grapevine wreath adorned with berries on the front door.
Place a potted Christmas tree on your porch. Choose one that is planted in a rustic style pot, such as one made out of wicker or wrought iron. Decorate the tree with white lights, pine cones, and berry garland.
Other items to use on your rustic front porch include rustic tin stars and snowflakes, holiday solar lanterns and pine cone ornaments.
Winter Wonderland Decorating Theme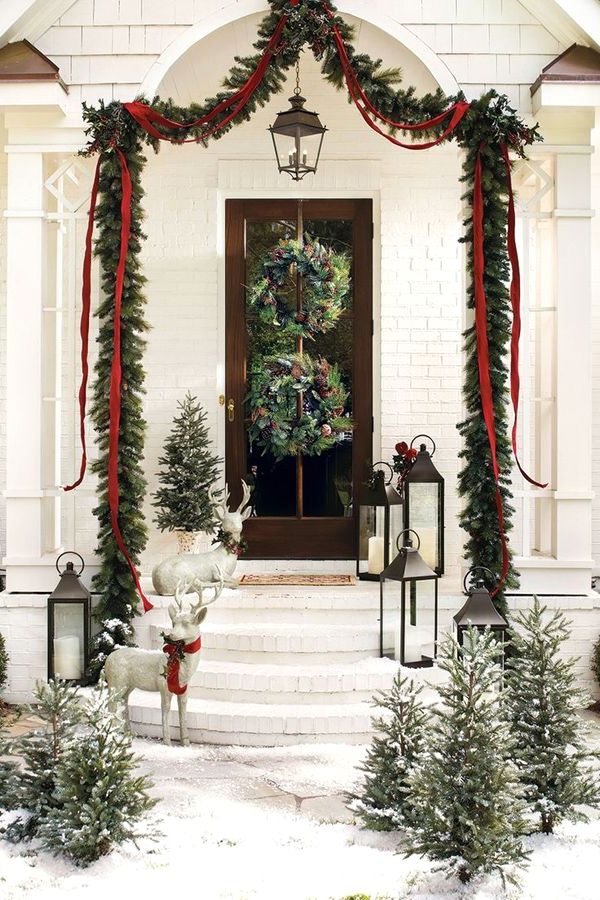 Use snowmen, snowflakes, and snow themed decorations to transform your Christmas porch into a winter wonderland.
If you are fortunate enough to have real snow, flank the porch steps with real snowmen to greet visitors. Otherwise, choose lighted snowmen decorations to place at the foot of your steps.
Use frosted garland with blue lights to hang around the doorway. The blue lights will add a cool touch of color to your snow theme. Drape icicle style lights along the porch railings.
Hang a snowman welcome sign on your front door. Lean a sled up against the wall next to the front door.
Hang snowflakes from the porch ceiling. Use fishing line to hang several snowflakes at varying lengths so it appears as if they are falling from the sky.
Plants such as potted trees and Christmas bushes can be sprayed with snow and decorated with snowflake ornaments, icicle ornaments and snow-frosted, pine cone ornaments.
Purchase a snowflake stencil and use it to paint snowflakes on the porch floor and walls, if you are willing to paint over them in the spring.
Place a snow themed welcome mat at the front door.
Christmas Gifts Decorating Theme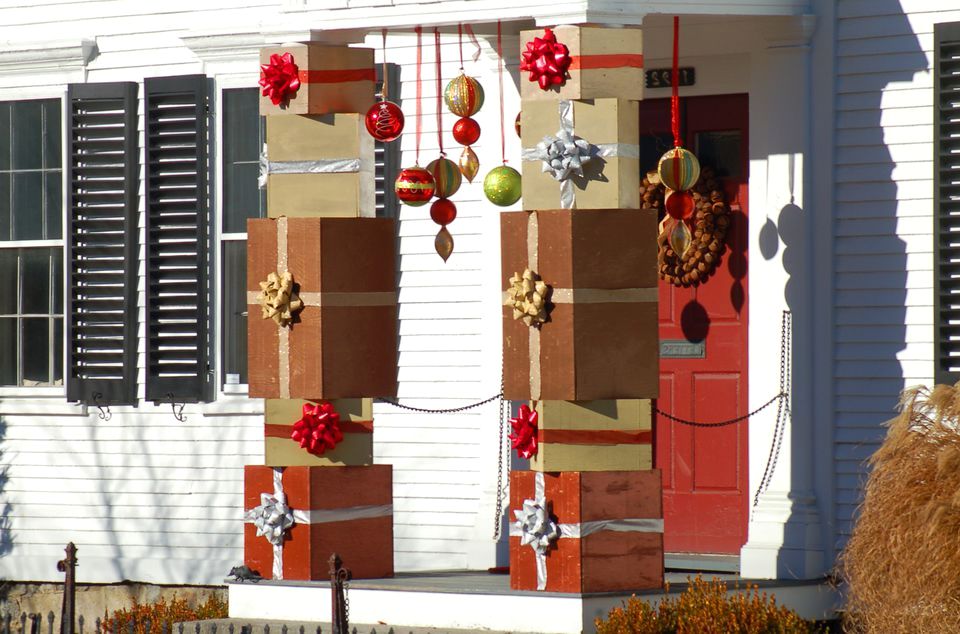 Everyone loves Christmas presents so who wouldn't love to be greeted by a gifts theme on the front porch?
Use multi-colored lights to surround the front door and porch rails.
Stuff large Christmas stockings with newspaper until the bottom halves are full. Buy small, pre-made plastic gift boxes or use varying sizes of food storage containers. Paint them with waterproof paint to look like holiday wrapping paper. Allow to dry and glue them into the stockings so that some of the boxes are peeking out of the stocking tops. Hang these stockings from the porch railings.
Gift wrap the front door with a shiny holiday door wrapper. Place a large gift bow on the front door.
Fill varying sized plastic gift boxes with rocks or other items to weigh them down. Paint with waterproof paint. Allow drying. Scatter and stack around the porch.
Add hanging baskets filled with gifts to the porch décor. A sleigh filled with gifts can also be added to the porch or near the walkway.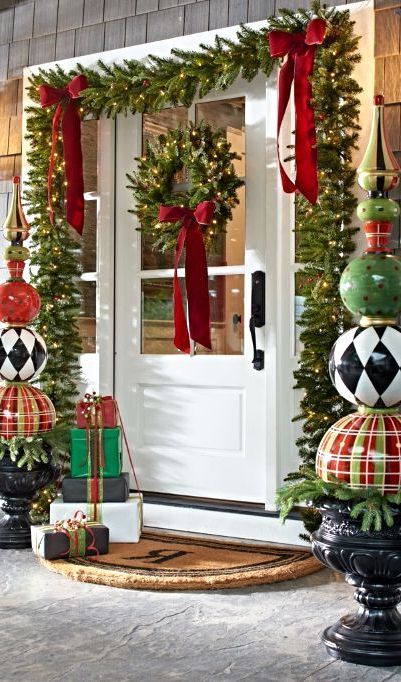 Candy Cane Christmas Decorating Theme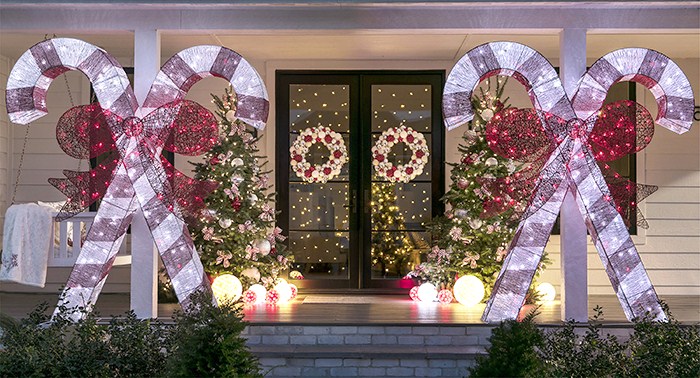 A red and white color scheme will enhance the sweet decorating theme of candy canes on your porch this Christmas season.
Use ribbon to transform your porch columns into candy canes. Wrap red ribbon around white porch columns or use red and white ribbon on columns of a different color.
Wrap red and white lighting around the columns, rails, and doorway.
Create a candy cane wreath to hang on your front door. Cut a piece foam board into the shape of a candy cane. Glue round candy cane mints and pieces of broken candy cane onto the foam. Add a bow and a hook and hang on the front door.
Purchase candy cane stake decorations to line the walkway to the porch. Attach a large candy cane to the center of large red velvet bows. Hang these from the porch railings.
Hang red and white poinsettias in hanging porch baskets.
Place a candy cane themed welcome mat at the foot of the door.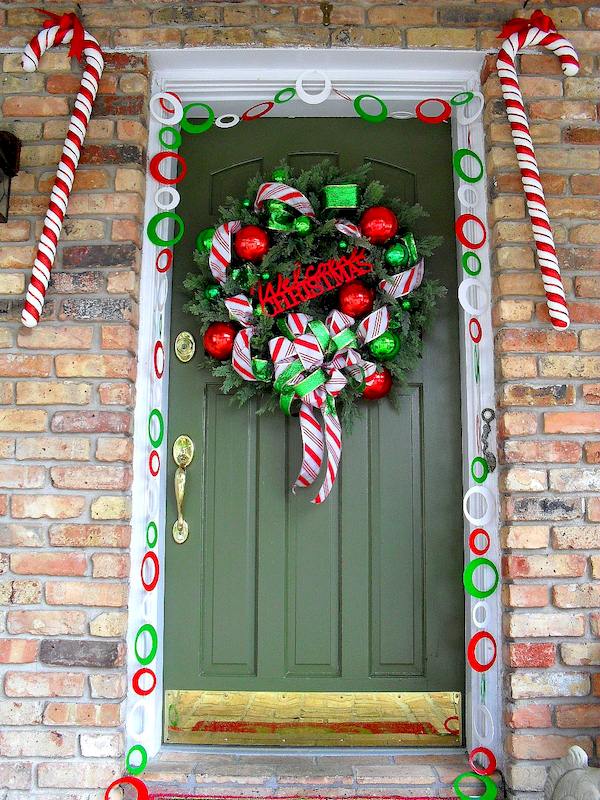 Safety Tips: Front Porch Christmas Decorating Ideas
These decorating ideas should be always be implemented with safety in mind.
Lighting should always be properly secured to withstand wind and weather as well as to avoid safety hazards.
Never use nails or metal securing devices to hang your lights. Instead, purchase insulated hooks from the hardware store.
Use only outdoor lights for outdoor decorating.
Extension cords should also be rated for outdoor use, and should not be run in places where damage or tripping may occur.
Be sure not to overload circuits with your lighting.
Props and decorations should also be secured against wind and weather.
Hanging baskets should be hung with strong hooks that have been drilled into the ceiling.
Secure decorations to railings with zip-ties to hold them firmly in place.
Use these front porch Christmas decorating ideas as a springboard for your creativity. Select the theme that best appeals to your sense of style. Consider the architecture of your porch, your budget, and your personal preferences when planning the design and streamline or expand upon the décor accordingly.
References for Front Porch Christmas Decorating Ideas