When considering installing a wood floor, it pays to be knowledgeable about the whole process after selecting a professional installer.
This will ensure that you end up with high performance and great looking hardwood floor. Underlay is an important aspect of wood floor installation.
This plays significant options and comes in various options. Read on to discover why to consider underlay and the options available.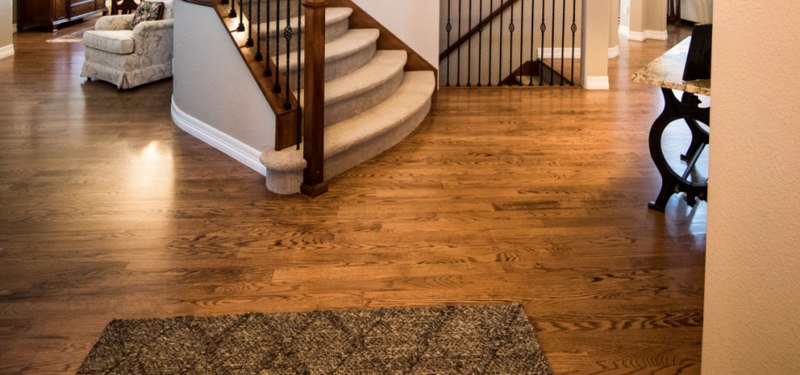 ---
Read Also:
---
Enhancing Stability
Placing underlay before installing a wood floor evens out any minor imperfections on the subfloor. This encourages stability for quality wood floor installation. Fixing major dips and flaws in the subfloor is very important before installing a floor.
Fortunately, a quality underlay will eliminate these minor imperfections for stability. This will make your hardwood floor installation last and easier to walk across.
It is very important to work with a professional installer to avoid damaging subfloor boards underneath. This damage can happen during the installation or replacement process.
Professional installers understand the best way to handle the process limiting potential damage to the subfloor. For the presence of minor issues, appropriate underlay is placed to encourage stability.
Noise Reduction
Noise from footfalls is a great concern for a wood floor. Fortunately, flooring products are now available to eliminate this concern. One way to prevent noise when walking on a wood floor is to place underlay.
Contractors offering wood floor installation services understand the appropriate underlay for noise reduction.
This will limit the irritating noise from the floorboard when walking on the wood floor. Walking on a noisy wood floor is very annoying especially during the night or when having a sleeping baby in the house.
Appropriate underlayment deadens noise regardless of whether it is your pet or children running and playing indoors.
Warming the Floor
The ideal floor cover should enhance comfort and warmth. Installing quality underlay limits damp coldness from the floorboard.
This will ensure that your feet are warm when walking on the wood floor. This is very important especially during the cold winter months. Underlay beneath your floor enhances
Moisture Resistance
Underlay with an attached vapor barrier promotes moisture resistance on a wood floor. It is very important to prevent moisture from the subfloor ending up on the wood floor. This will promote dampness and an eventual decline in the quality of the floor.
Moisture on the wood floor encourages warping and compromises the durability of the floor. Investing in quality underlay keeps the floor intact to give you value for your investment.
Cushioning Agent
Walking on the floor should not compromise your comfort. The quality underlay will make walking on your wood floor more enjoyable and comfortable.
The underlay offers subtle cushioning to the floor. You will always have a great experience walking on the wooden floor with underlay.
Additionally, the underlay protects the floor from damage resulting from regular foot traffic. This extends the lifespan of the wood floor and limits refinishing, repairs, and replacement.
Options for Hardwood Floor Underlay
Damp-proof Underlay
Most underlays have damp proofing properties but specialized damp-proof underlay guarantees exceptional moisture protection. This underlay limits moisture from passing from the sub-floor to the wood floor.
Damp-proof underlay is ideal for basement projects and comes in various gauges. A professional installer will recommend the ideal gauge for your project.
Foam Underlay
This is lightweight and available in various thicknesses. The most significant benefit of foam underlay is the exceptional moisture barrier. This underlay is ideal for most wood floor options making it a very popular choice for wood floor installations.
Soundproof Underlay
When living in a flat or an apartment, noise pollution is a big problem. The best solution is to invest in noise-reducing underlay before wood floor installation.
Soundproof underlay comes in various thickness options ranging from 2mm to 5 mm. fortunately, soundproof underlay is appropriate to use regardless of the type of wood floor.
Adhesive Underlay
For a solid wood floor, adhesive underlay is specially designed for this application. This comes with a special removable film with adhesive properties.
This underlay is a great choice compared to other options for lessening the time necessary for wood floor installation.
Insulating Underlay
Working just like duvets, insulating underlay has Tog rating grades. This underlay is lightweight and very useful in combating cold hence limiting the heating bill.
Apart from encouraging warmth indoors, insulating underlay enhances noise reduction and promotes a more pleasant under-foot experience on the wood floor.
Underfloor Heating Underlay
Finally, when looking forward to underfloor heating, this underlay is a great choice. A professional installer will help you choose the ideal underlay to guarantee effective heat transfer. This should come without compromising the quality of the underlay.
Conclusion
It is a great idea to install a wood floor. However, it pays to understand the various aspects of the whole installation process. One of these includes underlay placement.
Quality underlay ensures stability, noise deafening, moisture resistance, and enhances the underfoot experience. A professional installer will help you select an ideal underlay to match your project requirements.