Garage Floor Makeover — There are numerous choices available when you are considering a new garage floor makeover. Depending on the time available, and the budget you have set for the remodeling of the new garage floor coverings project, you have many options to make it look good and last a long time.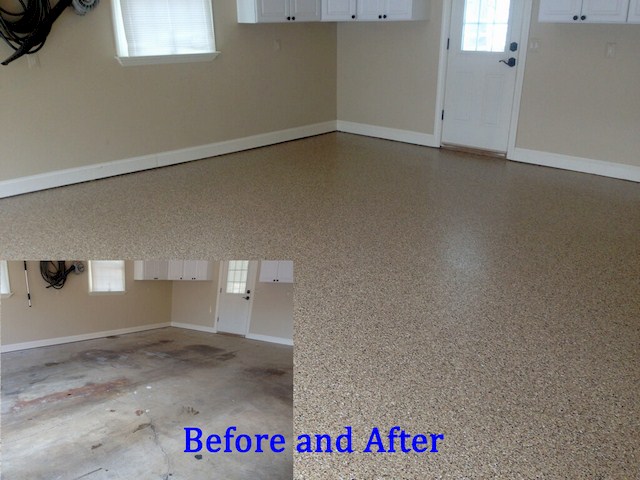 Garage Floor Makeover, Makeover that Drab Garage Floor
With several different options now available, you might consider garage floor tile. Garage floor tiles range in size from 12″ X 12″, 18″ x 18″, and up to 20″ x 20″.
If you are interested in "going green" for your garage floor tile, perhaps one option might be recycled rubber tire flooring. These garage floor tiles are slip resistant and easy to install by snapping and interlocking the floor tiles together. This garage floor covering system avoids glue and fumes.
Swiss trax plastic floor tile is interlocking and can withstand a 6,000 pound car. There are many colors to choose from and different styles of tread. This garage floor tile system is easy to remove.
Instead of using the interlocking tiles, there are also garage floor tiles which come as peel and stick tiles.
Another option to explore when you are ready for garage floor coating is garage floor paint.
There are several different types of epoxies and polyurethanes coating available. Epoxy u-coat is easy to apply, and lasts a long time. This garage floor covering is easy to maintain and install.
If you decide to use a liquid granite floor system there are many colors to choose from. These garage floor coverings make your floor resistant to oil, gasoline, and other spills.
One of the downfalls with garage floor paint is possible peeling, chipping, and flaking. When exploring your options, you might consider the ease of removing the floor covering.
One of the newer options available is from Line X protective coatings. The newer product is called Aspart-X U/V Protective Coatings. This coating replaces epoxy or polyurethane.
The product appears to be durable, and resistant to scuffing. Aspart-X is available in several different colors and is professionally applied. Aspart-X is also available in a optional non-skid finish.
Must Read:
One type of garage floor paint that is quickly gaining popularity is Flexmar polyaspartic concrete coatings.
This coating is used in many commercial settings, so it might be a good contender for your home garage floor covering project. This flexmar coating can be applied in less than a day and cure time is only a few hours.
This coating can be applied in temperatures of -30 and hot as 150F. There are a wide variety of colors available from solid colors to granite look-alike.
One thing to also consider is cement stain. With so many colors available and the ease of use, this is a very good option.
After your choice has been made for your new garage floor makeover, get ready to enjoy your investment.
Whichever system you choose, your new floor will be low maintenance and add years of enjoyment in your garage or work station.