Painting concrete floors or painting a basement floor allows you to change the drab look of a concrete floor as well as give you a surface that is easy to keep clean.
Preparation work is as important as the actual painting job and properly degreasing the floor is a must. Read on to learn more!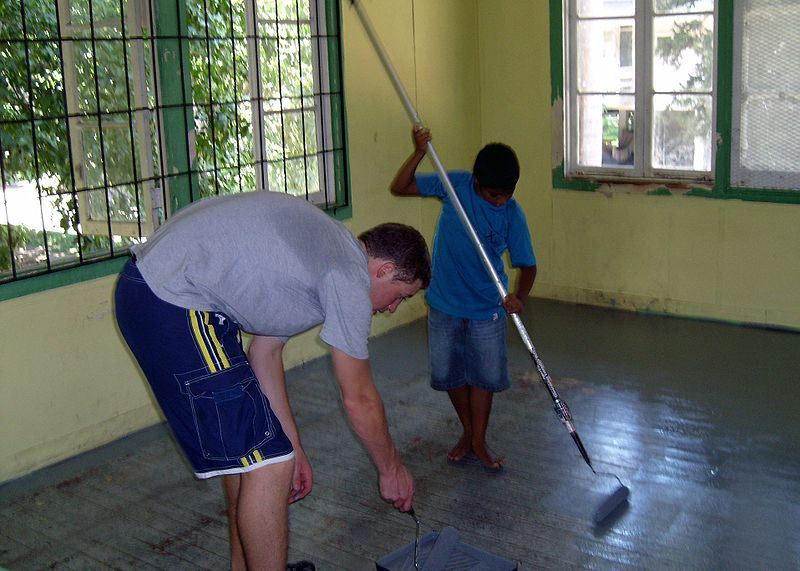 Painting Concrete Floors So They Can Be More Easily Maintained
Painting a basement floor is often done so that it can be kept dust free and easily maintained. Before painting concrete floors; however, they would first need to be cleaned of any oil or other stains that may prevent the paint coat adhering to the surface.
Before you decide you can always ask professionals for epoxy designs. From there choose the paint that you want to apply on the floor and get hold of all the technical literature regarding these paints, before you buy them
It is better to also to etch the surface to make it slightly rough. You would also need to decide the type of paint finish that you require. This article explores this project in further detail, so you can DIY!
---
Read Also:
---
Preparing the Floor for Painting
Concrete is a very strong and durable material and ideal for floors that may take heavy traffic or storage of heavy materials. With this durability also comes a drabness that makes it not very pleasing to look at. You can enhance the looks of a concrete floor by painting it and making it eye-catching.
The painting also helps with cleaning. While painting concrete floors is no big technical achievement, what is very important is the preparation and care that has to be taken before actually starting the painting work.
The concrete floor that is to be painted must be free of any oil or grease and also completely dry. If the floor is new, you would have to ensure that there are no traces of any curing compound used during construction, as such material may prevent paint from adhering to the concrete.
Oil and grease stains (which would exist on a garage floor) would need to be first removed by using degreasers, which are chemicals that you can easily get from the nearest hardware store.
Next, check on any moisture on the floor. This is more likely to be present in basements and you would need to first eliminate the source of the dampness. Use a dehumidifier or a heater to help the moisture to dry up, and do not start any painting process until the moisture has completely dried out.
It is better to wait a few extra days and ensure that your garage or basement has plenty of ventilation, which will help the moisture to go away.
Once you are sure the floor is dry, vacuum it to remove all loose dust before you start painting the basement floor. If the floor is too smooth, it is better to use acid etching to make the profile of the floor akin to medium sandpaper.
Painting Concrete Floors
Decide on the sort of paint that you want to apply on the floor and get hold of all the technical literature regarding these paints, before you buy them. Buy sufficient quantities as per coverage area is given. Epoxy based paints are best for concrete floors and available in a wide range of colors that could convert the drab floor into something that is pleasant to look at. You can also use latex paints.
Apply two coats of primer to the floor with a roller. The coats must be thin and each coat must be allowed to dry out before the next coat is applied. This may take a couple of hours for each coat, but patience is advised. You can use a dehumidifier to speed up the process. Once the primer is in place, you may need to apply a coat of stain blocker if you are going to use latex paint.
Epoxy paint comes in two parts and would need to be mixed according to the manufacturer's instructions. Mix as much as you are planning to use immediately and allow the mixed paint to rest for the specified time before you start using it. Using a roller with a long handle can save you from bending or kneeling on the floor.
Paint the floor in firm broad strokes and cover the area of the floor, so that there is a slight overlap between old and new areas. Some paints may come with decorative chips, which need to be sprinkled on the wet paint before moving on. If you are planning different colors, finish one color before you move on to the next.
Let the paint dry completely and then use sealers to complete the job. When painting concrete floors, you may need to apply two coats before you can consider the work complete. Your basement or garage floor is now ready for further use.
References