Imagine this scenario: It's a sweltering summer day, and you walk into your home, hoping for a cool, refreshing oasis. Or picture a chilly winter evening when you long for cozy warmth the moment you step through the door.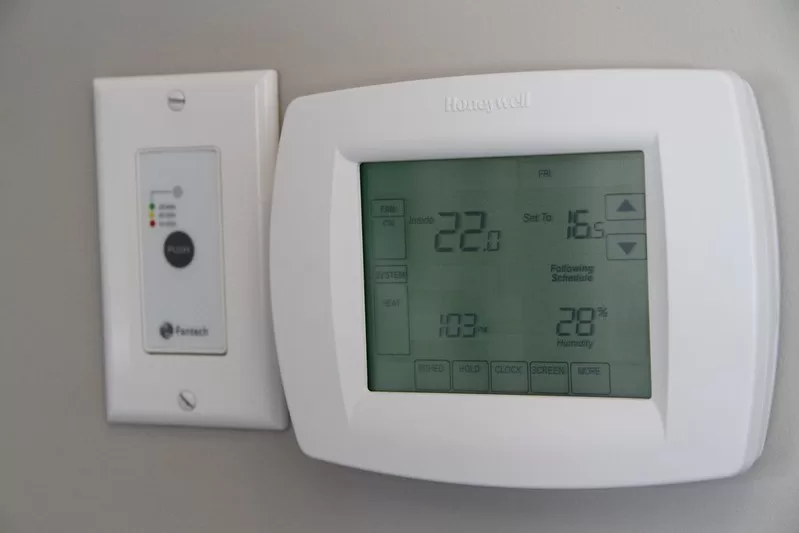 In both cases, what makes this indoor climate magic happen? The answer lies in one small but mighty device—thermostats. Today, we're delving into the world of thermostats, exploring how they adapt to diverse climate needs.
We'll shine a spotlight on Braeburn thermostats, IO HVAC Controls thermostats, and Lux thermostats, each catering to unique climate scenarios.
The Crucial Role of Thermostats
Before we dive into the specifics, let's remind ourselves of the thermostat's vital role in our daily lives. Thermostats are like the conductors of a symphony, orchestrating the perfect indoor climate.
They are the control center for our HVAC (Heating, Ventilation, and Air Conditioning) systems, ensuring that we experience comfort and energy efficiency year-round.
The choices we make regarding thermostats significantly impact our comfort and savings. An adaptable thermostat that can cater to diverse climate needs is a must-have for homes and businesses alike.
Braeburn Thermostats: A Trusted Name
When picking a thermostat, Braeburn is a name homeowners know they can rely on. Braeburn has earned a reputation for quality among both homeowners and professionals thanks to its user-friendly interfaces and wide compatibility with various HVAC systems.
Braeburn thermostats adapt seamlessly to different settings, like a chameleon blending into its surroundings. Whether you're dealing with scorching desert heat or unpredictable weather patterns, Braeburn thermostats are up for the job.
---
Read Also:
---
IO HVAC Controls Thermostats: Smart Solutions
In today's world of smart home technology revolutionizing how we live, IO HVAC Controls thermostats are making a splash. But these aren't just ordinary thermostats – they're intelligent climate managers for your home.
IO HVAC Controls puts precise climate control at your fingertips, sometimes literally through smartphone apps! The smart capabilities let you adjust temperatures and customize settings remotely, making them perfect for anyone who demands precision management of their indoor environment.
Imagine being able to set the perfect temperature as you're heading home – IO HVAC Controls makes it a reality.
Lux Thermostats: Affordable Comfort
Budget-focused shoppers need not sacrifice comfort or quality. Thermostats lux provides an affordable option without cutting corners. They prove that comfortable indoor climate control can be accessible to all.
Lux thermostats are designed for simplicity – easy to install and program. You don't need to be a tech expert to confidently set up Lux thermostats to meet your home's climate control needs.
The Importance of Adaptability
Climate conditions can vary dramatically from region to region and even within a single day. Thermostat adaptability is crucial to ensure that your indoor environment remains comfortable and energy-efficient regardless of external conditions.
Think about it: the climate control needs of a house in a humid coastal area differ vastly from those of a home nestled in a chilly mountain range. Similarly, businesses in areas prone to temperature extremes must invest in thermostats that can adapt seamlessly.
Adaptability not only enhances comfort but also contributes to significant energy savings. Thermostats that can adjust to changing conditions without human intervention can make a substantial difference in utility bills.
Tips for Choosing the Right Thermostat
Selecting the right thermostat for your climate needs involves several considerations. Start by assessing your specific requirements:
Climate: Take into account your region's climate and weather patterns. Are you dealing with hot summers, cold winters, or a mix of both?
HVAC System Compatibility: Ensure that the thermostat you choose is compatible with your HVAC system. Some systems require specific thermostat types for optimal performance.
User Preferences: Consider your personal preferences. Do you prefer a thermostat with a simple interface, or are you drawn to the convenience of smart controls?
When choosing between Braeburn thermostats, IO HVAC Controls thermostats, and Lux thermostats, it's essential to align your selection with these factors. Your thermostat should be a seamless fit for your unique climate conditions and lifestyle.
Case Studies in Climate Adaptation
Let's look at a few real-world examples of how different thermostats have proven their ability to adapt to changing conditions:
Imagine a family living somewhere known for unpredictable weather, with wild temperature swings that keep people on their toes.
In climates like these, Braeburn thermostats have been a lifesaver – swiftly adjusting to the mercurial conditions and keeping the indoor temperature comfortable no matter what's happening outside.
For tech-savvy homeowners who want granular control over their indoor climate, IO HVAC Controls thermostats have been a game-changer. Picture someone who can tweak their thermostat remotely while heading home, so the living room hits that perfect temperature right as they walk in the door.
In regions prone to extreme weather and sky-high utility bills, Lux thermostats have come to the rescue of budget-conscious households. With their energy-efficient settings, these thermostats help cut monthly costs without sacrificing comfort.
These examples demonstrate the versatility of Braeburn, IO HVAC Controls, and Lux thermostats across different climates. Whether dealing with unpredictable weather, satisfying tech enthusiasts, or saving money, these thermostats adapt seamlessly to maintain indoor comfort.
Thermostat Technology Trends
Thermostat technology keeps marching forward with new innovations. Some emerging trends include thermostats that connect with other smart gadgets in your home, using AI to forecast temperatures based on weather reports and your past settings, and more eco-friendly models that help cut energy use and lessen environmental impact.
As demand grows for convenient, money-saving, and sustainable solutions, the future looks bright for smarter and greener temperature controls.
While tech advances, the aim remains the same – helping us stay comfortable while using less power. The next generation of thermostats will likely continue finding new ways to achieve that goal.
Conclusion
At the end of the day, thermostats are the quiet MVPs when it comes to keeping things climate-controlled and energy-efficient. Braeburn offers adaptable options, IO HVAC Controls brings smart tech to the table, and Lux provides affordable temperature regulation – there's a thermostat out there for every need.
So even if they operate behind the scenes, be sure to show your thermostat some appreciation next time you're relaxing in your perfectly temperate home or office. These unsung heroes work around the clock to keep you comfortable without demanding any attention or accolades in return.