South London, with its meandering streets brimming with history and lined with homes that whisper tales from a bygone era, has always held a particular allure. The architecture here is a harmonious blend of time-honored craftsmanship and evocative design, ensuring that every dwelling tells its own unique story.
But beyond their undeniable charm and period features, many of these homes carry with them untapped potential waiting to be unveiled. Enter the world of loft conversions—a contemporary solution that seamlessly marries the old with the new.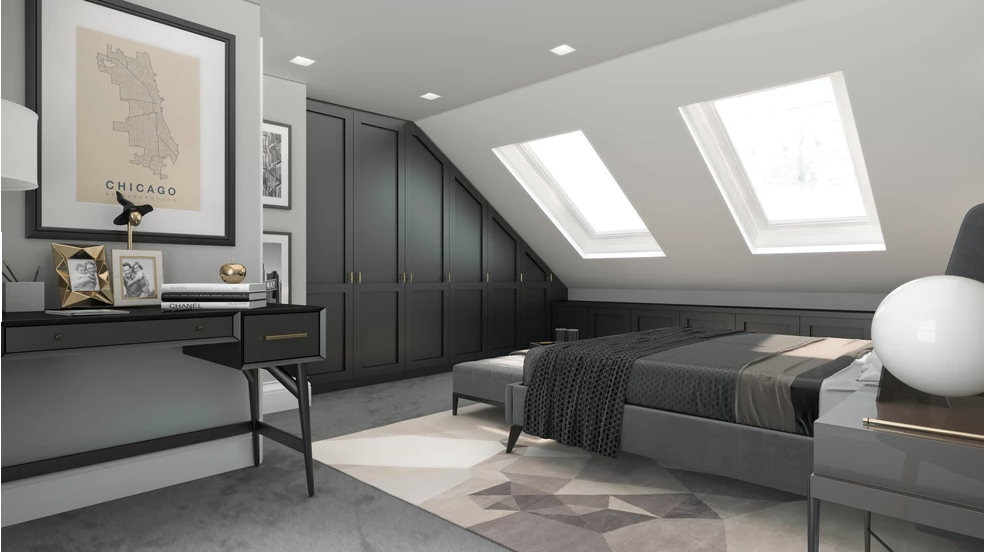 Over recent years, loft conversions have emerged as more than just a home improvement trend; they've become the golden key for homeowners in South London, unlocking spaces previously overlooked or underutilized. These aren't just mere renovations; they are transformative journeys that breathe fresh life into spaces, blending functionality with finesse.
And as the trend gathers momentum, South London has positioned itself at the forefront, evolving into a hotspot for high-end loft transformations.  In this exploration, we'll delve deeper into how these conversions are reshaping homes, redefining luxury, and offering homeowners a modern-day solution that pays homage to the region's rich architectural legacy.
Find out about Visionary Loft South London
South London's Architectural Legacy
South London, an area synonymous with character and charm, boasts an architectural tapestry that is as diverse as its history. This region has seen a metamorphosis over the centuries, with its residential architecture reflecting the changing times, societal shifts, and artistic movements.
Delving into this rich legacy allows us to appreciate better why these homes, steeped in history, are ideal candidates for contemporary adaptations like loft conversions.
A Brief History: The Evolution of South London's Residential Architecture
Early Beginnings: South London's architectural journey began modestly with simple medieval structures, gradually evolving over the centuries to embody grander designs and more intricate detailing.
Industrial Revolution Influence: With the Industrial Revolution came urban expansion. The 19th century saw South London transform, with railway developments leading to the establishment of suburbs and, consequently, a boom in residential construction.
20th Century and Beyond Post-war reconstruction and the latter half of the 20th century brought with them modernist influences and newer architectural styles juxtaposed against the backdrop of South London's historic buildings.
The Unique Attributes: Why These Homes Are Ripe for Loft Conversions
Historical Character: Many of South London's homes, especially those from the Victorian and Edwardian eras, feature spacious lofts or attics. Originally used for storage or as servants' quarters, these spaces now present immense potential for modern-day conversions.
Structural Foundations: Built to last, the solid craftsmanship of these homes means they often have strong foundational structures, making them well-suited for architectural modifications.
High Ceilings and Large Windows: Many period homes in the region come with high ceilings and expansive windows. These features are ideal for loft conversions, as they allow for ample natural light and a sense of spaciousness.
The Blend of Victorian Terraces, Edwardian Houses, and Modern Designs
Victorian Terraces: One of the most iconic architectural styles, Victorian terraces are characterized by their narrow fronts, sash windows, and often ornate detailing. These homes, built between 1837 and 1901, offer multi-level living with significant loft spaces, making them ripe for conversions.
Edwardian Houses: Succeeding the Victorians, Edwardian homes (1901-1910) introduced a more relaxed design approach. These houses, while retaining some Victorian features, often have wider frontages, larger rooms, and simpler detailing. Their spacious layouts, especially in the loft areas, make them excellent candidates for modern enhancements.
Modern Designs: The latter half of the 20th century introduced a myriad of contemporary architectural styles to South London. From minimalist designs to brutalist structures, these homes brought diversity to the region's architectural landscape. While they might not always carry the same historical loft spaces, innovative designs and materials ensure that they, too, can benefit from tailored loft transformations.
The Allure of Loft Conversions: More Than Just Space
The concept of loft conversions has rapidly gained traction, not just as a practical solution to space constraints but as an avenue to infuse homes with a fresh identity and enhanced value.
Delving into the transformative nature of such conversions, we quickly realize that the allure goes beyond merely adding square footage. It's about rejuvenating spaces, instilling them with purpose, and elevating the overall living experience.
---
Read Also :
---
Breathing New Life into Dormant Areas
Rediscovery and Reimagination: Many lofts, particularly in older homes, remain untouched or relegated to storage purposes. Converting these areas provides an opportunity to rediscover and repurpose them, moving from mere attics filled with memories to vibrant living spaces brimming with potential.
Enhancing Natural Lighting and Ventilation: A key advantage of lofts is their position at the top of the house. This positioning, often accompanied by skylights or dormer windows, allows for an influx of natural light and better ventilation, giving rooms a more airy and open feel.
Sustainability Through Adaptive Reuse: Instead of opting for home extensions that might require more materials and energy, loft conversions promote adaptive reuse. By utilizing existing structures, homeowners can create modern spaces with a reduced carbon footprint.
Adding Significant Value: Both Monetary and Experiential
Monetary Upswing: From an investment standpoint, loft conversions often lead to a substantial increase in property value. The addition of a functional room or suite can significantly boost the market appeal and overall price of the home.
Enhanced Living Experience: Beyond the financial aspect, loft conversions redefine how homeowners experience their spaces. What was once an overlooked attic becomes a retreat, a sanctuary, or a creative haven, enriching daily life.
Versatility in Design: From Home Offices and Studios to Luxury Suites and Play Areas
Tailored to Needs: One of the most compelling attributes of loft conversions is their adaptability. Depending on a homeowner's needs, lofts can transform into tranquil home offices, inspiring art studios, luxurious master suites, or even playful areas for children.
Blending Styles: Lofts offer a canvas that can meld various design aesthetics. Whether homeowners prefer a rustic charm, a contemporary vibe, or a fusion of styles, loft spaces can be designed to echo those preferences.
Innovative Solutions for Modern Challenges: In a rapidly changing world, the versatility of loft conversions has proved invaluable. For instance, the recent surge in remote work has seen many converted lofts become ergonomic home offices, meeting the demands of modern-day living.
A Closer Look: The Conversion Process in South London
Initial consultation:
At the heart of every successful loft conversion lies a comprehensive initial consultation. This is when homeowners meet with specialists to discuss their visions, evaluate the loft's potential, and brainstorm ideas that align with both practical needs and aesthetic desires.
Navigating permissions:
South London, rich in its architectural heritage, has specific planning and conservation regulations. Navigating these requires an in-depth understanding of local guidelines, from height restrictions to design considerations, ensuring that conversions are compliant yet captivating.
From blueprint to reality:
The conversion process is a symphony of stages—from drafting detailed architectural plans and securing necessary permits to construction and final touches. This journey, meticulously orchestrated, transforms blueprints into tangible, lived-in spaces.
Quality Over Quantity: Identifying Premier Conversion Specialists
The hallmarks of a top-tier loft conversion company in South London:
Premier conversion specialists distinguish themselves through exceptional craftsmanship, meticulous attention to detail, and a profound understanding of South London's architectural tapestry.
The importance of local expertise:
South London's unique architectural landscape requires specialists with local expertise. Familiarity with the area's quirks, from structural nuances to historical overlays, is crucial for executing conversions that honor the past while embracing the present.
Client testimonials, portfolio analysis, and industry recognition:
A reputable loft conversion company's excellence is mirrored in satisfied client testimonials, an impressive portfolio showcasing diversity and innovation, and accolades from industry peers.
Overcoming Typical Roadblocks
Addressing common concerns:
Every conversion journey comes with its set of challenges—whether structural intricacies, heritage preservation considerations, or budget constraints. Anticipating these and devising solutions is pivotal to a successful transformation.
Innovations and solutions unique to South London homes:
Given the region's distinct architectural legacy, specialists often deploy innovations tailor-made for South London homes, be it leveraging underutilized nooks or respecting period features.
Ensuring a seamless conversion experience:
Beyond the tangible transformation, premier specialists ensure the conversion journey is smooth, with minimal disruptions to homeowners, culminating in an outcome that exceeds expectations.
Spotlight: Success Stories from South London
Case studies:
Delving into real-life transformations offers a wealth of inspiration. These before-and-after tales spotlight the dramatic metamorphosis that lofts undergo, redefining homes and lifestyles.
The narrative behind each project:
Behind every conversion lies a story—a homeowner's dream, a specialist's commitment, and a collaboration that brought visions to life.
Understanding the tangible and intangible benefits post-conversion:
Beyond added space, these transformations usher in intangible perks—enhanced aesthetic appeal, a boost in property value, and a renewed sense of home pride.
Tips and Tricks for Aspiring Converters
How to prepare for a loft conversion:
Preparation is key. From decluttering the existing space and securing temporary storage to discussing timelines with specialists, proactive measures pave the way for a smoother conversion.
Ensuring a collaborative relationship with chosen specialists:
Effective communication is the backbone of a successful conversion. Fostering a transparent, collaborative relationship ensures that homeowner visions and specialist expertise meld seamlessly.
Making design choices that resonate with the home's original character:
While modern amenities are a boon, design choices should echo the home's inherent character, ensuring that the new space feels like a natural extension of the existing structure
Conclusion
As we reflect upon South London's burgeoning reputation as a hub for impeccable loft conversions, it becomes evident that this trend is more than just a fleeting fascination. It's a testament to the transformative power of vision, craftsmanship, and collaboration.
By unlocking their homes' hidden potential, South London residents aren't just gaining additional space; they're elevating their living experience, intertwining the old's charm with the new's conveniences. In this architectural renaissance, homeowners are encouraged to dream, design, and delve into the realm of possibilities that loft conversions bring to the doorstep.