Today's retiree wants something more than previous generations. Your golden years are not just about playing shuffleboard and driving golf carts around the community. Although there's nothing wrong with either activity, the best retirement destinations offer far more for you to experience.
Searching for one of the best places to retire in Nevada? Consider Summerlin in Las Vegas, a master-planned community with more than 100,000 people boasting outstanding weather, its very own downtown area, and real estate options for everyone, including several top-notch retirement communities.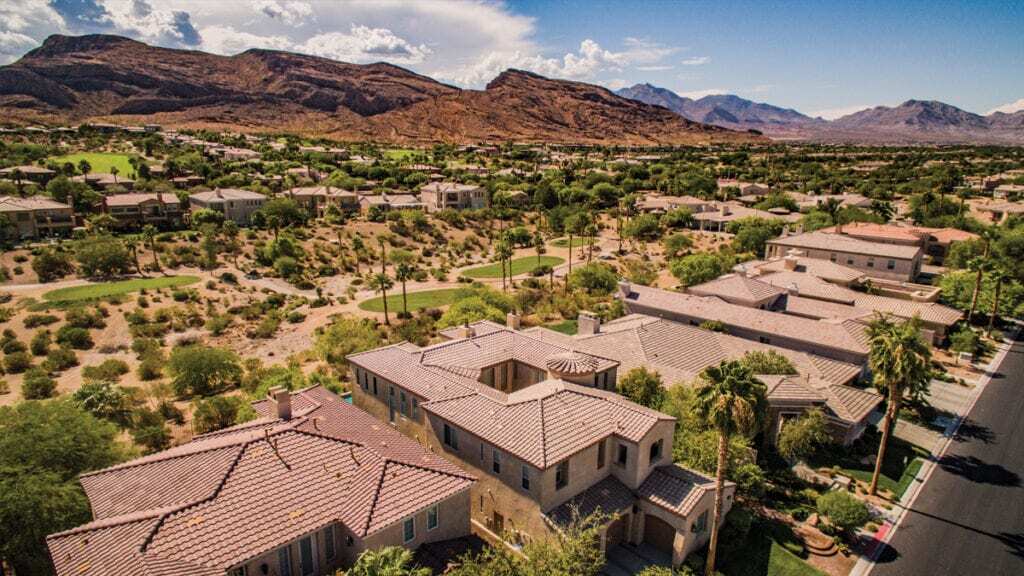 If the thought of living in a carefully planned 22,500-acre community that has received awards and honors as one of the best places to live in Southern Nevada piques your interest, keep on reading because we're going to discuss the top five reasons for retiring in Summerlin, NV!
Is Summerlin Part of Las Vegas?
Located just 14 miles west of the Las Vegas Strip at the base of the stunning Red Rock Canyon is Summerlin. Although many visitors think Summerlin is a city due to its size and population, it's technically part of Las Vegas.
Nonetheless, this best-selling master-planned community offers all the amenities of a city yet features a suburbs-like setting that's desired by many.
Once upon a time, the famous billionaire Howard Hughes purchased the land that Summerlin sits on today. The community is named after Hughes' grandmother, Jean Amelia Summerlin. Today, the Howard Hughes Corporation is the master developer of the community.
Next, let's dive right in and explore why you should consider Summerlin for your retirement.
5 Reasons for Retiring in Summerlin
1. Premier Restaurants, Shops, and Entertainment
When you retire in Summerlin, you won't have to drive 20 minutes to the Las Vegas Strip to enjoy the best restaurants and shopping Las Vegas has to offer. In Downtown Summerlin® there are 30+ restaurants, from fine dining to quick service and everything in-between. There are a number of bars and breweries, plus fun places to soak in the nightlife.
Summerlin's downtown area has 125+ retail outlets and stores with brands at all price points. It's a mix of outdoor promenade shopping with large department stores, so you can truly shop-'til-you-drop and find whatever it is you're looking for here.
What's awesome about Downtown Summerlin® is that it offers a fun place to spend time just minutes from your home. There's a new minor-league baseball stadium aptly named Las Vegas Ballpark® that seats 10,000 and offers a fun, family-friendly environment.
For the adults, it's hard to beat Red Rock Casino Resort and Hotel with its massive gaming floor, restaurants, resort pool, and spa.
Beside Downtown Summerlin®, sprinkled throughout the area are tons of commercial plazas with restaurants, gyms, grocery stores, banks, and more. Living in Summerlin places you are just minutes away from anything you could need or desire.
2. Ten Golf Courses
Summerlin has ten golf courses where you can play the game you love year-round. Out of the ten courses, seven are public and three are private, member's only facilities.
One of the top courses to play in Summerlin if you're looking for a challenge that rewards you with amazing views is Highland Falls Golf Club, located in the Sun City area. This course designed by Billy Casper and Greg Nash boasts gorgeous views of the Strip and surrounding Las Vegas Valley from its 14th hole.
A popular course in Summerlin for retirees is Siena Golf Course, located in the 55 and over Siena community. Here you can play an 18-hole course complete with a stunning waterfall, lake, and challenging layout designed by Lee Schmidt and Brian Curley. The course has a wonderful clubhouse with a fine dining bistro and country-club-like amenities.
Last but not least when it comes to public courses in Summerlin is TPC Las Vegas. This 18-hole championship course plays par-71, 7,104-yards from the back tees and has hosted a number of PGA tournaments over the years, including the Shriner's Hospitals for Children Open and the Las Vegas Senior Classic. Men and women have the option to play from tee yardage that's blended.
---
Read Also:
---
3. Great Retirement Communities
The Summerlin community is home to five excellent 55 plus communities. Here you will find resort-style amenities favored by today's retirees. These aren't sleepy retirement communities, that's for sure! From massive swimming pools and cabanas to lavish clubhouses and Pickleball courts, there are fun activities for all.
One of the best 55 and over communities in the area is Sun City Summerlin. This is the largest age-qualified active-adult neighborhood in the area with over 7,000 homes, four clubhouses, and three golf courses. The tree-lined streets and quality homes and townhouses by Del Webb let you know you've reached your next, best chapter of life.
The area has seen several new retirement communities built in recent years where you can find the latest in next-generation homes. These include properties with multi-generational living spaces and smart-home technologies that fuse seamlessly with your devices. The bottom line is that Summerlin has plenty of living options for today's retirees.
4. Fun Outdoor Activities
Another great thing about retiring in Las Vegas' Summerlin is all the fun, healthy outdoor activities and adventures at your fingertips. The community boasts more than 250 parks, 150 miles of trails for walking and biking, and Red Rock National Conservation Area with its outdoor adventure beckons on the near horizon.
Red Rock Canyon is a special place with its famous red rocks that jut high into the sky. Outdoor enthusiasts from all over descend upon this sacred ground to take in the amazing sights and enjoy hiking, biking, and rock climbing throughout the park.
If you're not into the outdoors or struggle with mobility, you can still enjoy the beauty of Red Rock Canyon by driving the 13-mile scenic loop.
5. Outstanding Weather
Retiring in Las Vegas means more than 300 days of sunshine each year and warm year-round temperatures. But if you decide to stay for the Summer months, know that the Las Vegas Valley gets hot with temperatures easily reaching the 100-degree mark for days on end.
But don't despair, because there's something special about Summerlin that actually keeps it cooler throughout the year!
Summerlin is built at an elevation of roughly 3,500 feet above sea level, with some parts of the community rising to roughly 4,400 feet. Living above the valley means temperatures can stay anywhere from 3 to 10 degrees cooler in Summerlin than in other parts of Las Vegas. This little-known secret among residents is one of the best reasons to retire in Summerlin!
In Summary
It's no secret that Las Vegas has become a favorite destination for retirees. But the master-planned Summerlin community truly takes the prize for the best place to retire in Southern Nevada – and could certainly be included in the discussion for top places in the U.S.
This article has covered five reasons to consider retiring in Summerlin. Ultimately, the choice of where you retire is up to you. But if you've heard about Summerlin and are interested in retiring here, I urge you to consider taking a trip and seeing if it's right for you.