Every mom knows the pain of decorating their home just right, only for one of their little angels to add some personal touches of their own.
You could use vintage furniture, along with fabrics and accessories to decorate your home in your own design. However, any surface can seem attractive to youngsters, especially if they have a drawing tool in their hands. This can often mean you finding crayons, paint, or ink, scrawled over walls, or furniture.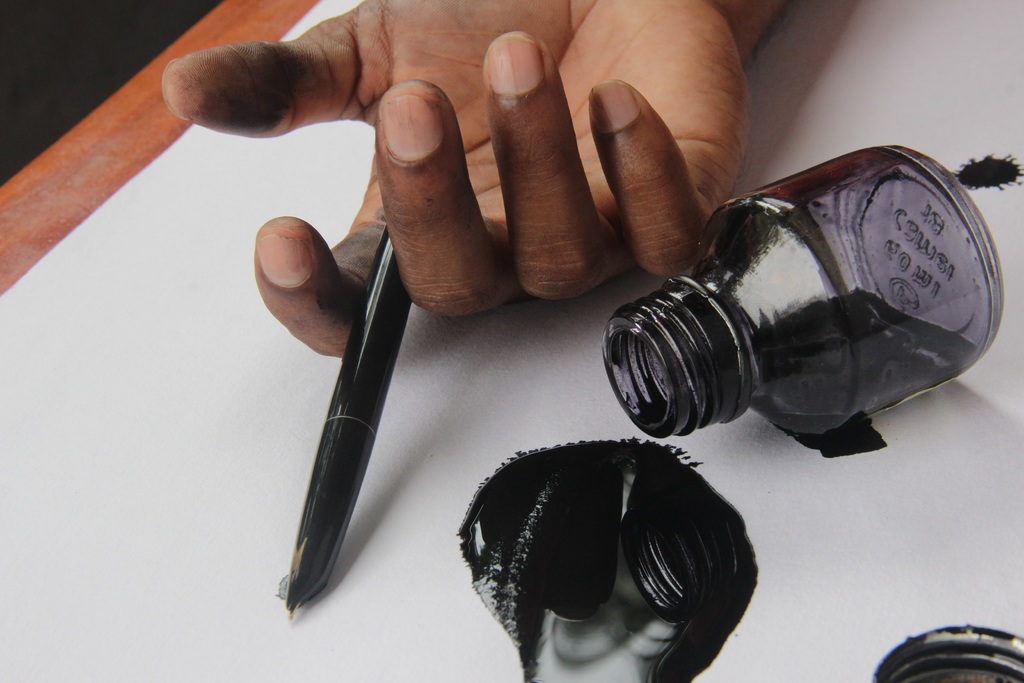 Fortunately, most of the artwork created by your very own Da Vinci is likely to be able to be removed. A problem can arise when the medium used is more permanent, say ink, and the surface less forgiving, fabric for example.
If you are reading this then it may be safe to assume that you have either just found some ink on your beloved sofa, or you're preparing yourself for the day you do.
Carry on scrolling to find out how to remove ink from furniture upholstery.
Are There Any Home Remedies for Removing Ink from Upholstery?
Luckily, there are ways that you can either completely remove ink from fabric, or at least reduce the impact it has.
One of the things to weigh up when buying furniture is how well and easy it will be to clean. Leather furniture for instance can be cleaned with something as mild as soapy water, even for ink marks. Other fabrics and materials may need something stronger.
You may have heard that hairspray can remove ink from fabric, but that old method no longer works as well as it used to. This is because today's hairsprays have less alcohol in them. Fortunately, there are at least three other ways that you can remove ink by yourself.
Use Vinegar and Detergent to Remove Ink
The first method requires white vinegar, water, and dishwasher detergent, along with clean cloths or paper towels. Use these next steps to remove the offending piece of artwork.
Mix two cups of water with 1 tablespoon each of white vinegar and dishwasher detergent.
Take one clean towel, dipped in the cleaning solution, and dab at the ink. Use another clean paper towel or cloth to soak up the liquid.
Repeat until the mark has gone.
---
Read Also:
---
Use Rubbing Alcohol if the Stain is More Stubborn
Once upon a time, rubbing alcohol was put on children's skin, according to WebMD, to lower fevers. However, it is now known to be dangerous and should be kept away from youngsters.
Once you have safely placed your child away from the sofa you can begin. The first thing you need to do is to check that your upholstery can cope with the alcohol content.
Choose a small area of the furniture that no one can see and dab a little rubbing alcohol there. If the coloring comes away then you will have to avoid this method.
If you feel comfortable using rubbing alcohol on your upholstery then take a clean cloth and apply some alcohol to it. Dab gently at the mark to remove the ink.
You will need to keep applying more alcohol and dabbing carefully at the ink mark until it is removed.
If this doesn't work then you can try the same steps with nail polish remover, but this is much stronger so care should be taken.
Bringing in the Professionals
If your home cleaning methods haven't worked then the only way to remove your child's latest creation may be to hire professionals.
When it comes to stubborn, hard-to-remove stains, professional furniture cleaning may be the only answer. Although you may be fortunate enough to get any ink out of your sofa or armchair with detergent and vinegar, some stains are just too hard to remove.
The other problem you may encounter is that your upholstery is too gentle to cope with rubbing alcohol or detergents. This is when a professional cleaning company may be of use.
Benefits of Hiring a Cleaning Service
Unfortunately, hiring a cleaning company means that it will be more costly than buying a bottle of rubbing alcohol. But there are benefits too.
You should receive a proper inspection from a trained professional who is experienced in upholstery cleaning. It may pay for you to look for any accreditation they have, such as ISSA certification.
They can also offer something that might help with your home cleaning solutions in the future; a fabric protector.
After you get your upholstery cleaned, ask for a fabric protector to be applied. Then next time you find any ink you will be able to blot it away by yourself with no need to call for help.
Summary
Vinegar is a well-known cleaning agent, as is alcohol. The latter works by breaking down the ink allowing you to blot it away.
Try these methods first, being careful with the use of alcohol on your fabrics, for an inexpensive cleaning method.
However, if all else fails then a cleaning company should be able to remove the ink that these methods couldn't.