Who doesn't love a clean and hygienic living space? However, not all of us invest their time and energy to have a maintained house.
Many such individuals prefer house cleaning in Austin, TX through a professional company of cleaning personnel, but many others like to do it with their hands.
Modern lifestyle demands extensive cleaning but then again there are more ways to tackle a problem than ever. Information is easily accessible and anyone can try a wide variety of methods and tips and tricks to keep the house sparkling clean. View website here for help and cleaning tips.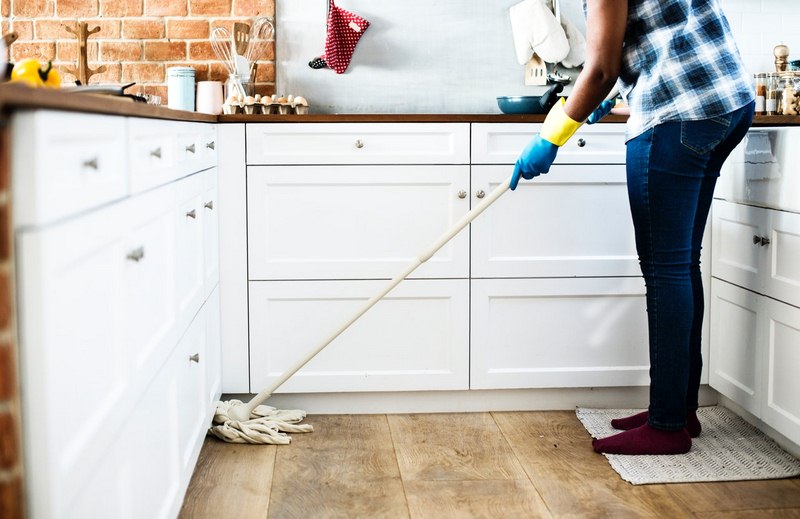 We are more interested in natural cleaning tips than chemical cleansers. This is because of the rise in the frequency of environmental hazards caused by cleaning chemicals. These materials result in the rise in pollution levels because of their packaging.
Moreover, they also have harmful effects on humans, animals, and plants. It's impossible to completely eliminate the synthetic and hazardous cleaning chemicals but we can certainly decrease our dependence on them to keep our place clean. Let's take a look at some of the tips and tricks for keeping our living space clean and hygienic.
---
Read Also:
---
Cleaning Mirrors
You may be tempted to pick up that mirror cleaning spray from the grocery store but it is suggested to invest in an environmentally friendly product. You do not have to spray a harmful product on mirrors and glass in your house and create plastic waste.
The alternative to cleaning mirrors with a cleaning liquid is to get a microfiber cloth. Forget paper towels as they can leave behind streaks and lint on the mirrors and glass. You just have to wet the microfiber cloth a little and then wipe clean any marks or dust from the surface.
You can also clean the mirrors in your house with a newspaper. Just wet the mirror surface by spraying water on it with a spray bottle and wipe them with a newspaper.
Cleaning a Microwave
If you're someone who uses microwaves often enough, you would have come across the situations where your food exploded all inside the oven. This results in a mess that is hard to clean.
How can you get your hand into the nooks and corners of the microwave for cleaning that grime and grease? There is an easy trick that can help you clean your equipment effortlessly by swiping clean the inside instead of constant and vigorous scrubbing.
That trick is cleaning your microwave with steam! Take half a cup of water in a microwave-friendly container and add in it juice of half a lemon. Heat the water on a high setting for a minute or two and then let it sit in the microwave for five minutes.
The steam will reach everywhere inside the microwave and you can then easily wipe those walls with a sponge or a soft cloth.
Mattress Cleaning
You may not often think of your mattress as something that needs to be regularly cleaned. So, how can you get it cleaned of germs, dust, and odors without having to wash it? There are a couple of ways you can try for yourself and decide which one suits you the best.
One leaves your mattress clean with a scent and the other without it. For mattress cleaning, you will require baking soda and a vacuum cleaner. If you wish to have a fresh scent to your mattress after you have it cleaned, then you can add a few drops of essential oil such as lavender to the baking soda.
Take a cup of baking soda (with or without essential oil) and sprinkle it on the mattress. Let it sit for an hour or two, you can also leave it for more time. This ensures that the baking soda soaks up all the impurities and body oil that have seeped into the mattress.
Vacuum the mattress by using the furniture or upholstery cleaning attachment. Vacuum it from all directions several times. This will leave your mattress clean!
Water and Vinegar
Vinegar and water mixture is the substitute for any cleaning liquid you may find in the market. You can open up clogged drains, wipe greasy surfaces, and remove limescale from the iron, kettle, and showerhead.
You can also clean your computer keyboard or remote control with vinegar and water mixture. You can do that by dipping a toothbrush in the vinegar-water mixture and cleaning those hard-to-reach keys and buttons with its bristles.
Water stains can also be effectively removed using this magic mixture. Apply it on the utensils or fixtures you need to clean, leave for 15-20 minutes, and then clean them off.
Cleaning Fans
It is quite a task to the clean ceiling and other fans even if you use a ladder. You have to put your arm in an unnatural position till you have cleaned it. This results in a tired arm and often a sore shoulder.
There is quite a handy trick to clean the ceiling fan and that involves a pillowcase. You can spray the pillowcase with a dusting spray or not.
Cover the fan's blade with the pillowcase and then just slide it off. Repeat with all the fan blades and you have a clean fan free of dust! A task made easier with just the right tool.
Mopping Floors
If you are using a traditional mop to clean your floors, it is better to consider investing in a machine-washable mop or a microfiber mop. If you are using a traditional mop to clean your floor, it means you are leaving behind a lot of bacterial strains.
When you leave a wet mop inside the house, it promotes the rapid growth of bacteria. This is especially dangerous if you have a crawling baby at home.
The baby can be infected with all sorts of harmful bacteria. Get a mop that can be thoroughly washed after every cleaning of the floor.
Removing Carpet Stains
If you have always lived in a carpeted home, you must be all too familiar with carpet stains. They particularly become a nuisance if you have carpets of light color.
You cannot prevent an accidental spill or a child-placing dirty hands on the carpet but you can certainly get rid of the stains without any harmful chemical.
Your kitchen has the solution! You will need vinegar, water, and steam iron to get the stain out of the carpet.
Mix one part vinegar in three parts water, apply it to the stain and cover it with a wet cloth. Use a steam iron to steam that area for 30-45 seconds and your carpet gets rid of those stains. You can also clean the carpet by Carpet Cleaner spray easily.
Cleaning Washing Machine
Why do you have to clean something that itself cleans stuff? Nothing is more important than cleaning equipment whose function is to clean. It has more impurities and germs than anything else. You can disinfect your machine with bleach.
Disinfecting your washer/washing machine is quite important. Clothes washed in a dirty machine can cause skin allergies or infections. Add a quart of bleach along with hot water and run the machine on the sanitize setting.
The professional cleaning companies provide their clients with tips on keeping the equipment germ-free. Run the machine with simple water after the cycle with bleach and water.
Disinfect the Dishwasher
As mentioned above, cleaning the cleaning equipment is vital and the same goes for the dishwasher. Before beginning your cleaning, check whether there is anything that is blocking the drain.
Sometimes you can find anything from bones to crab shells in there. You will need vinegar, baking soda, hot water, and an empty dishwasher to disinfect the dishwasher.
Place vinegar in a cup on the top rack of the dishwasher and run the dishwasher through one cycle with hot water. After you are done with that cycle, sprinkle baking soda at the bottom of the tub and run the dishwasher through a short cycle. It ensures that there is no odor or stain left.
Removing Water Stain from Furniture
Your kitchen items will again come in handy to remove the water stains that you often find on your furniture. Take mayonnaise and dab it on the stain using a paper towel. Let it sit overnight or for a few hours.
Wipe it with a clean cloth and polish the place with vinegar with another cloth. It is an effective and harmless way to get rid of furniture stains. However, the trick is to do it right away so that the water does not seep deep into the wood.
These are just a few of the tips and tricks that come in handy when it comes to cleaning your home. Vinegar and baking soda are your best friends if you wish to get rid of slime and grease on your own. The best part is that you get a clean home and equipment without polluting the environment with harmful chemicals.