Ideas for Landscaping a Hillside — There are many hillside landscape ideas to use that will tame the slope in your backyard. Hillsides can be more than just difficult to mow, but can also present erosion problems.
Landscaping with plant material and hard-scape can do much to improve a hilly landscape while giving it more function and beauty.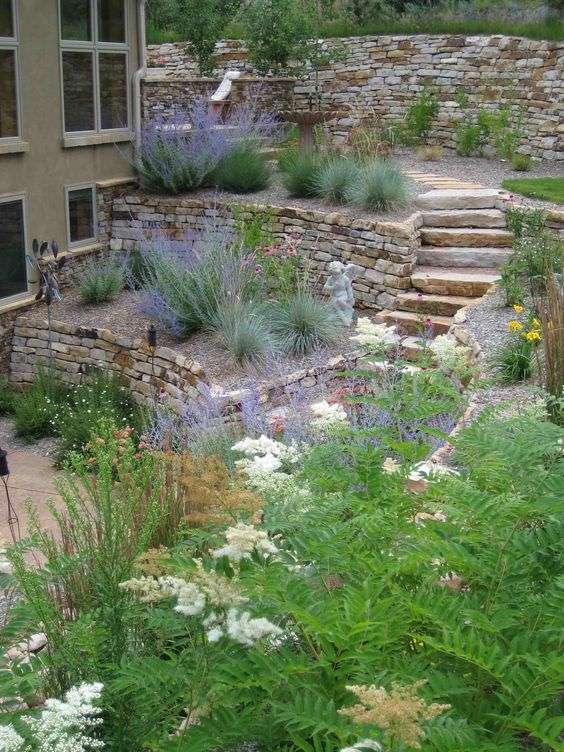 Ideas for Landscaping a Hillside, Easy Hillside Landscape Ideas
Landscaping a hillside slope creates a unique set of challenges, but it also can create a stunning focal point with a combination of the right plant material, hard-scape or a combination of both. Hillside landscape ideas need to focus on erosion control while providing an attractive landscape.
Terrace the Hillside
Terracing is one of the oldest and most effective hillside landscape ideas. Terraces have been helping farmers to tame hilly landscapes for centuries. Many evidenced terraces have been found all over the world, some dating back to ancient civilizations.
The word "terrace" is derived from the Latin word "terra" which means land. Terracing a slope is a common sense approach used to make more usable space while controlling erosion. A terrace cuts into the hillside to create flat areas and retaining walls are used to hold the slope in place. Terraces are similar to stair steps cut into a hillside and the function is similar. The size of the terrace depends on the steepness of the slope being tamed.
Terraces are both functional and aesthetically pleasing solutions for hills, as each terrace creates a new flat surface that can serve a multitude of uses that the hillside wouldn't allow. Depending on the size of the hillside to landscaped, each flat surface created by the terrace can be used for different gardening purposes and can even include changes in the soil for each area. Use one of the level surfaces for outdoor living space such as a patio that would otherwise be impossible on a hillside slope.
Plant Trees
Hillside landscape ideas should always include trees if possible. Trees have large root systems that do much to help prevent soil erosion while providing shade and a habitat for birds and wildlife. The shade created by trees gives the added benefit of a greater choice of companion plantings for the hillside trees.
Before planting any trees, be sure to do research on the types of trees you're considering planting to make sure the trees can grow and thrive in the climate. It's also important to be sure space is adequate for the trees at full maturity.
Install a Water Feature
Consider adding a water feature to the hillside landscape. If done correctly, a realistic stream complete with a waterfall can turn a hilly slope into a backyard paradise. The best way to keep the water feature looking as if it belongs there is by simply using native rocks and plants in conjunction with the water feature.
A stream that trickles down a natural slope is always more realistic looking than a water feature that seems to appear out of nowhere in a flat backyard. Spend the extra money on a top quality water pump and supplies. Or better yet, hire a professional to install the water feature and it will look like it's been there all along.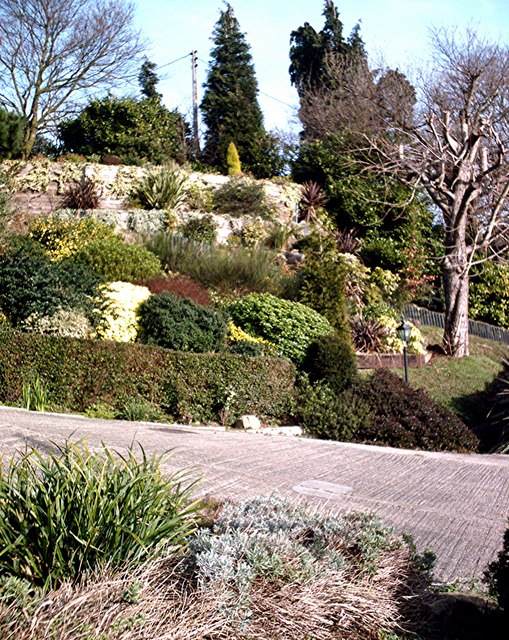 Plant Non-invasive Ground Covers
One of the easiest hillside landscape ideas is the ever-popular use of ground covers. Just be sure to check with your local County Extension Office to be sure the ground cover you'd like to plant is not considered invasive for the area. A perennial groundcover that is invasive in one region of a country, may not even survive in another region.
The only way to know is to do the research and check locally. For example, some areas of the United States don't allow ivy plants to be grown near woodlands and forests due to the ground cover's climbing ability. It can take over woodlands and given enough time will literally strangle and kill the native trees.
Must Read:
When the correct groundcover is used on a hillside slope, it can be beautiful and low maintenance. Plant ground covers in conjunction with a mass planting of bulbs for a sea of color in the warm months. Ground covers work double duty to hide the withering foliage of the bulbs, which can be very untidy looking until it dies back all the way. Many groundcovers have adequately deep root systems to hold the soil in place on a hillside landscape.
Although it might seem challenging at first, tackling a slope can add beauty while helping to prevent soil erosion. The ideas for landscaping a hillside are many and can be as varied as your plant choices. Chances are excellent that the results will be well worth the effort.
Resources