Some people will feel reasonably confident about self-installing a device like a Ring doorbell. Of course, Ring isn't the only manufacturer of web-enabled security doorbells, merely one of the best-known brands in the UK.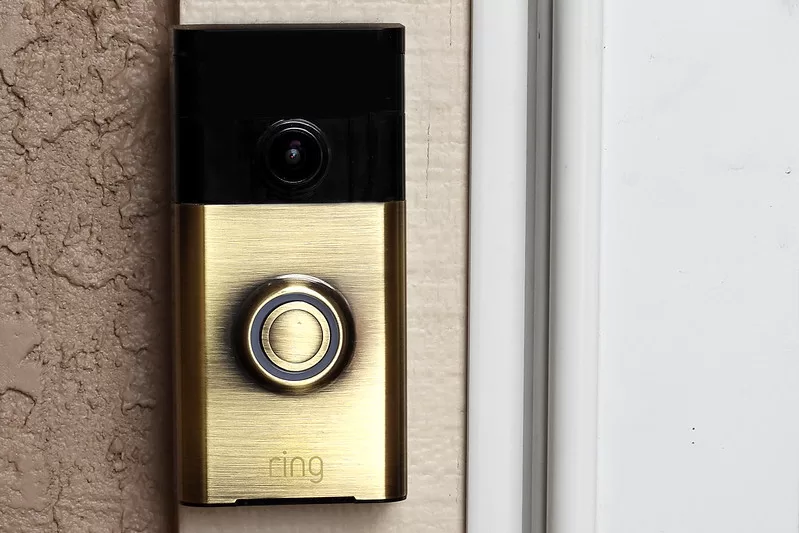 That said, whichever sort of smart doorbell you opt for these days, it can often be better to turn to a professional installer than attempt to fit it yourself. After all, not only do you need a degree of technical expertise with network-enabled devices when you are working with equipment like smart doorbells but you may also need wiring to be run, as well.
Under such circumstances, you could be talking about adding an extra circuit to your property's distribution board with its own trip-out mechanism. Alternatively, you might already have wiring in place to your front door and merely need to disconnect an old device to install the new one safely. Even though this might not require such extensive work to fit a Ring doorbell, you could be handling potentially live electrics, something that is inadvisable unless you are experienced with electrical safety.
In other words, fitting a Ring doorbell isn't a DIY project in the same category as painting your front door or changing your entrance hallway's color scheme. It is a technical job that many people will find causes more problems than they had bargained for. Equally, all electrical work ought to be conducted by professionals nowadays, especially if you want to sell your home in the future, and will need the documentation to show that the correct safety sign-off procedure has been followed.
Read on to find out why so many people who have bought Ring doorbells choose to get fully qualified electricians to fit them rather than undertake this work themselves.
Don't Compromise on Your Security
When you think of it, a Ring doorbell installation is primarily carried out for one reason: to improve security. Yes, Ring doorbells also provide greater convenience, allowing you to see if a delivery is for you, for example, without having to come from another part of the house to answer the door. However, it is primarily a job that is conducted to beef up security by allowing all callers and passers-by to be recorded for later referral.
Whether you are talking about business premises or a residential address, why would you compromise on the installation of your Ring doorbell by not having a professional fit it for you? With the peace of mind that a professional Ring doorbell installation affords, you'll never be worried about your unit failing to capture vital information or pointing in the wrong direction.
Have CCTV Installed, Too
According to Goldfinch Electrical, a company that takes on Ring doorbell installations all over London, many people want their smart doorbells to be backed up by other monitoring systems these days as well. This way, they'll be able to get footage from more than one angle and even monitor the back and front of their properties remotely, when wanted.
CCTV installations can be done with small webcams that complement smart doorbell systems nowadays. Alternatively, if your grounds are easily accessible, you could opt for beefier, tamper-proof cameras, brackets, and armored cables that can't be interfered with.
---
Read Also:
---
Understanding the Different Ring Doorbell Products
Even if you are a competent DIY enthusiast who wouldn't hesitate to change a wall-mounted light fitting in your own home, Ring doorbell installations are a bit more technical. Not only do you have to consider getting power to the desired location but you also have to think about connectivity.
This might mean running an Ethernet cable or installing a Wi-Fi repeater, for example. Equally, there isn't just one Ring doorbell product but many. If you don't know the difference between a Ring Pro doorbell and a Ring Elite, for instance, then how do you expect to be able to install them properly?
Provide Power and Lighting
In addition to the aforementioned range of Ring doorbell products, there are some that come equipped with floodlights and spotlights. Some of these smart products need you to have a 240v power feed or they won't work properly. Often, this will mean hiring an electrician even if you choose to do the rest of the installation yourself. Why not get an electrical expert to do both for you and save yourself time and effort?
Remember, too, that installing a security system like a Ring doorbell is also a good time to fit other security devices that may require additional power outlets, such as motion-sensor lights that will come on for a minute or two if they detect anyone close to your front door or who is trying to gain access to the rear via a side path, for example. When you hire a professional Ring doorbell installer, you can get all of this work carried out for you in one fell swoop. This will offer a greater deterrent against crime on your property and also provide your video footage with more light for better-quality images.
Have Electrical Work Signed Off By Qualified Electricians
As mentioned, electrical work should really be signed off by properly qualified electricians even if you do the work yourself. If not, then it could come back to bite you if there were to be an electrical fault that you subsequently wanted to make a home insurance claim against, for instance. When you turn to a professional installer, make sure the person you hire isn't a general handyman or home maintenance operative. What you really need is a qualified electrical installer who has the correct NICEIC accreditation.
Lower Insurance Costs
Finally, professional sign-off on any electrical work, including a Ring doorbell installation, means being able to show your insurer that the work has been done to a high standard. Whenever you have a security system fitted, it can help to lower your insurance premiums. Many insurers will discount their policies once they have been shown the correct sign-off documentation. This can help businesses and owner-occupiers alike to save money in the longer term, of course.