Living in a shared space offers many benefits, regardless of whether you are a student, a young professional, or just someone trying to cut down on housing expenses.
On the other hand, outfitting a shared living space with furniture might be difficult.
It is necessary to carefully consider the requirements and preferences of different people while ensuring that the living space is unified and functional.
This article will provide helpful insights into building a pleasant and harmonious living environment by examining the main furniture items required for shared housing and offering an overview of those things.
Versatile and space-saving furniture
Because shared lodgings and co living apartments typically have limited room, it is crucial to maximize every inch.
Selecting furniture that can serve several purposes and minimize the use of space is a wise move.
Aim to buy furniture that can be used for multiple functions, such as couch beds, futons, or ottomans with storage sections.
These pieces have a dual function, as they may be used as chairs during the day and then converted into comfortable beds in the evening.
---
Read Also :
---
In addition, making use of shelves placed on the wall, floating desks, and folding tables can assist in making the most of the available space without sacrificing usefulness.
Comfortable bedding and mattresses
A restful night's sleep is critical for everyone, and high-quality bedding is one of the most important factors.
When living in an apartment that includes sharing space, providing each person with comfortable bedding is essential.
Consider purchasing hypoallergenic, long-lasting mattresses that may accommodate a variety of sleeping preferences.
It is a good idea to use mattress coverings with zippers to maintain cleanliness and stop the spread of allergies.
Make sure that each bed has clean sheets, a warm blanket, and pillows that provide support to transform the space into a pleasant and welcoming place to sleep.
Ample storage solutions
When you share a home with others, you must learn to live without some things. Having plenty of storage options is essential for keeping a home neat.
To provide each resident with a private room for storage, you could choose to build wardrobe systems with separate compartments.
To make the most of your space, put to use storage ottomans, drawers beneath your bed, and hooks on the wall.
If smart storage solutions are implemented, each homeowner will be able to keep their stuff in order and within easy reach.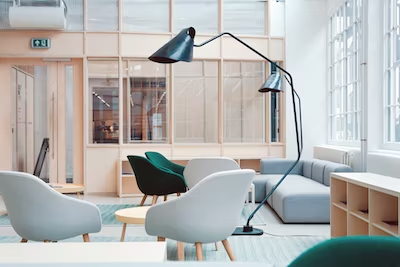 Functional and stylish common area furniture
The tenants of shared housing arrangements frequently have access to communal spaces where they may unwind, chat with one another, and rest.
It is crucial to select furniture that is both useful and elegant for these areas so that you may cultivate an inviting and comfortable ambiance.
Make an investment in a sectional couch that is both long-lasting and roomy since this will allow you to seat several people.
Improve the practicality of the space and give more storage choices by adding coffee tables, side tables, and bookshelves.
To make a cozy and visually enjoyable common room, it is a good idea to include appealing components, such as carpets, curtains, and wall art.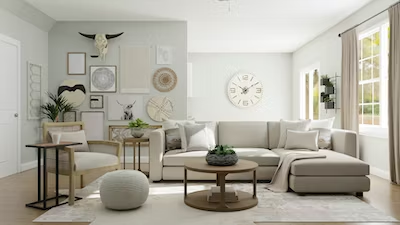 Practical dining area set-up
Having a designated dining area encourages shared meals and fosters a sense of community among residents.
Opt for a dining table and chairs that can comfortably accommodate the maximum number of occupants.
Consider space-saving options like drop-leaf tables or extendable tables for added flexibility.
Ensure there are enough dining chairs for everyone, and choose easy-to-clean materials to simplify maintenance.
Enhance the ambiance with proper lighting fixtures and decorations, creating an inviting space for shared meals and gatherings.
Functional Study and Workspaces
Many individuals living in shared accommodations are students or professionals who require dedicated study or work areas.
Providing practical study and work spaces can significantly enhance productivity and focus.
Incorporate sturdy desks with ample surface area, ergonomic chairs for optimal comfort, and adequate lighting to reduce eye strain.
Additionally, consider installing bookshelves, whiteboards, or bulletin boards to facilitate organization and note-taking.
Creating designated study and work areas enables residents to concentrate and excel in their academic or professional pursuits.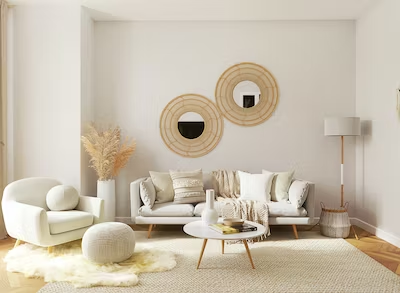 Personalization options
While you want to create a cohesive aesthetic in shared accommodation, allowing residents to personalize their individual spaces can contribute to their overall satisfaction and sense of ownership.
Encourage residents to add personal touches to their rooms, such as decorations, artwork, or plants.
Carving out a space that shows their unique personalities promotes a sense of belonging and comfort among the residents.
When furnishing shared accommodation, prioritizing functionality, comfort, and personalization is critical.
The furniture items mentioned in this article provide a solid foundation for creating a harmonious and inviting living space.
Remember to optimize space by choosing versatile and space-saving furniture, prioritizing comfortable bedding and mattresses, incorporating ample storage solutions, and investing in functional and stylish common area furniture.
Additionally, ensure a practical dining area and provide dedicated study and workspaces.
By considering the needs and preferences of all residents and creating a space that caters to their individual and communal requirements, you can transform your shared accommodation into a desirable and sought-after living environment.