Art installations had always been a curious mix of art, function, and strangeness, needless to say not everyone will be able to comprehend art installations like those metal art pieces in buildings and parks.
For some, it will look like a work of a genius and others a madman, but whatever proclivities the onlooker may have about metal art pieces, it undoubtedly provides a huge impact and statement in whatever space it may be.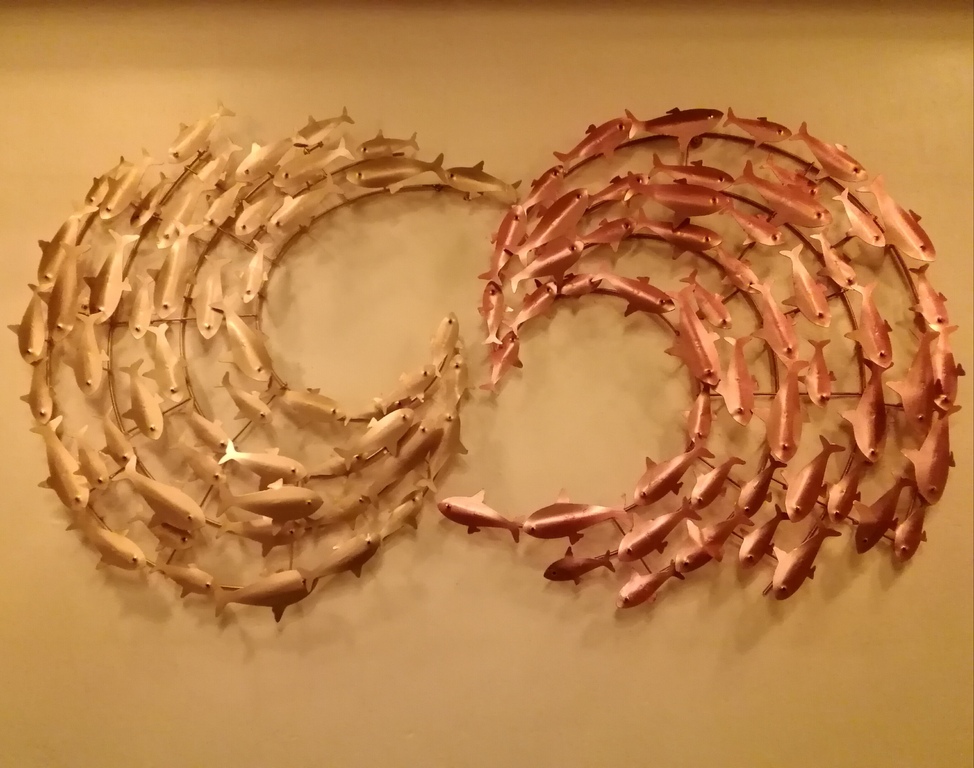 Metal wall art is one of the most popular types of art for your home or workplace, and it can even be used to create a magnificent impact outside.
Art has existed in some form or another since the beginning of time, and it has always been an important part of a society's culture and the changes that history has brought about.
Paintings, sculptures, and murals add a touch of class to any environment. The majority of people believe that art is only for the wealthy and that ordinary, hardworking people should avoid spending money on it.
However, as any art student will tell you, art is for everyone, and one's socioeconomic situation should not prevent one from appreciating art. Furthermore, because art is a form of self-expression, anyone can make art using any medium and material.
Metal wall art includes works of art made of metal, most typically steel, stainless steel, and aluminum.
These works of art can be a painting, a three-dimensional object, free-standing sculptures, a series of prints, or a group of figures that can be hung or fastened to the wall indoors or placed on a dais outside.
Furthermore, these metal art pieces are available in a variety of sizes, shapes, and colors. There are large pieces that can be used in large rooms or halls, as well as small pieces that can be used to compliment a desk, mantel, or table.
3D metal art sculptures, for example, are cool and ultra-minimalist creations that may easily become discussion starters. Essentially, there is a piece of art made just for you, and you may choose from a variety of metal wall art collections.
You will undoubtedly discover one or two pieces that speak to you among the modern, abstract, contemporary, and even tropical themes available, or better yet, begin developing your metal wall art collection.
Aside from that, you can request a custom-made piece of art or painting for your house or office.
---
Read Also:
---
What is Metal Wall Art Pieces?
Sculptors work with wood, marble, stone, glass, and even ice, while painters utilize acrylic paint, watercolors, or pigments and dyes. Metals such as steel, stainless steel, and aluminum are commonly used in metal wall art.
In terms of metal wall art, aircraft-grade aluminum is the most preferred material. Steel or stainless steel, or a combination of the two, is used by the majority of metal art sculptors, but it can be heavy and difficult to shape, mold, or work with.
Aluminum is an excellent choice because metal does not rust or corrode and is much more malleable and easier to deal with because everything is done by hand.
Its light weight allows it to be converted into a wide range of things, from the smallest to the greatest metal sculpture, without compromising shape, form, or detail clarity.
Aluminum, on the other hand, is a clear choice over stainless steel since it is the most prevalent metal, can be recycled, and, unlike other metals, has a reasonably steady price.
This means that, because aluminum is very inexpensive, there is never a scarcity, and supply is always plenty, the prices of each art piece can range from less than a hundred dollars to less than a thousand dollars.
Because each piece of art is created, you can be sure that you'll be getting one of a kind.
Finding the Best Metal Wall Art Pieces
Adding magnificent and intriguing metal wall art to a room or space in your home, workplace, or building is one of the easiest ways to brighten it up.
Choose a design and style that complements or complements your present design and decor, or get one that is the polar opposite of your theme or design for a dramatic effect or to serve as an accent piece.
Even a single piece of metal wall art can instantly change a room and add a sense of refinement and modernity. Aluminum metal wall art is the ideal option because it is lightweight (just a third of the weight of stainless steel) and can be hung or connected.
If you want to remodel or move your furniture in a few months, you can easily modify the position of your metal wall art because it is lightweight.
If you prefer a metal art sculpture, there are numerous 3D sculptures available that can be placed outside and will not fade, rust, or be impacted by rain, snow, or the sun's heat.
With such low pricing for each piece of art, anyone can afford to purchase one or two pieces that will complement their current house or office.
Purchasing Metal Wall Art Pieces
Metal wall art collections, like most things nowadays, are now available online, with specialized stores and suppliers aiming to reach a bigger audience or market.
Simply go to an internet site that sells metal wall art and browse through their selections; you will undoubtedly find something that appeals to you. Most carry a line by a specific artist, so if you like a certain artist's work, look for places that sell it.
Once you've decided on an item, double-check the dimensions to ensure it will fit in your space. Then you may place your order and wait for it to arrive.
At the same time, make sure to gather information regarding policies and rules of the website in terms of returns, damaged goods, and replacements, since most transactions are online, you need a level of safety and security to make sure that when something happens there will be a way for you to rectify it.
also ask about discounts and sales or clearance items as it will help you save money if you focus on that kind of stock.