Are the embroidery machines worth your investment? Sure, with a good-quality embroidery machine, you may, for example, customize practically any of your clothes.
And when you embroider on your garments, you give them personality and make them one-of-a-kind! You can even use your embroidery machine for quilting through fabric layers in addition to embroidery.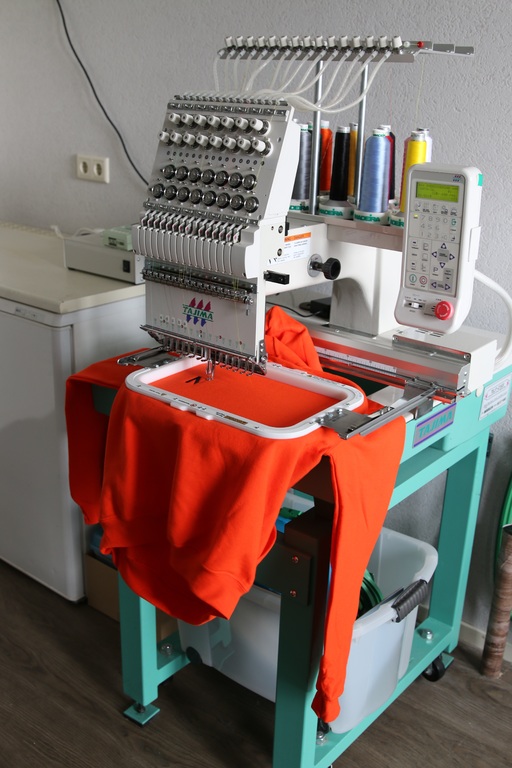 Embroidery machines are wonderful tools for personalizing your clothing and accessories. However, embroidery machines with more functions tend to be more expensive and take up more room in your office.
As a result, it is critical that you first determine what you require before purchasing one.
Reasons to Buy an Embroidery Machine for Home Sewing
Even the most basic embroidery machine will assist you in personalizing items by stitching out names or simple motifs. So you may save money by not having your items monogrammed.
You won't have to worry about putting the mop bucket if you start an embroidery company at home. Other garment decorating enterprises employ messy inks and toners, as well as unique instruments.
Thousands of embroidery patterns are easily available on the Internet 24 hours a day, 7 days a week for fast inspiration
You can easily recreate historical hand-sewn motifs like redwork, cross-stitch, and Hardanger in a few minutes.
You can make your cloth by choosing the right colors and patterns.
What to Look for When Buying an Embroidery Machine
If you finally decide to go for an embroidery machine, the choices might be bewildering. You might also be confused about what features you want and how much you are ready to pay. So, here are some recommendations for selecting an embroidery machine:
Purposes
Embroidery machines are capable of much more than simply patterns and logos. As a result, think about what you want to do with your machine. It's also a good idea to consider whether you'll use it at home or work because it'll play a big part.
If you want to utilize it for business, you should choose one that can handle large-scale manufacturing. On the other hand, basic versions may be preferable if the machine will only be used at home.
---
Read Also:
---
Brands
Although most respected companies produce high-quality embroidery machines, not all of them are appropriate for you. Thus, it's a good idea to start looking at the manufacturers' websites and blogs to learn more about their goods.
It's also good to go through sewing machine reviews and compare different sewing machines to get a sense of consumer happiness. Reading forum comments and sewing machine reviews will also assist you in identifying problems with certain models.
Buying an embroidery machine from a reputable manufacturer will also help you stick to your budget. For example, some companies provide similar gadgets at a lower price than others.
Another important item to look at is whether or not there are any online tutorials for the equipment you desire. Making sure there are instructions available can assist you in getting started fast. As a result, it is recommended to get an embroidery machine widely discussed on the internet.
Embroidery Area
When shopping for an embroidery machine, it's important to look at the device's working area dimensions.
You'll know the biggest design size when you measure the distance between the needle and the body. Knowing the biggest size can assist you in determining your boundaries.
Built-in Styles
Investing in an embroidery machine with a variety of built-in designs is also a good option. Many embroidery machines only come with a few pre-installed designs, but what if you want more? That's why it's a good idea to see whether you can transfer your designs to the gadget.
To add new designs to some devices, you may utilize some software on your sewing machine. Some machine types, however, have free software that may be downloaded from the manufacturer's website.
Screen Size
When purchasing an embroidery machine, the screen size is very important to consider. For example, you would not want to stare at a little screen that is difficult to navigate. It's also not a good idea to acquire one with a screen that's too big for your tastes.
It's also a good idea to purchase a sewing machine that has the features you want, such as a colorful or black-and-white screen. To get the most out of your investment, choose one with whom you can work easily.
Warranty
Keep in mind that an embroidery machine is an investment, so make the most of it. Check whether your equipment comes with a good warranty and service options. Also, check to determine if the vendor provides repair services if something goes wrong.
What Embroidery Machine Supplies Do You Need?
If you've decided to purchase your first embroidery machine, it's important to understand what materials you'll need to get started. The following are the most common items you'll need for your embroidery machine:
Stabilizer
Stabilizers are one of the most important components for machine embroidery. It's advisable to have at least one type of stabilizer if you're new to machine embroidery.
You may also use a water-soluble coating to protect the stitches from sinking into textiles like towels. If you don't want any uncomfortable embroidered pieces, it's better to acquire one.
Temporary Adhesive Spray
If you're working with on-fusible stabilizers, you don't need temporary adhesive sprays additionally.
With temporary adhesive sprays, you can remove and rearrange objects several times without the stickiness wearing off. If you want your stabilizers and fabrics to adhere properly, you should acquire one.
You can also use other equipment if you can't obtain temporary adhesive sprays in your area. Or you can use pins or tape as long as they only hold your stabilizers in place temporarily and do not damage your fabric.