If you are a beginner at sewing, normally you may wonder how sewing starts for beginners and what about its tools and what you need to buy first for your starting.
It is a bit difficult to know for beginners the essential tools that would make up starting kits.
Let's talk about ten essential sewing tools that are must to include in your sewing kit collections. Before you spend your money on new sewing gadgets, make sure you have these basic sewing tools.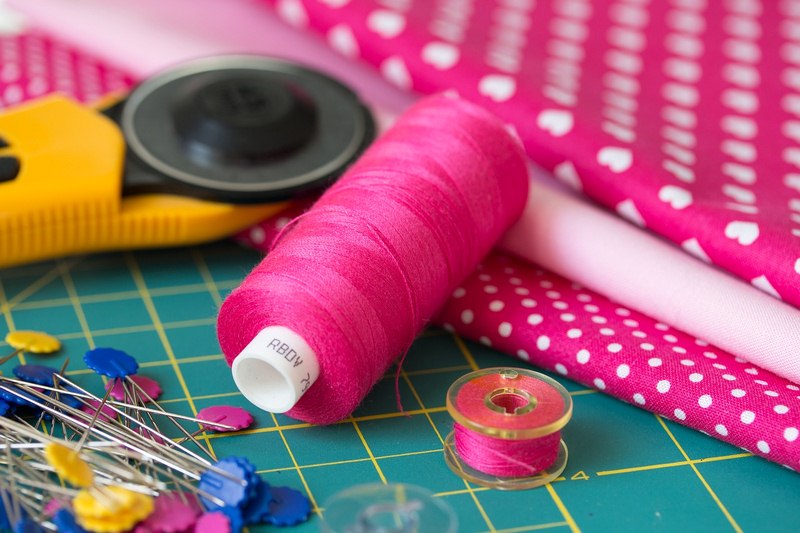 ---
Read Also:
---
Regular Straight Scissors
Scissors are must to cut the paper and patterns on fabric for sewing. You cannot start your sewing journey if you do not include a scissor in your sewing kit box.
A regular straight scissor is a multipurpose cutting tool that lets you do a different type of cutting easily and perfectly. You may feel a little problem at the beginning if you are not skilled in cutting with scissors but eventually, with practice, you will be an expert.
An important tip for keeping your scissors sharp for a long time is not to use your scissors for cutting plastic material; otherwise, your scissor will become dull within a few days.
Needles
Needles are fundamental sewing tools like scissors. No matter whether you do traditional hand sewing or use a sewing machine you must need a needle.
Two types of needles are used for sewing. One is used for machine sewing and the other is used for hand sewing. There is also another type of needle except for the above mentioned common needles, they are called universal needles.
Thread
Like scissors and needles thread is another fundamental sewing element that you must need to do sewing. You should buy threads depending on the color of the clothes you are going to sewing. The thread color must be matched with the color of the cloth, otherwise, it will look awkward.
Threads of some common colors like black, white, red and blue are generally needed for sewing. You can keep these 4 colors in your collection. Other colors you can buy depending on the necessity of your projects afterward.
Embroidery Scissors
Embroidery scissors are small in size with a little pair of sharp snips and can snip off threads that are left over after the project is completed. This is very useful when you start and finish a line of stitching on your fabric.
This simple, cheap and ornate tool can cut threads to the close to the surface and it is risk-free too.
Rotary Cutter and Self-Healing Mat
Sometimes you need to cut some complex patterns and designs which are difficult and time-consuming to cut using right straight scissors if you are not an expert.
You will love rotary cutter and self-healing mat for cutting complex patterns more effectively than scissors. But to use this you need sturdy self-healing mat which will protect from hampering surface and clear ruler make the task of making numerous cuts.
Tape Measure
Measurement is very important to make any dress or any other object by sewing. A wrong measurement can ruin your project and cause a loss of your money, time and work. For proper measurement, a handy measurement tool is very important.
You can do measurement easily using a tape measure. It is flexible and soft that can measure anything and can easily go round your body. It is a popular measuring tool to a seamstress.
Seam Gauge
A sewing gauge with a slider is another useful measuring tool. The slider can be set to a specific measurement. This has a hollow area which helps guide your chalk.
Seam gauge can be used for pressing ham, sewing, pinning, making accurate tucks, marking evenly for placement of buttonholes. These rulers are flexible but after some use, they can get bent. At that time you should have a new one.
Tailor's Chalk
For the very first starting with your sewing, first you need to cut your material according to the measurement lines and to the patterns, you have drawn. A tailor's chalk can help you in this regard.
You can use chalk to draw stitch lines and other markings to your fabric. Tailor's chalk comes in various colors and as a pencil with tapered edges.
Make sure that you use it on the wrong side of the fabric because if you use it on the right side the beauty of your dress will destroy though it will remove after washing.
Pins and Pincushion
It is almost impossible to get any project done without straight pins. They are put into the fabric to hold things in place as you cut and adjust to make sure the garment will fit correctly.
There are various types of pins available in the market like dressmakers pins, glass head pins, and T shaped pins.
The pin you are used for holding fabric during sewing can stick on your toes or your feet which can cause pain on feet. So to keep you safe from this hazardous pain you need a pin cushion which is easy storage for your pins and your sewing needles.
Seam Ripper
Mistakes happen during sewing and a seam ripper can help you to correct your mistakes. It gathers bunches of threads and helps to rip the sewing open. It may get dull after some use. You should replace it at that time.
Conclusion
If you are not going to start sewing professionally, rather want to do it for meeting small sewing needs of daily life like adding buttons to your shirt, these 10 essential sewing tools are enough for you.
On the other hand, if you are going to sew some fancy products, I mean you are going to start sewing as a hobby you may need some more sewing tools except these listed 10 tools. If you want to sew professionally, you also need some more sewing tools except these 10 essential tools.