As a homeowner, it can be tempting to take on DIY plumbing projects to save money and feel a sense of pride in fixing things yourself. However, not all plumbing issues should be tackled without professional help.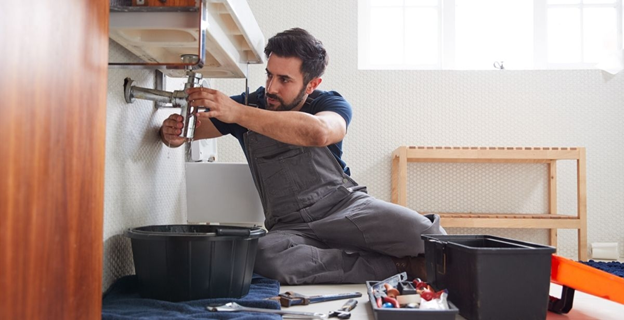 Knowing when to call in the experts can save you time, money, and potential damage to your home. We will explore the pros and cons of DIY plumbing versus hiring a professional plumber.
We'll discuss common plumbing issues that can be fixed with basic DIY skills, as well as those that require specialized knowledge and equipment.
When faced with a complex plumbing issue like a burst pipe or a major leak, it's crucial to call in professional plumbers to ensure the problem is addressed effectively and prevent potential damage that DIY attempts might exacerbate.
We'll also weigh the risks of attempting complex plumbing repairs on your own, including potential hazards like leaks, water damage, and even injury.
By the end of this post, you'll have a better understanding of when to tackle a plumbing project yourself and when it's best to leave it to the professionals. So, whether you're a seasoned DIYer or a first-time homeowner, read on to learn more about DIY vs. professional plumbing.
Recognize The Complexity of Issues
When it comes to plumbing issues, it can be tempting to try to fix them yourself to save money. However, it's important to recognize the complexity of these issues and the potential risks that come with DIY plumbing.
Even seemingly simple problems like a clogged drain can have underlying causes that require professional expertise to diagnose and repair.
Additionally, attempting to fix plumbing issues without proper knowledge and tools can lead to further damage or even injury. Therefore, it's crucial to weigh the potential consequences and consider calling in the experts when dealing with plumbing problems.
---
Read Also:
---
Consider The Safety Risks Involved
When deciding between DIY plumbing and hiring a professional, it's important to consider the safety risks involved. Plumbing work often involves dealing with water, electricity, and gas lines, all of which can pose serious safety hazards if not handled properly.
For example, a small mistake when working on a gas line could result in a gas leak, which can lead to an explosion or fire. Similarly, working on live electrical wires can lead to electrocution.
While some basic plumbing tasks like unclogging a drain can be done safely by a homeowner, more complex tasks like installing a new water heater or repairing a gas line should always be left to the professionals.
Ultimately, the safety of you and your family should be the top priority when considering whether to tackle a plumbing project on your own or hire a licensed professional.
Weigh The Cost Effectiveness
When it comes to deciding whether to tackle a plumbing project yourself or call in a professional, one important factor to consider is cost-effectiveness. While it may seem like a DIY approach will save you money, it's important to weigh all the costs involved.
Do you have all the necessary tools and materials? Are you confident in your abilities to complete the job without causing further damage or creating a safety hazard? How much time will it take you to complete the project, and what is your time worth?
On the other hand, hiring a professional plumber can come with a higher up-front cost, but they have the experience, knowledge, and specialized tools needed to get the job done quickly and correctly the first time. It's important to consider both options and weigh the cost-effectiveness before making a decision.
Assess Your Personal Skill Level
Assessing your personal skill level is an essential step in determining whether you should undertake a plumbing project yourself or call in the experts. While some plumbing repairs may seem simple enough to tackle on your own, it's crucial, to be honest about your abilities and experience with plumbing work.
If you have never attempted any plumbing repairs or lack the necessary tools, it may be best to leave the job to a professional.
Attempting a plumbing project without the correct knowledge and skills could result in costly damage to your property and potentially even put your safety at risk.
Before starting any work, consider the complexity of the project, your level of experience, and the potential risks involved. By honestly assessing your skill level, you can make an informed decision about whether to take on the project yourself or call in a professional plumber to handle the job.
Know When to Seek Assistance
When it comes to plumbing, there are times when attempting a DIY fix can lead to further damage and costly repairs. As a homeowner, it's important to know when to seek professional assistance. Here are five situations where calling in the experts is the best course of action:
● Major Leaks
If you have a major leak that is causing damage to your property or flooding your home, it's crucial to call a professional plumber immediately to avoid extensive damage.
● No Water
If you turn on a faucet and no water comes out, there could be a serious issue with your plumbing system. A professional plumber can diagnose the problem and fix it quickly.
● Sewage Backup
If you experience a sewage backup in your home, it's important to avoid using any plumbing fixtures and call a professional plumber right away. Sewage backups can be hazardous to your health and require specialized equipment to clean up properly.
●  Low Water Pressure
If you're experiencing low water pressure throughout your home, it could be a sign of a more significant plumbing issue. A professional plumber can identify the source of the problem and provide a solution.
Conclusion
While there are some plumbing tasks that can be tackled with a DIY approach, it is important to recognize the limitations of your skills and experience.
Attempting complex plumbing repairs or installations without proper training and equipment can result in costly mistakes, damage to your home, and even personal injury.
It is always best to consult with a professional plumber, who can offer expert advice and ensure that the job is completed safely and efficiently. By knowing when to call in the experts, you can protect your home, your family, and your wallet.