Your home is the place that you can escape to after a hard days work, therefore it should be a relaxing and peaceful place.
However, homeowners don't always get the design of their home correct and their home can stress them out further rather than relax and take away their anxieties.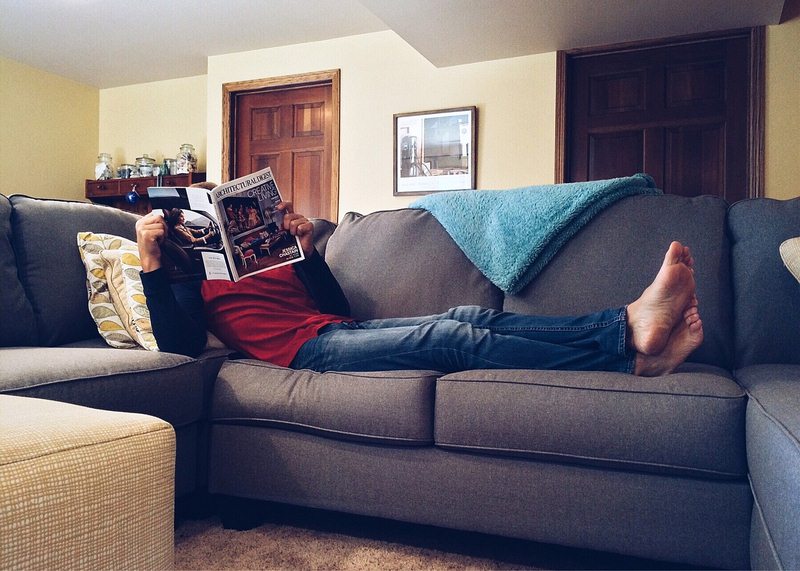 In the modern world, it's now more important than ever to have a space in which you can completely shut off the outside world and relax.
In this blog post, we will show you some of the top tips you can use to create a relaxing home for yourself and your families.
---
Read Also:
---
Remove All the Clutter
Clutter is one of the top reasons that people are stressed with their homes. It doesn't matter how many rooms you have or how big your home is, if your home is cluttered it will never feel big enough.
Clutter makes your room look busy and stimulates your brain, because of this you are unable to relax around it. There are a few options when it comes to removing clutter.
The first option is to remove all the clutter from your home by throwing it all out. You could choose to rent a skip or take your items to a charity shop. Some people may think this is an extreme step but it works.
If you want something less drastic, you could consider renting a storage unit to store some of the furniture in your home that you're not as fond of anymore but you still don't want to throw it out.
The third and final solution when it comes to dealing with clutter is to purchase some storage, this could come in the form of shelving, cupboards or bookcases.
Storage containers in the home allow you to keep most of your items out of site making your home feel less cluttered and it will make you feel more relaxed.
Choose the Right Colour Schemes
The colours of the walls in your home can make a huge difference in the effect they have on your mood. If you want to create a relaxing environment in your home you should go for neutral colours like light grey, white and beige.
In the bathroom, you could choose marble, light grey or natural slate tiles which will all add to the relaxed feel you will have around the home.
You don't have to be boring with the colours you pick, you can add a splash of colour here or there, a feature wall, for example, can be painted a separate brighter colour that can make the room stand out, but be careful as colour can be a distraction, so you will need to think about the role of the room when decorating.
Think of the Room and the Role That It Plays
If you are creating a games room the colours in here wouldn't necessarily need to be relaxing compared to a bedroom or bathroom.
In a games room, you would expect bright colours to keep the room fun and engaging, a bedroom or bathroom, on the other hand, should be neutral and calming.
Recently we talked to a bathroom designer from Bathroom Supastore and asked them how you could create a relaxing bathroom, this is what they had to say:
"For the bathroom, you should select muted and natural colours. Having a muted colour scheme will allow you to be more creative with your bathroom suite and will allow you to relax while soaking in your new tub."
Make Your Bathroom Relaxing
Your bathroom can be your little getaway from the world for 20 or 30 minutes every day if it's designed correctly. We asked bathroom fitters M & M Heating and Plumbing how to make a standard bathroom more relaxing, they replied:
Bathrooms can be completely overhauled or you can purchase little accessories that can make a huge difference.
If your budget allows for an overhaul, think of adding rainfall showerheads, wet rooms, jacuzzi baths and towel rails. All of which will make your room more desirable and relaxing.
On a budget you should look to add smaller accessories like luxury towels, robes and you could even replace your soap dispensers with marble ones, they may sound expensive but their affordable and make your bathroom more luxurious and relaxing.
Turn Off Electronics Where Possible
Mobile phones have changed the way the world works and there are good and bad points about this, but when it comes to relaxing your phone can be one of the biggest stressors in your life.
The constant ping or vibrate when an email, text, call or even a like on Facebook comes through is highly distracting and can cause anxious feelings.
Computer monitors and tv screens can also create unwanted stress in your life, especially if you are an employee that brings home their work.
If you find yourself constantly on your computer, phone or watching TV before bed you should try and unplug and try alternative activities. Studies have shown that using electronic devices before bedtime can harm your sleep quality.
Other activities could involve reading or listen to music. If you choose to listen to music make sure it's not something too stimulating like rock music or dance. Instead try to listen to calming, lyric-free music.
Classical music is a favourite of mine and I always find myself drifting off listening to classical piano or classical strings.
If classical music doesn't interest you, you could opt to listen to a podcast. Podcasts tend to be relaxing when they're discussing complex subjects, but try and find one that you can listen to without being too engaging.
Conclusion
With so many people being overworked, it's now more important than ever to create a relaxing home environment.
A safe haven where you can chill out and recuperate is vital for your overall mental health and can also make a huge difference to how you feel physically.
Staying relaxed at home is all about creating an environment that isn't too stimulating, keeping electronic devices to a minimum and creating spaces in your home which allow you to get away from the outside world.
If you have any other tips or tricks on how you relax at home please leave them in the comments below.