We all know that the most interesting part of the appliance buying process is the choice of color and finish.
Naturally, in most cases, the shape is not something you are free to choose – instead, you have to work with it!
Speaking of working with the characteristics of your appliances, today we'll explore exactly that! Namely – how to properly blend the shape and color of an appliance with the interior of your household?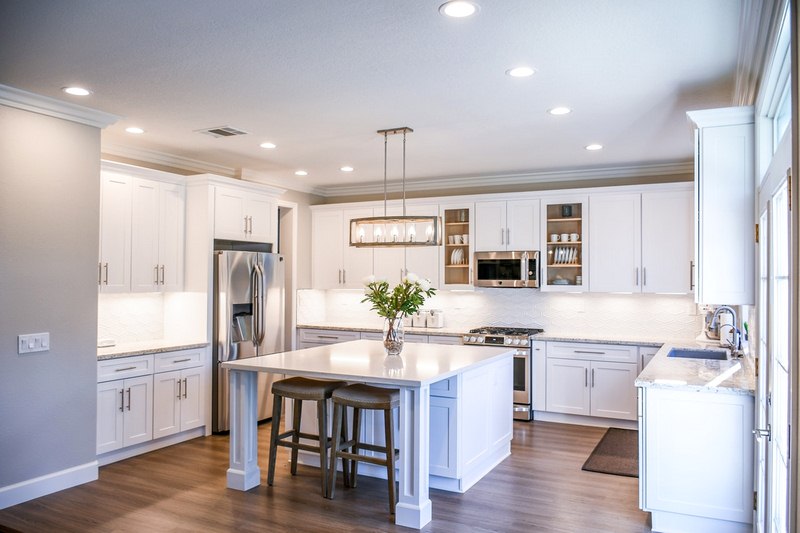 This may sound easy for some of you, but we all know that matching appliances with the rest of your home is something we'd rather not do! After all, it is not as easy as buying an espresso machine with a very easy setup.
Therefore, without any further ado, let's begin our article!
---
Read Also:
---
Choosing the Right Appliance Color
First of all, let's deal with the color issue. As mentioned above, since you can't actually choose the shape of your appliance, you'll have to blend it with existing household interior design.
So, as far as appliance colors go, you will have to take into consideration:
Existing Décor/Appliances
When you have to choose the color/finish of a new appliance, you always have to start by considering the hardware you already have in the room where you want to place the new item.
For example, if you have a microwave, toaster, and drawer pulls that feature stainless steel finishes, you may want to have your new appliance match them for a better overall look of your kitchen.
Naturally, this applies to more than just your kitchen.
It's OK to Point Things Out
The stainless-steel finish we mentioned above – as well as a black one – means that you are playing it safe in terms of color. This is because such shades fit with every other piece of furniture and appliance without hurting the eyes.
However, you shouldn't be afraid to point something out or make a statement via an appliance. If you like vintage designs or the color orange, for example, you should not fear to bring such an appliance into your house.
Keep in mind that, in such cases, all of the other appliances should match one another and the piece that you want to point out and make a statement with should be singular within the room.
The Return of White Appliances
White appliances are fit for most kitchens or room designs out there. Also, they are much cheaper than their stainless-steel finish counterparts.
It goes without saying that minimalist designs are now trending. So, white pieces of furniture are more than welcomed in households. Moreover, there are a couple of brands that actually reinstated white finishes – for example, Whirlpool and their "white ice" finish.
Appliance-Based Finish
On the other hand, it is well-known that certain appliances come with what we call their good finish. Such finishes fit with most, if not all household interiors and they also come with a certain level of functionality.
Fridge – given that fridges are handled quite a lot, a slate finish could help you avoid the display of fingerprints and of grease, so to say, as well as of smudges. For a similar effect, you could choose a matte black or a black stainless-steel
Dishwasher – the above "rule" applies. When a certain appliance is used a lot or when exposed to cooking fumes, you should choose a dark color scheme for it.
As mentioned above, the color of your appliance should be chosen on how often you use that appliance. For example, you might want to avoid using white light switches, as they get dirty very fast.
Blending the Shape
When it comes to appliances, shapes, and interior décor, you definitely don't want to ruin the latter. It's true that a badly placed appliance can ruin the entire vibe of a certain room.
In some cases, you may even end up hating a room just because of a new appliance that you didn't blend with your interior.
Big refrigerators that take up a lot of space in your kitchen will usually make the whole room look ugly if you choose a stainless-steel finish and no mask for them.
We mean making big appliances in custom color panels that can make them correspond to a room's overall look. In other words, you can try to hide certain appliances behind cabinets – either walls only or fronts as well.
Such appliances are a god-sent in summer – but are also one of the worst-looking appliances out there. If you can't place the HVAC system in a basement or such, then you will have to place it in your home.
In this case, you'll have to fit the system in either a closet or on a wall. When fitting such a system to a wall, keep in mind that you can easily hide it behind wooden bars, for example.
The Risks of Blending All Your Appliances
One of the most important things that you have to keep in mind is that matching every appliance color and shape will result in a bland and monotonous space! Obviously, you don't want that to happen.
When you try to match colors and fit in shapes too much, the entire room will lose its spark and personality and will become unattractive. On the other hand, this doesn't mean that you have to choose appliances that are way too distracting for the eye. Go for something classy, yet catchy.
The Bottom Line
You will always have a hard time when buying new appliances, no matter how neutral your household interior is. Most of the time, you will come across appliances that you really love – either due to color or design – but that doesn't fit at all within your household.
This means that you'll have to carefully choose their finish, as well as the location where you want to place them. After all, these are the most important things that you have to consider in terms of interior design and décor.