According to the cleaning experts at Clean Corp, it's a good idea to have your carpet professionally cleaned at least once a year.
This is essential not only for extending the life of your carpet but also for making it look and smell clean.
In between professional cleanings, unfortunately, your carpet can quickly end up in a terrible state especially if you have kids or pets.
Since getting in touch with them every time your carpet gets dirty or stained can be hard on your pocket, you have no choice but to deal with various carpet-related nightmares on your own if you're on a tight budget.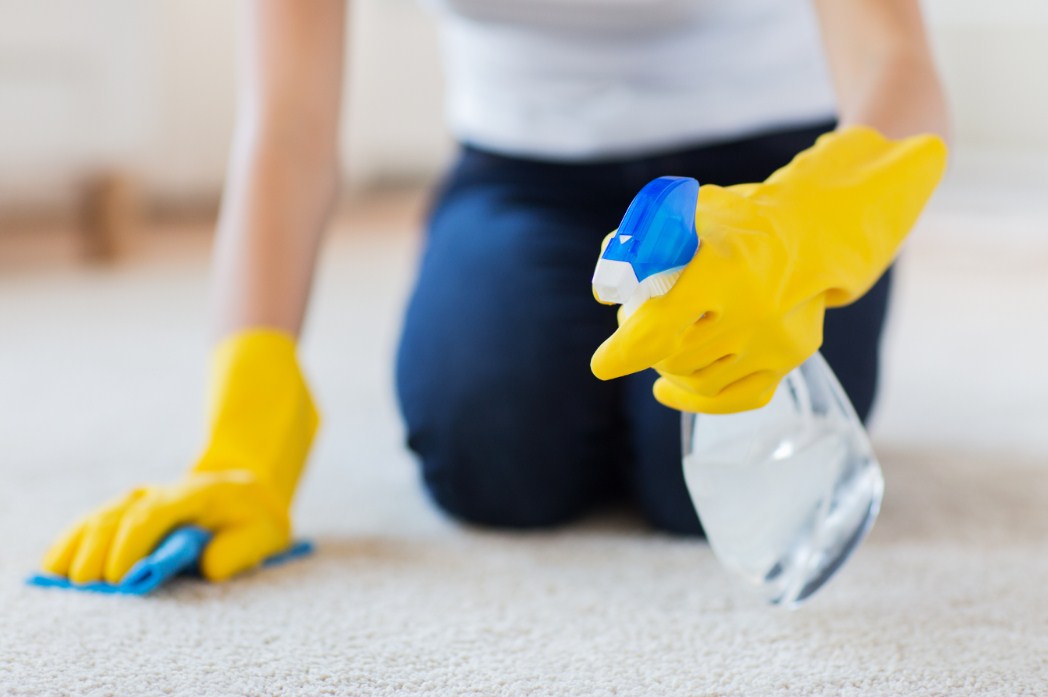 The best time to spring into action is not only during the spring cleaning season but also when problems show up.
As a general rule of thumb, the sooner that you carry out the necessary carpet cleaning, the better the results will be.  This can be achieved without calling a cleaning professional.
Fortunately, you don't have to get your hands on expensive carpet cleaning tools and equipment. Some of the tools that you will need to deal with the minor carpet issues may already be found in your home.
The majority of them are not even designed for carpet cleaning, but they can come in handy as carpet cleaning hacks!
Without further ado, let's check out some carpet cleaning hacks that can save both time and money:
---
Read Also:
---
Baking Soda Solves Pet Accidents
Having a furry friend around can bring joy to the entire family. Unfortunately, it can also make your carpet smell horrid due to its poop and pee.
It's not really a good idea to rely solely on commercially available pet deodorizer because some of its chemicals may damage your carpet and endanger the health of kids and pets, too.
If your pet has an accident on your carpet, immediately scoop its poop or blot out its pee. Sprinkle generous amounts of baking soda on the problematic spot and leave it there for several hours.
What's so nice about baking soda is that it's good not only for making baked goods but also for making bad odors go away, such as the smell of your pet's poop and pee on the carpet.
After giving baking soda plenty of time to do its job, remove it using the vacuum with a brush attachment.
A Squeegee Takes Away Hair
Other than bowel and bladder issues, there is another problem that your pawed pal can bring: hair that's difficult to remove from the carpet.
It seems like no amount of vacuuming can completely get rid of pet hair that likes to cling to your carpet's fibers. But worry not because a squeegee can do the trick once and for all!
Yes, that very same tool that you use for cleaning your windows can also be used for keeping your carpet hair-free. There is no special technique involved — just water your squeegee and glide it across problem areas.
Aside from a squeegee, you may also count on a lint roller. However, it can impress only if you have a short-haired pet.
The good thing about a lint roller is that it's very good for picking up dirt and debris that the vacuum cleaner usually misses. A lint roller is especially perfect for cleaning carpeted stairs.
Shaving Cream Removes Everyday Stains
You reach for your favorite shaving cream each time you want to get rid of unwanted body hair. Did you know that you can also count on it each time you want to eliminate unsightly stains on your carpet?
Especially if your carpet comes in white, beige, yellow, pastel blue or any light color, it's easy to end up stained. And when that happens, your eyes have no choice but to constantly zoom in on the mark!
The good news is that shaving cream can remove stains effectively. Apply, leave for a couple of minutes, and clean with a damp cloth or sponge.
Aside from getting rid of everyday stains, shaving cream can also make your carpet smell great, look fluffy, and feel soft to the touch.
Thanks to shaving cream, you can keep your carpet stain-free and spare yourself from the need to use an expensive carpet conditioner just to keep your carpet in tip-top shape.
Vinegar Fluffs Up Flattened Fibers
It's easy to tell which areas of the home get more traffic than the rest — all you have to do is look where the carpet fibers are all worn-out and flattened.
There's nothing that you can do to restore worn-out fibers. However, there is something that you can do to fluff up flattened fibers.
In a spray bottle, combine equal amounts of distilled white vinegar and water. Give the spray bottle a good shake and spray the mixture on problematic areas on the carpet. Allow the mixture to get absorbed.
Reach for a spoon afterward. Run it sideways across your carpet to loosen those flattened fibers.
Diluted distilled white vinegar is also excellent for softening the fibers, thus allowing your fiber to look and feel like it's brand new. You may also use it for deodorizing your carpet in a snap.
An Ice Cube Gets Rid of Gum
Nothing can ruin your carpet more than gum from the mouth of your child or from the shoes of a house guest. Not only is it icky to remove especially if you have no idea whose mouth it's from, but it's also challenging to get rid of.
Removing gum while it's still in a stretchy and sticky state is a terrible idea. That's because it can easily pull the fibers out, causing bald spots on your carpet.
What's more, trying to remove it while it's still fresh can cause it to stick to the adjacent areas, thus causing a much bigger problem!
What you need to do is place an ice cube on the gum for a minute or two. The goal is to harden it. Once the gum is hard, gently scrape it off your carpet using a spoon.
An ice cube is so good for getting rid of gum on your carpet that it may even allow you to remove the entire gum in just one pull.
Which of the time- and money-saving carpet cleaning hacks above have you tried and impressed you with the outcome? Feel free to share your experience in the comments section below!