Flat roofs are used for low-sloped and flat surfaces for several styles of buildings, so you have surely seen how they look. However, seeing and knowing their peculiarities in detail aren't the same.
When it comes to your own roof system, it is important to be more knowledgeable and discover the main characteristics of popular and durable flat roofing materials to make the best consideration possible.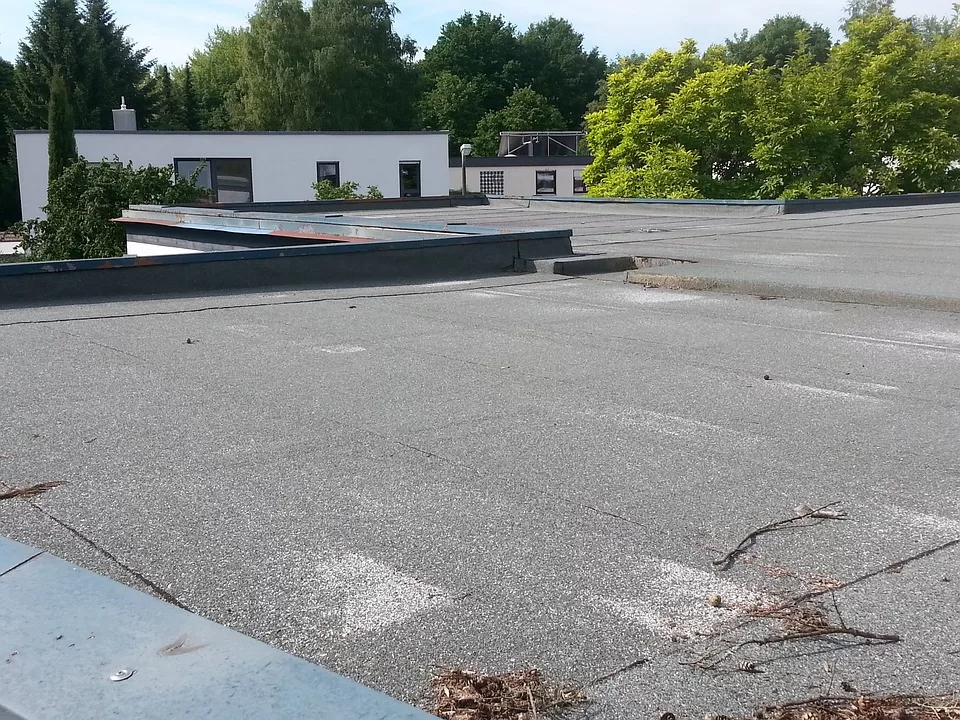 From this perspective, getting to know the term BUR won't be extra. Standing for built-up roofing, the concept behind this word isn't self-explanatory. So let's check its nature in more detail!
What is a BUR Flat Roof System and Why Do You Need One?
One of the best things about the analyzed types of flat roofs is how versatile and multifunctional it is. Such a coating will be effective for many houses since it can withstand different weather conditions without difficulty.
Typical problems of flat roof constructions might still take place, but a wise maintenance approach and checks will come in handy to operate this system in a more professional way.
Simply put, a built-up roof is a construction where several asphalt layers are glued together to create a solid shape. This technology usually opts for the following layers:
deck surface;
rigid roof insulation;
asphalt;
cover board;
ply sheet;
asphalt;
reflective roof coating.
These constructions were established in the mid of the nineteenth century and can definitely be considered the pioneer version of modern flat roof systems in the industry.
Although the basic approach to styling such roofs has remained unchanged, the use of new technologies and modified materials has helped to improve the original plan and maintain the popularity of built-up flat roofs.
If installed and maintained correctly, issues like ponding areas or premature breakdowns can be avoided or at least spotted and fixed in a timely manner.
---
Read Also:
---
Professional Assistance from Local Roof Contractors
The distinguished type of construction isn't something beginners can take care of on their own. It is way more efficient to create a mutual project with professional teams to establish the best and most durable flat roof systems:
You don't have to become a guru in what relates to flat roof materials and their choice for BUR building roof roofs since your back will always be covered by specialists in the industry.
You don't have to worry about beginner mistakes and several related inconveniences. Your responsibility is to choose a reliable contractor by checking the available reviews and considering their service and price lists.
If you are interested in possible flat roof reinforcements like uniform slabs or special coatings that reflect heat better, experts will surely guide you through.
If you have a large space to cover with a chosen roof material in square feet, it also promises to be a great experience to follow instead of DIY approaches.
Several repair plans require the use of advanced gear and technologies, including upgrading the process of air conditioning on the roof. That's why staying in touch with professional teams will help you up in arms for any unexpected scenario.
Built-Up Flat Roof Replacement Cost
As in the case with other flat roof types, this variety is really durable and can survive water damage and so on for decades (with the right care and maintenance in mind, of course). The price to spend for full installation is around three to six US dollars per square foot, so the final bill depends a lot on how many square feet your roof system is.
Taking into account the way built-up flat roofs are constructed, this price varies on how many layers are felt, what they are, whether there are any additional coatings, and so on.
Usually, bitumen is preferred to glue them together, while the last layer on this membrane roof is made of asphalt or gravel. This roofing selection has a respectable life expectancy, so you won't have to deal with replacement projects for up to twenty-five years after installation.
Wrap It Up
The market for flat roof systems is more varied than it seems at first. There are several terms and abbreviations that won't be clear immediately. If you don't want to make mistakes and waste your money, it is more reasonable to cooperate with specialized and trustworthy local roof contractors.
This way, you will not only have a roof system installed correctly, but you will also get the right drainage system and other means to protect the roofing from water damage and so on.