There are many ways to go about decorating your home. Really, the possibilities are endless. Posters and wall art might be the most obvious ways to bring your walls to life, but there are so many other options available as well.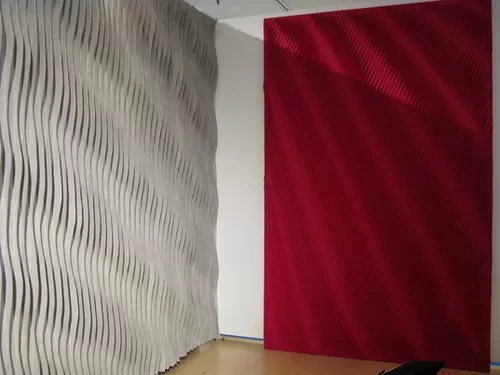 One of the more popular trends that are gaining traction lately is implementing felt panels for walls or rooms. Why would you do this? There's actually a lengthy list of benefits to adding these panels to your living space, and some you might not even expect. It's more than simply bringing more color or texture to your walls.
In this blog, we're taking a look at several potential benefits that come from using felt panels on your walls. In the end, you'll have the power to transform not just how your home looks but also the entire energy of a room or lounge area.
1.  To Add Color
Bland walls are just that: bland. Because felt panels are customizable in both color and pattern, there's no limit to what you can transform your walls into. Plus, colors are proven to affect our emotions, mood, productivity, and other aspects of our lives. Without color, it's easy to fall into a rut of boring, hopeless, or simply uneventful routines.
2.  To Dampen or Absorb Sound
Perhaps the most useful attribute of felt panels is their ability to limit sound. Whether you're dampening the sound or absorbing it completely, this allows you to designate a quiet space in your home that can be used as a calm oasis, music studio, or work area when you're away from the office.
3.  To Make It Easier to Work from Home
This ties in with sound dampening, but tailoring your at-home work location to make it easier to work away from the office is essential. You need to be able to focus and produce quality work without noisy distractions.
Luckily, the felt, acoustic wall panels eliminate noise pollution in a busy house and you can design it with your favorite colors or patterns to enjoy being there more. Everyone is working from home these days; you might as well make it as comfortable for yourself as possible.
4.  To Be More Sensory-Inclusive
Approximately 5% to 16% of the general population lives with some type of sensory processing disorder (SPD), according to a study conducted in 2017. This means some people may need more specific conditions than others to be productive or comfortable in a certain space.
Soft materials, such as felt wall panels, make a room more calming, and therefore allows those in it to perform better. Children in particular suffer from sensory sensitivity. If your children are attending school at home, consider implementing felt panels and see if they help your child.
5.  To Express Yourself Through Your Home
It can be difficult to make your home feel like you, especially if you just moved in. Your house is a reflection of your tastes and artistic expression, so you should take measures to make it feel as close to your taste as possible.
Customizable felt panels provide a nearly limitless selection of ways to enhance your space. Either as a single homeowner or a member of a family, you and others can collaborate on how to bring your room to life. Make each family member's room different, or sync on what you all want together.
Conclusion – Why Add Felt Panels to Your Walls?
There are several reasons to add felt panels to your home's walls, from simple artistic expression to sensory inclusivity. We've all spent way too much time at home over the past few years. Therefore, we owe it to ourselves to create a living space that works best for us.
Create the inspiration within your home's walls, and customize it to be exactly what you envision.