Ductless range hoods are a very convenient way to keep the kitchen fresh and the environment healthy.
And when the filters are charcoal-based, then the air gets even more purified coz the odor is neutralized and the grease is absorbed.
These are just the starter pack of benefits of these hoods. So, let's look at all the benefits of having a ductless range hood with charcoal filters.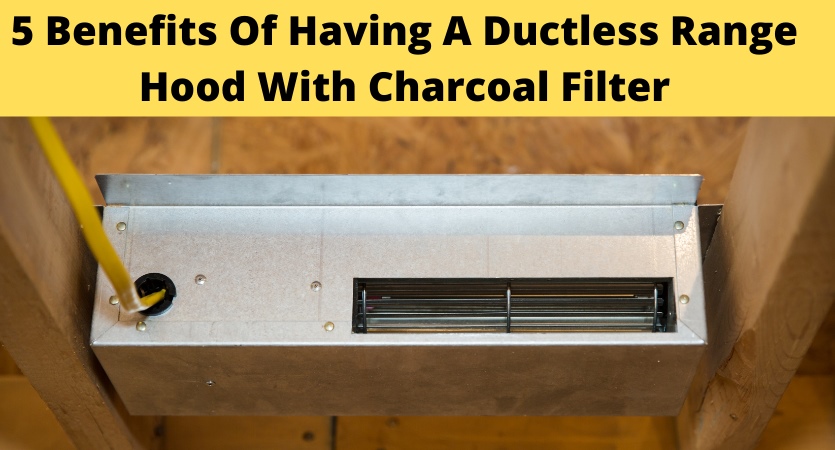 What is a Ductless Range Hood with a Charcoal Filter?
Before getting into the merits of owning a ductless range hood you have to know what it is. A ductless range hood is a type of kitchen exhaust fan.
According to an article by GotAbout, a ductless range hood is used to recirculate the kitchen air through filters.
The purified air is then released back into the kitchen environment using vents in the hood.
Charcoal filters are the most effective and consumer favorite filters in the market. It traps oil, dust, dirt and neutralizes odors.
So, the work of a ductless range hood is to suck in cooking smoke and release fresh air into the environment by filtering it. Also, it does not need ducts to work.
5 Benefits of Having a Ductless Range Hood with Charcoal Filter
As technology progresses and comes up with more convenient ways to lead life, why would the chimney arena lag behind? So, they came up with a more convenient and effective way to keep our kitchen clean and fresh, thus ductless range hoods were invented. The benefits of this invention are discussed below.
---
Read Also:
---
Convenient Installation
The ductless range hoods are easy to install. They are designed in a way they can be installed anywhere the user wants to.
It can be mounted with a cabinet or wall. It can be set in a corner or in the middle of the kitchen, anywhere over the stove.
So, the placement is no issue at all. Also, it takes fewer resources both human and material to install.
If you don't want professional help and want to do it yourself, then just by following the manual you can single-handedly get the job done.
Cost-Effective
We have mentioned this a few times now. So how is it cost-effective when the installation cost might reach from $100-$300. But it is actually still the cost-effective option.
Because a range hood with duct and vents outside needs a contractor to set that all up inside and outside, which costs three times more than ductless hoods.
And finally, the ductless range hood uses charcoal filters which only need changing every 3 to 8 months (after 120 hours of cooking). So the cost there narrows down as well.
User Convenient
If you have experience with old med chimneys, you know that nothing is worse than a chimney cleaning day.
The reason why ductless range hoods are user convenience is that it does not really need that thorough cleaning.
You just have to take off the grease on the top and throw out the filter, replacing it with a new one and you're done.
It doesn't take much of your time or energy and yet keeps your kitchen odorless, clean and fresh. Thus, it is user-friendly.
Versatile Design
The smart design of the machine makes it blend with your kitchen interior and makes it look more modern.
It has multiple options for ventilation, fans, and speed of the fans. This sophisticated exhaust fan can suck in all the smoke and odor and still save energy with control buttons.
Also, the manufacturers have put a lot of effort into the design to make it easy to install with fewer parts to assemble. So, you're in for a very "versatile" experience.
Environment-Friendly
It uses charcoal filters and it releases the same air sucked in the kitchen just odor neutralized and purified.
Where other classic chimneys and ducted range hoods release the smoke outside, polluting the air and harming the environment.
But not ductless range hood. It uses charcoal to purify cooking steam, reducts dirt and odor then using the inner vents releases it back into the kitchen.
And it runs on electricity so no fuel burnt or battery used, energy saved.
Do Ductless Range Hoods Remove Smoke?
As we already know, a ductless range hood can suck in all the smoke and neutralize it to pure air then release it back into the room.
So, does it remove the smoke from the room? Yes, it does. But it doesn't transfer it outside. Instead, it converts the smoke to breathable air.
The smoke is sucked in by the exhaust fans situated inside the range hood and then it goes through the charcoal filter.
And then back in the room through the vents. Thus, the smoke never leaves the room. Yet the range hood removes it completely.
Bottom Line
In fine, we can say using a ductless range hood can save you money, energy, effort and it gives you a modern home feel with its sophisticated design.
Also, the reason why it is now one of the best customer choice products is it is affordable, works effectively, and is susceptible to put together.
These are the benefits of having a ductless range hood with a charcoal filter.
Charcoal filters are vastly recommended and one of the best filters in the market. Keeps your home clean and healthy.