Kitchen Cabinet Refacing — The kitchen cabinets are one of the most used in any household. Behind their doors, we keep our, food, dishes, pans, and other items that we access frequently.
Due to all of this use, the kitchen cabinets tend to be the first to fall off their hinges and get discolored from years of grease splatter and heat.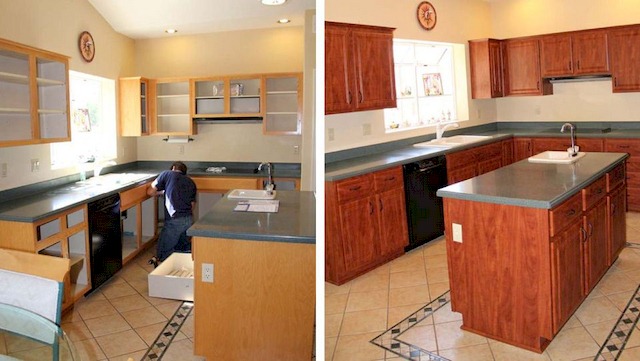 No matter how well you take care of your kitchen cabinets, there will come a time when they will need some help.
There are two options for updating your kitchen cabinets; doing a complete kitchen cabinet remodel, or refacing the kitchen cabinets.
Kitchen Cabinet Refacing, Give Your Kitchen Cabinets a Makeover
Kitchen cabinet refacing is a home improvement project in which you give your kitchen cabinets a makeover. This includes the kitchen cabinet doors and the cabinets themselves. The simplest form of refinishing kitchen cabinets includes pulling down the old cabinet doors, cleaning, sanding them and staining the cabinets.
Many people choose to also pull the front panel off of the frame and replace it also. Replacing the front panel becomes necessary if any screws have pulled out or you are having a problem with loose hinges.
Getting Started – The Demo
The important thing to remember when you are about to reface kitchen cabinets or any refacing project: this is not a complete reconstruction. No matter how much fun it sounds like, there is no need to take a baseball bat to your current cabinets. The best way to go about preparing the kitchen cabinets for refacing is to gently remove all screws and nails holding on the cabinet doors, front and side panels.
Even if you will be recycling these pieces, each one needs to be removed and have all hardware removed so that they can be properly cleaned and sanded.
Cleaning and Sanding
Wipe each piece down with warm soapy water being sure that the wood does not soak up any of the water. While washing does your best to remove all grease residue and anything else that may be stuck to the cabinets.
After the kitchen cabinets have dried completely, use a fine grade sandpaper to smooth out any imperfections. If you would like a drastic change, use a belt sander to sand down ridges and crevices to create a smoother look. You can even add crevices and designs using a Dremel™ and wood burning tool.
If you made any drastic changes you will need to use the fine grade sandpaper now before moving on. Next, wipe down the kitchen cabinets with a damp washcloth to remove any dust.
Staining
In the next step, you will be adding stain and a protective coating. Staining kitchen cabinets is not an impossible task if you prepare and work slowly. If you have not already chosen your stain color and type or if you need help knowing which types are the best, please read below on "Choosing Stain". For now, though we will assume that you already have your stain picked out.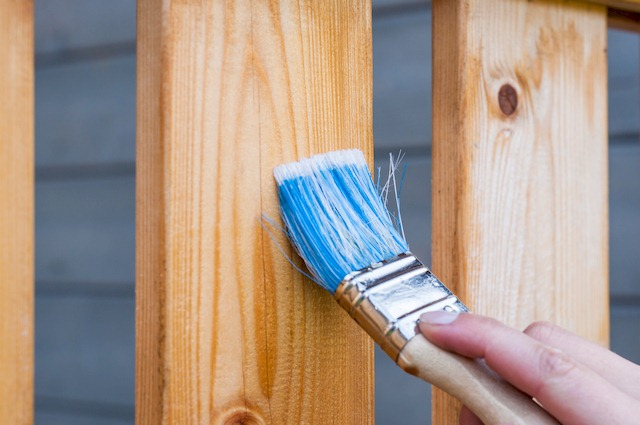 Be sure to read all directions and warning on your stain before proceeding. For best results, apply one coat and let it soak into the wood. Before applying the second coat run your hand over the kitchen cabinets to make sure they are dry. Two to three coats are what most stains recommend. Not only will multiple coats bring about the desired color, but it will also help to protect the wood better.
Although stain is usually enough to protect your kitchen cabinets, many people prefer to also add a clear coat as an added layer of protection.
Must Read:
Choosing Stain: Kitchen Cabinet Refacing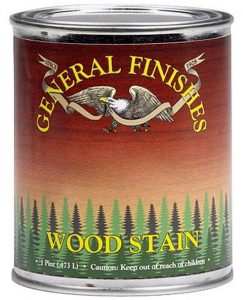 Interior wood stain for kitchen cabinets is most commonly thought of in the various shades of wood, as in light, medium, and dark. Natural wood colors are not the only options when it comes to stain.
Many stain manufacturers have custom color lines, where a color pigment of your choice is added to a light stain, giving the finished product a colored wood grain effect.
Kitchen cabinet stain does protect the wood, but the color you chose is a purely aesthetic choice. Dark colors do not protect more so than light colors. This guide is to help you narrow down your color choices.
The light color stain has a variety of shades to choose from beginning with what most call natural stain which has no color pigmentation in it. This is the best choice for you if you really like the look of the unfinished kitchen cabinets.
Regardless of wood type, a natural stain will enhance the natural appearance of the wood making the grain a little richer. Other light colors include limed oak an off-white stain and maple a light golden color.
The medium stain category carries some of the most popular finishes such as; golden oak, colonial maple, and light cherry. Golden oak is probably the most popular of all wood finishes, because of its warm tones that brighten any room without being blinding.
Dark wood stains are popular in office furniture more so than kitchens, but when paired with the right countertops and wall paint, dark stains can look amazing. Some of the most common dark colors are Red Oak, Black Cherry, and Mahogany. All of these stains have a red tint that is so dark it errs on the side of black. Many people like to purchase a dark stain then evaluate its appearance after each coat until they like the way it looks.
Color Tints are great for anyone who loves the color but does not want to cover up the beautiful wood grain with paint. Color tint stains bring together the best of both worlds. Not many people use them in their kitchen but that is no excuse for not starting now. Whether you stain all of your cabinets the same color or vary each one the final result can be magnificent.
Remember that you will be living with this choice for the next five to ten years, chose a color that is appealing and soothing to you.
Clear Coating for Protection
Some people who have refaced their kitchen cabinets choose to use a clear coat not only to protect the wood but also to aid in the ease of cleaning. When the only stain has been applied, grease, dust and other kitchen residues can soak into the wood over time, whereas a clear coat will help protect against this.
If you would like some help in choosing the right clear coat please read below about "Choosing Clear Coat". This guide explains the difference in Clear Coats and why you need one specially made for kitchen cabinet refacing.
If you chose to use a clear coat, again follow the directions on the can. Many clear coats ask for two to three applications. You will want to check with your paint dealer to ensure the clear coat you purchase is designed for use in the kitchen. Specialized kitchen cabinet clear coats are designed to hold up to and protect the kitchen cabinets from the heat and moisture put off by many kitchen appliances.
Choosing Clear Coat: Kitchen Cabinet Refacing
When it comes to picking a clear coat for your kitchen cabinets, personal preference will outweigh all else. But here is some basic information on each type of clear coat to help you make a knowledgeable decision.
There are two main categories of clear coat that can be used on kitchen cabinets: air-oxidizing and solvent-releasing. Air-oxidizing clear coats consist of the oils, varnishes, urethanes (including polyurethane) and blends. Air-oxidizing clear coats will soak into your kitchen cabinets.
Solvent-releasing clear coats are shellacs and lacquers that leave a hard, see-through coating on top of the wood. The first coat is used to seal the wood, while the top coats are used to add color, protection, and sheen.
Must Read:
Oils
Many seasoned kitchen cabinet specialists will tell you that oil clear coats are not good for kitchen cabinets. Oils including tung and linseed oil have to be worked into the wood over 4-5 applications and they need to be re-applied often to keep the cabinets protected and looking new.
Also, oils provide no protection from heat or moisture. Another downside to using oils on your kitchen cabinets is they put off a residual smell that can last for years and they have been known to yellow wood.
Varnishes
Some people swear by varnishes especially marine varnish when it comes to kitchen cabinets. Varnishes do provide a little from both worlds in the sense that they soak into the wood and they also leave a coating on top of the kitchen cabinets.
Marine varnish is clear, does not discolor the wood and it is mold and mildew resistant. If you live in a humid area the reasons for choosing marine varnish are even greater.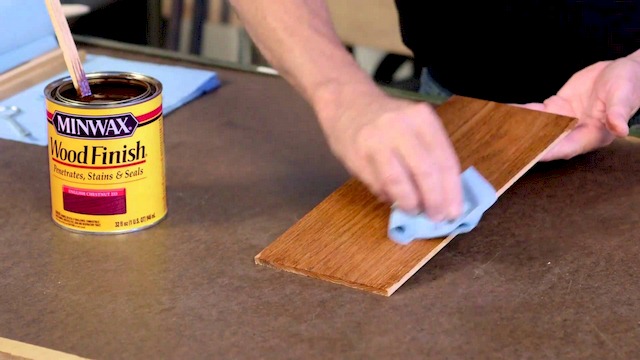 Urethanes
The most popular of the urethanes is polyurethane. Polyurethane clear coat is a very popular choice for not only kitchen cabinets but also all woodworking projects because it is scratch resistant provides UV protection, it does not color the wood and it provides a glossy finish. Four to five coats of polyurethane will protect from normal amounts of heat and moisture in a kitchen.
Shellacs
If you love the color of your wood just the way it is, shellac is not the best option for you. Shellac in it's lightest is called blond, but it does come in various colors. Shellacs are more commonly used for guitar finishes and similar projects than for kitchen cabinets. No matter what shade of shellac you choose it will alter the color of your kitchen cabinets.
Lacquers
Lacquer is great if you love a high gloss, classy finish, you have no children and you live alone. Lacquer is best for covering solid paints but can also be used with a wood stain. It is known for its beautiful shine and high-maintenance.
Many people after having lacquered kitchen cabinets for a little while applying several coats of polyurethane on top to protect the lacquer. Seems a little redundant but like I said before the choice is all yours.
Take all things into account when you are choosing your clear coat such as kids, pets, cooking, spill accidents, house guests, routine cleaning and the work involved. Taking this information along with the above descriptions you should be able to at least narrow down your choices. Now you can go talk to the person at the paint counter and know what you are talking about.
Must Read:
Reassemble, Kitchen Cabinet Refacing
Once you are done with the sanding, staining and clear coat it is time to reattach the hinges, knobs and any other decorative facets. Before re-attaching the old hinges and knobs, or if you have to choose some brand new hinges, you need to clean them. Yes even if they are brand new it is a good idea to at least wipe them down with warm soapy water.
When reusing the old hinges you will need to scrub them with a soft bristle brush, using warm soapy water. After the hinges have dried you should open and close them a few times to work out any water that might have found its way inside, then apply a drop of A-1 oil or similar lubricant.
Set the hinges out on a paper towel or cloth to absorb any excess oil. Lastly, use a level while holding the kitchen cabinet door up to the frame to ensure your doors are lined up properly while you mark the locations of the screws.
Always pre-drill the holes for your kitchen cabinet hinges. Pre-drilling the pilot holes helps your wood screws to grip better and keeps the wood from splitting when you put in the screws. When pre-drilling, use a small drill bit that is only about a quarter of the width of the screws you will be using. If you make the holes larger than this the screw will not be able to grip to the frame.
Hang all of your newly refaced kitchen cabinet doors following the directions above, then stand back and pat yourself on the back for a job well done. Take a picture, because they will never look as good as they do right now.
That's a Kitchen Cabinet Refacing. Now that the kitchen cabinets look great, it's time to move on to the kitchen counter backsplash.
External Links for Kitchen Cabinet Plans