Standing desks have been riding the hype train for the last decade now and are showing no signs of hopping off.
If you're a health advocate, there's a good chance you're also an advocate for standing desks.
As many of us transition to working in our homes, we outfit our home offices with the latest work tools, including this state-of-the-art furniture.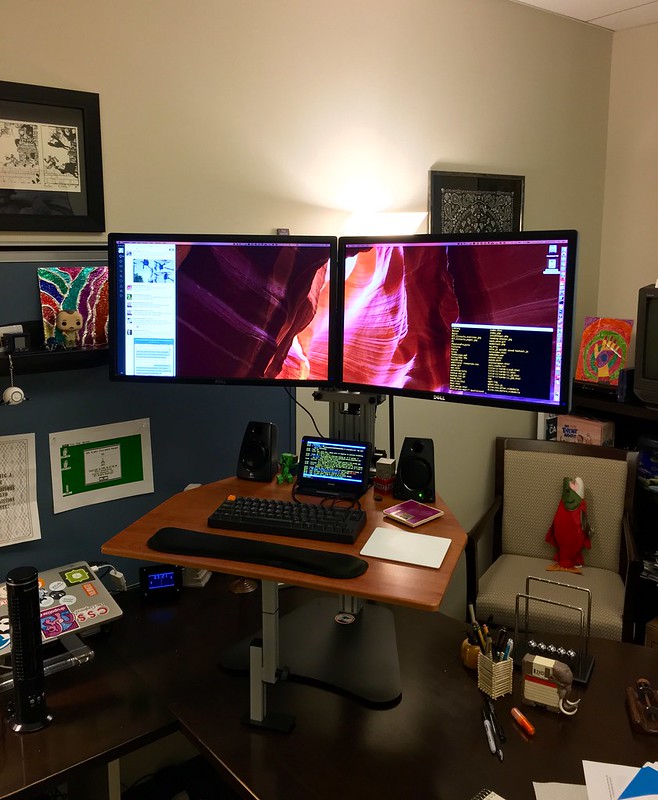 But what is the real deal about standing desks? Are they really worth introducing to your home office space?
Let's find out the answers today. In case you're in favor of standing desks, StylishDesks.com recommends choosing a good brand that improves both your health and productivity.
How Standing Desks Came to Be
Standing desks may seem like they popped up out of nowhere, but that's far from the case.
It actually took famous politicians, writers, intellectuals, and manufacturers years of working together to come up with solid proof of a standing desk's health benefits.
It's specifically meant to improve posture and focus.
The theory behind standing desk efficiency is considered sound. These desks work on the assessment that prolonged sitting leads to all sorts of health issues which, in turn, result in increased mortality rates.
On that note, it would seem like the standing desk is the answer to all our problems.
That is where the answer can get tricky. There isn't actually sufficient evidence to support why sitting is bad for you.
Sure, it can lead to posture problems and circulation-related health issues. It may even be an indicator of obesity, though this has more to do with lifestyle than anything else.
So, since obesity and posture are the major issues concerning sitting, does that mean standing desks are the solution?
Standing Desks Over Regular Desks
Lack of research and unconvincing results are the main reasons for the weak case against sitting. That's why we can't 100 percent guarantee that standing desks are the better option.
The information we do have on standing desks shows how they reduce neck and upper back pain and improve moods.
These might be related to sitting, but that isn't really sitting per se. Plus, there's no mention of a standing desk's possible drawbacks, which makes the information severely lacking.
---
Read Also:
---
How Standing Desks Impact Your Bones
There's no arguing the benefits of a standing desk when it comes to bone health. These items directly address posture problems, so, in that regard, they're sure to shine without a sliver of doubt.
However, there's also something to be said for prolonged standing and the issues it can have on your body.
With issues such as knee pain in mind, evidence is still lacking on standing desks having an overwhelming edge over sitting desks.
As far as standing desk drawbacks, ways to counteract these effects exist. You can enlist the help of fatigue mats, which have proven to reduce knee strain and standing fatigued to a great degree.
The pieces of evidence supporting this conclusion may be lacking in some ways, but they are enough to give the standing desk the lead in this section of the draw.
Correlation to Obesity
Standing desk manufacturers claim their products help with obesity. A scientific conclusion does exist on that front, but to what extent?
Using a standing desk won't burn more calories than using a sitting desk to make a difference.
And it certainly isn't the godsend to the morbidly obese it was first purported to be. It should help you shed more pounds than its four-legged counterpart in a year, but that's it.
So, Are Standing Desks Worth It?
The value of a standing desk depends on a lot of factors. Research might not suggest an overwhelming difference between a standing desk and a sitting desk from a physical point of view.
It doesn't mean this two-legged furniture won't actually help with your work experience.
That said, until more evidence supporting its edge over a regular desk surface, your decision would most likely depend on personal preference and individual responses to standing while working.
Also, even if there isn't much of a difference in your response to a standing desk, you could still get a good mood and productivity boost from it.
Standing desk problems are independent of the issues surrounding sitting desks. That's because standing alleviates most sitting issues but also introduces some of its own.
In that vein, a consensus may be drawn that going for a hybrid setup allows you to get the best of both worlds.
That's because you maximize the benefits of both arrangements and minimize their drawbacks.
So, instead of a pure stand or sit desk, you can opt for the increasingly popular sit-stand desk.
You can shift these tables up and down electronically to switch from standing to sitting position, and vice versa.
Theoretically speaking, this should offer the best of sitting and standing while cutting back on the risks of both.