Now, when you have chosen to purchase a standing desk for your home office, you need to learn everything about how to choose the best option for your specific case.
First of all, check some technical features. If you are purchasing your desk from a reliable and well-known manufacturer, most likely, it is going to comply with all your requirements.
If the company isn't known or you are choosing a cheaper model, make sure you check: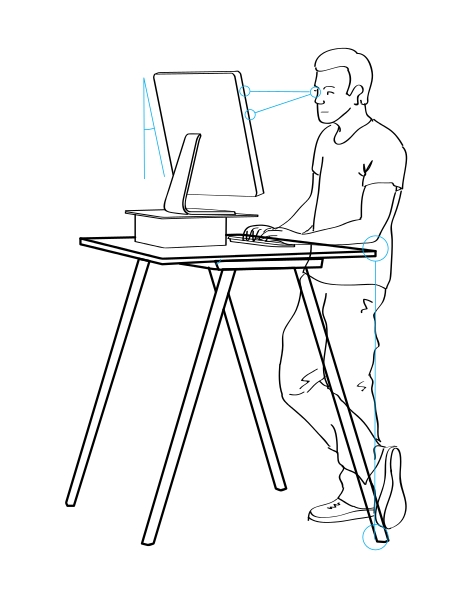 cheaper options might not have a sufficient stroke length. For example, cheaper options might not have a sufficient stroke length to provide you with a comfortable position if you are below 5`5".
However, the majority of more expensive desks from reliable manufacturers consider this detail.
So, if you are choosing a top-quality compact standing desk, you, most likely, aren't going to have any issues with it.
most desks are designed to handle a standard weight range. If you know that your equipment weighs much more than it is normally needed for a usual office job, check the lifting power of your desk lift system.
It shall be able to move the desk and all the devices up and down. Consult a company representative to check whether the desk is suitable for your case.
The Noise Generation Level
cheaper options make a lot of noise when you move them up and down. For some people, it might be pretty bothering.
Even more expensive models can be disrupted if you work in a very silent environment and are used to it.
Check the noise generation level before making a purchase.
After the technical features are checked, it is time to think about the design and the shape of your item.
Use a Desk Builder Tool to Create the Most Suitable Desk
Now, it is time to choose such details as shape, design, color, size. In this, your best helper is a special tool online called desk builder.
You don't need to be an expert to use it. Move to the page with the tool, and click on the offered options, one by one.
By clicking on a component, you are choosing it. The component is added to the desk, and you continue adding other details.
Don't forget to follow the price changes. With every added component, the desk price will be increasing.
So, you can avoid unpleasant surprises by check out. You can be adjusting the price by making your own desk online.
Once the desk is built, you can have a look at the accessories. Check what you need to work conveniently and efficiently.
For some users, adjustable monitor support is needed. For others, a document organizer is a must.
We, from our side, would advise you to pay attention to a CPU holder. There are some created for adjustable desks, they can be attached in a comfortable place under the desktop and detached when the item is not needed.
Another item you might want to check is a drawer. It allows you to keep your documents and all the needed accessories by hand without cluttering the desk surface.
There are drawers designed for height-adjustable desks. They can be fixed and detached.
If you like to move around while working, you might want to equip your adjustable desk with lockable wheels.
They allow you to move the desk around and when you want to work, you just lock the wheels to keep the desk in the same place.
Once your deck is built and arranged, adjust its height for both a standing and a sitting position.
Get other items such as a comfortable chair and an ergonomic carpet. Now, you can enjoy your work.
Don't Forget to Verify the Size of the Desktop
Although the desk builder will take you through all the optional characteristics of the desk, it is recommended that you know the size of the desktop you need.
The simplest shape is a rectangular desktop. Make sure that the size that you select fits the space that you have at your office.
Otherwise, you'll end up having a standing desk that you cannot use because of a lack of space. Measure the area that you can use for a desk to be on the safe side.
Also, there are different shapes that you may consider. If your home office is located in a corner, you should consider a corner standing desk.
In this way, you can use more efficiently the space available. Corner standing desks are usually symmetrical.
However, it is not always the case. In some cases, one side is longer than the other. Again, you have to measure the available space at the corner to select the size that fits.
Rectangular contours are the most common for regular and corner desktops. However, some manufacturers are curves to create more modern contours. Decide the style of the desktop that fits with the decor of your office.
Two or Three Legs?
If you are choosing a rectangular desktop, the choice is simple: two legs. That's the only option available.
Each leg is equipped with a lifting column, which adds to the price of the standing desk. Two legs offer enough stability to the desktop.
You won't see standing desks with four legs because of the unreasonable price the desk would command in such a case.
However, if you choose a corner standing desk, you must choose between two or three legs.
A corner desk with two legs will be cheaper than the option with three legs. However, three legs give much more stability to the desktop.
So, if you want a functional desk, the best is to opt for three legs. Even if you have to pay some extra money, three legs will make for a better corner standing desk.
Some standing desks that are suitable for corners are built with two independent desktops.
While this alternative gives more versatility to the standing desk, the price of such a desktop can be significantly higher. In most cases, a single desktop will cover all your needs.