For optimal tree and shrub development and strengthening structure, intensive pruning in early spring is best. At that time of year, when plants are actively growing, they have a better chance to recover quickly from cuts.
It is easier for the gardeners and the trees to prune in the spring. After being pruned, trees and bushes need time to heal, and they are less stressed before the growing season starts.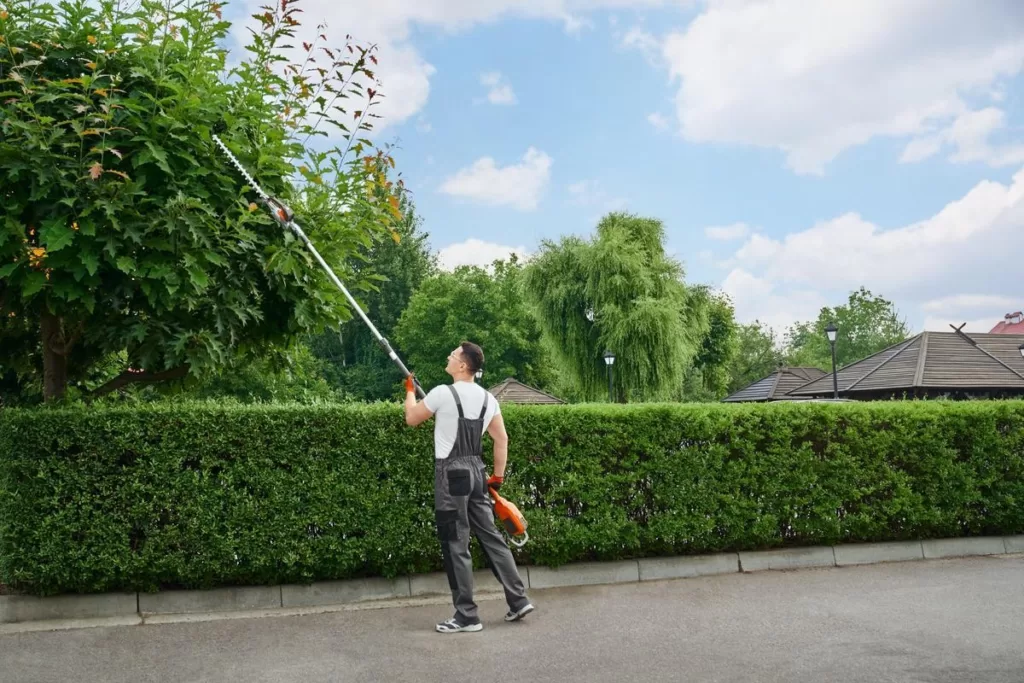 Pruning trees too late in spring or summer increases their susceptibility to drought, disease, and insects. Spring pruning offers many advantages that you will appreciate firsthand. See more.
Pruning Trees Requires The Right Timing:
According to professional arborists, trees should be pruned in the early spring when they are dormant; this usually falls between January and March, depending on your region and climate conditions.
Pruning in this season makes it easier to identify stems that need cutting out quickly as leaves have yet to grow on them – thus simplifying removal efforts.
Encourage Healthy Growth:
Cutting away dead or damaged branches during spring pruning encourages healthy tree growth by freeing it of energy and nutrients needed for new shoots to sprout.
If you remove any limbs from your trees that are dead, diseased, or otherwise unhealthy, you can be assured that they will have a healthy growing season the following year.
Promoting Flowering:
Pruning during the dormant season can remove potential blossoms that would otherwise bloom later, while spring pruning allows you to shape and prune while protecting the blooming capacity of ornamental and fruit-bearing varieties—essential elements that guarantee bountiful harvests or stunning displays of blossoms!
Disease and Pest Prevention:
Pruning dead and infected branches during the spring can prevent disease transmission and pest infestations. Many tree diseases worsen when the weather gets warmer, so this is the best time to look for and fix problems.
---
Read Also :
---
Pruning promotes airflow within its canopy to decrease humidity levels and therefore the presence of insects or pathogens that might threaten its integrity.
Enhance Safety:
Spring storms can be unpredictable, and weak or overgrown branches pose an unnecessary threat to property and safety.
Trimming trees early each spring ensures your landscape is prepared for severe weather; by eliminating potential risks like falling branches, you'll make a safer place for your family and property.
Shaping and Aesthetics:
Pruning in spring provides an ideal opportunity to shape the aesthetics of your trees in line with the desired size and form, complementing any landscape beautifully while adding value to your property as a well-groomed tree can.
Avoid Wildlife Disturbance:
Many birds, squirrels, and bats depend on trees for nesting purposes and shelter. Winter pruning can disrupt their nest sites and habitats; waiting until spring allows wildlife to complete its breeding cycle without disruption from winter pruning activities.
Encourage Fruit Production:
Pruning in early spring can be essential in encouraging a bountiful harvest for fruit trees, providing sunlight and air circulation into interior branches for flower and fruit development, and shaping your tree so ripened fruit can easily be harvested later.
Preserve Tree Longevity:
Regular spring pruning helps extend the lives of trees on your property by cutting away diseased, damaged, and overgrown branches that increase stress and diminish their structural integrity.
Maintaining healthy trees over the decades to come will bring many rewards: shade, beauty, and ecological advantages all at the same time.
Customizable Growth Patterns:
Spring pruning allows you to customize and direct the growth patterns of trees according to your landscaping preferences to achieve desired appearances or height levels as well as branch density targets that fit within both aesthetic and functional goals for outdoor space design
Promotes Overall Landscape Health:
Well-groomed trees contribute significantly to the well-being of any outdoor environment, providing shade, reducing soil erosion, and improving air quality by prioritizing spring pruning sessions for individual trees and your entire outdoor ecosystem.
Conclusion:
Pruning trees in the spring can have many advantages for their health, safety, appearance, and productivity. By performing regular spring pruning sessions, you are setting your tree up for an efficient growth phase, protecting against pests while increasing safety, respecting wildlife while encouraging fruit production, and prolonging tree longevity—to name only some benefits of springtime tree care.
Furthermore, spring pruning contributes to creating a beautiful outdoor space and adding value to any property; take advantage of it today for flourishing trees.