Whilst many people focus on the interiors of their homes, there are times when their backyards or gardens also need attention.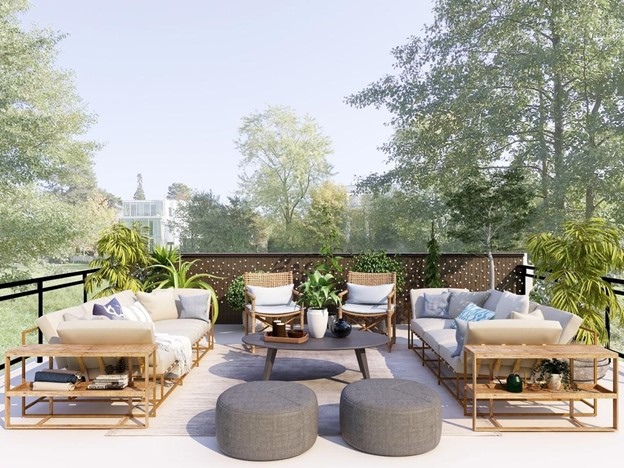 They may require the purchase and installation of vinyl fencing or some help from a landscaper. It may be that you love spending time outside, but your patio feels plain and boring.
If so, you should read this article because it discusses some exciting ways that you can add some style and personality to it.
Buy Some Quality Furniture
If your patio furniture is looking a little worse for wear, it might be time to invest in some new pieces. You could purchase a beautiful outdoor sofa, a couple of stylish chairs, or even a small coffee table.
Whatever you choose, make sure it's comfortable and looks great with your overall patio design. Also, measure your space before you buy anything, so you know it'll fit.
There are lots of places where you can find these different items. Specialist websites can help you find a range of luxury outdoor furniture that's designed for modern lifestyles. You'll be able to view best sellers and top brands, whether they're dining chairs, rocking chairs, side tables, or chaise lounges.
String Lights, Flowers, And Plants
String lights are miniature electric bulbs on a thin wire, and they're great for creating a cozy atmosphere. They're ideal for when you're relaxing outdoors with your family or entertaining guests during the evening.
They're most commonly used during the holidays as Christmas lights, but they can provide extra lighting all year round. You can find string lights in a variety of colors – so if you want to change up your look for different seasons or holidays, it's easy to do. Plus, they're a relatively inexpensive way to amend the appearance of your patio.
Flowers and plants are a great way to add some color and life to your patio. You can either place them directly on the ground or use planters. If you go with planters, you can easily move them around if you want to change up your look. If you have a trellis you may wish to invest in some climbing plants like Ivy, or a grapevine.
---
Read Also:
---
Add an Outdoor Rug
This is a type of carpet that's made specifically for the outdoors. When shopping for one, make sure that it's the right size for your patio.
It'll usually be made of weather-resistant materials such as polypropylene, nylon, or acrylic. Here are some of the benefits of owning one: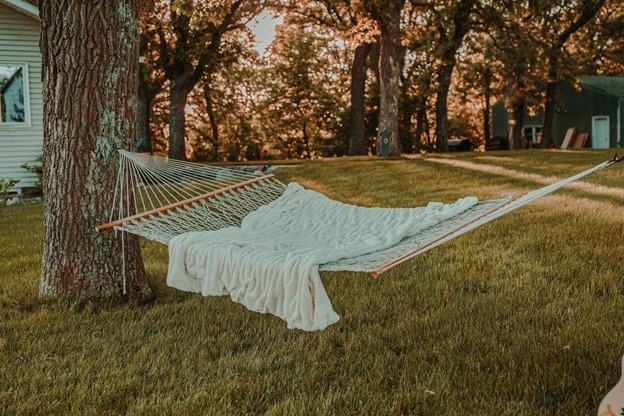 They can protect your patio from dirt, dust, and other debris
They can tie your patio together and make it feel like a cohesive space
They can help to define the seating area if you have one
They're easy to clean (just hose them down or sweep them off)
They come in a variety of colors, patterns, and styles
They're relatively affordable
Buy a Hammock
Hammocks are pieces of fabric or rope that are suspended between two points, usually trees. They're often made from cotton or polyester fabric, and they can be a great addition to your patio for a number of reasons.
First, hammocks are incredibly comfortable. There's nothing quite like spending a lazy afternoon lounging in a hammock with a good book.
Second, they're visually appealing – they'll add a touch of color and personality to your outdoor space. Finally, hammocks are great for taking naps!
Add a Barbecue Grill and Firepit
A barbecue grill is a special device that cooks food by applying heat from underneath. They cook food evenly and consistently and allow for better flavor development. Owning a barbecue grill can provide social opportunities to gather with friends and family.
It can be a great conversation starter at your next party and enable you to show off your cooking skills! If you don't have a lot of space, there are plenty of compact grills that'll do the trick.
A firepit is a bowl-like structure (made of materials like stone, metal, or concrete) in which a fire can be built. It can be a great way to add some style to your patio because it can act as a focal point for the space. It also provides warmth and light, making it the perfect spot to relax on a cool evening.
Play Some Music
One way to achieve this is by using a Bluetooth speaker. They're becoming more and more popular these days, and for good reason. They're extremely portable, so you can take them with you wherever you go. They're great for playing music outdoors but make sure the speaker is waterproof/protected from the rain.
You may alternatively wish to put up a set of outdoor speakers. Then you can create a playlist on Spotify and let the technology do its work. You can either choose something calm and relaxing or provide dance music for your guests. Either notify your neighbors in advance or invite them over as well!
Use Decorative Pillows and Throws
Most people know that decorative pillows and throws can add style and comfort to a room indoors. What fewer people appreciate is that they can also be used to enhance patio areas.
They come in a wide variety of colors, patterns, and materials, so you can easily find ones that match your patio furniture and décor. Plus, they can add an extra layer of warmth on cooler evenings. Here are some helpful tips:
Create a cozy reading nook by placing a few pillows and a throw blanket near your favorite outdoor chair or chaise lounge.
Dress up plain patio furniture with colorful patterned pillows and throws.
Use a throw blanket to create a makeshift picnic blanket for an impromptu outdoor meal.
Make your patio more inviting by placing a few pillows and blankets near the entrance.
Hopefully, this article has inspired you to upgrade your patio. Thanks to a few changes, you'll be able to enjoy it as never before. Your family and guests will have fun in your outdoor space, relaxing and enjoying yourselves there for many years to come.