Updating your concrete driveway, patio and walkways are much simpler than one might think. DIY concrete staining, using a cutting design or stamping your concrete can add pop and value to your home.
Concrete driveways, patios, and walkways do not need to be dark, stained and dull. Add pop to the appearance of your home and add value to your home when you customize the look of your concrete surfaces. Simple techniques such as DIY concrete staining, cutting and stamping can add a huge wow factor to your home.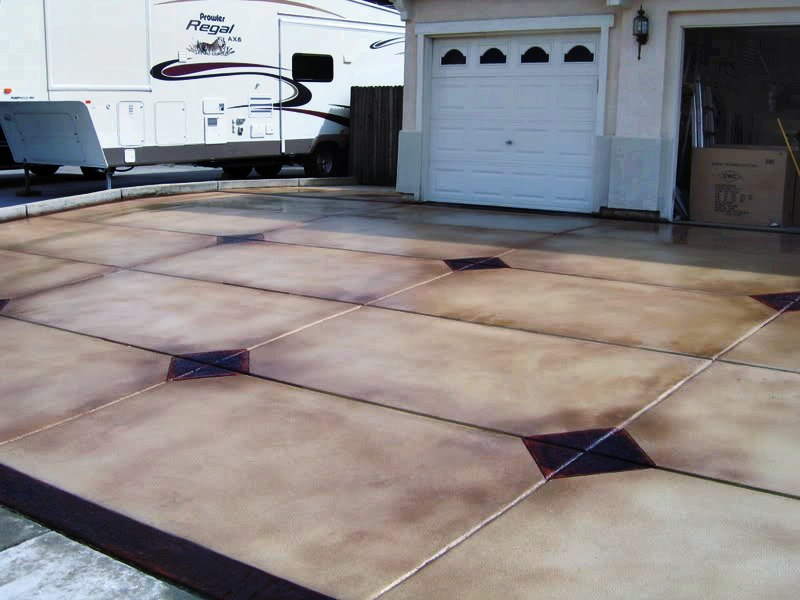 DIY Concrete Staining, Stamping and Cutting
The days of living with cold, drab and gray concrete are now a thing of the past. More homeowners are turning to concrete stains to brighten the appearance of the exterior of their homes. Not only does staining your concrete patios, walks and driveways add a touch of elegance but it will also add to the value of your home with very little upkeep and cost.
---
Read Also:
---
Decorative Techniques for Concrete
There are several techniques that you can utilize to achieve the desired effect when transforming your concrete patio, walk, and driveway. Each technique requires a different skill level and time involved will vary with each. The end results of each technique are the same – truly amazing.
Concrete Stamping
Stamping concrete can give the illusion that the surface is actually brick pavers, flagstone or tile. In order to stamp an existing concrete surface, you will first need to apply a thin layer of cement over the top of the existing cement. After you have let the concrete harden long enough to hold its form you will then begin stamping the concrete.
You will then apply a color hardener to the newly stamped surface to achieve the desired effect of the new concrete surface. It usually takes 24 hours for the concrete to cure. If you have a large expansive surface you can choose to simply stamp the outside perimeter of the concrete surface. This can still provide a huge wow factor to the overall appearance of your home.
Cutting Concrete Designs
Cutting designs into concrete will take a little more skill, patience and time but as with the other techniques, the overall effect can be stunning.
You will first need to measure your concrete surface area and then lay out your design. A chalk line is ideal when preparing cut lines. You will not want to cut into any reinforced steel. Your blade depth should be no more than an inch. After you have finished cutting you can apply a stain to the concrete. There are several options when staining a cut cement surface including using two or more colors of stain. Using more than one color of stain will emphasize the cut lines and add pop to the finished product.
Concrete Staining
The simplest technique you can use to transform the look of your concrete surface is by simply staining it. There are a few different options you can use to add color to your concrete surfaces which include using an acid stain, a water-based stain or paint.
An acid based stain will penetrate deeper and add a more rich and vibrant color. Acid-based stains are also a little more difficult to work with and more hazardous to you and your lawn if it comes into contact with your skin or soft landscaping.
Before sealing your concrete surface after applying an acid based stain you will need to neutralize the acid. You can accomplish this with a mixture of water and baking soda, which you will apply over the top of the dry stain. You will rinse the mixture and then repeat if necessary.
The water-based stain will still penetrate and protect your concrete surface while adding beautiful color. The water-based stain is also a little easier to work with and does not require that you neutralize the acid prior to sealing the concrete.
It is possible to use paint to add color to your concrete surface but it is not recommended. Paint will scratch and chip away very quickly.
Sealant
The final step in your concrete patio, walkway or driveway makeover is applying a good sealant. Not only will a sealant help protect the concrete and stain but it will also add a beautiful glossy finished look to the concrete.