Why suffer from a warped or rotting wooden patio surface when you can install one that will stand the test of time?
By using decorative concrete floor coatings for your patio at home, you'll be surprised how much this material can transform your outdoor space.
It's about time you stop thinking about the dreary grey slab and look forward to a more stylish, cost-effective, and durable patio by using concrete.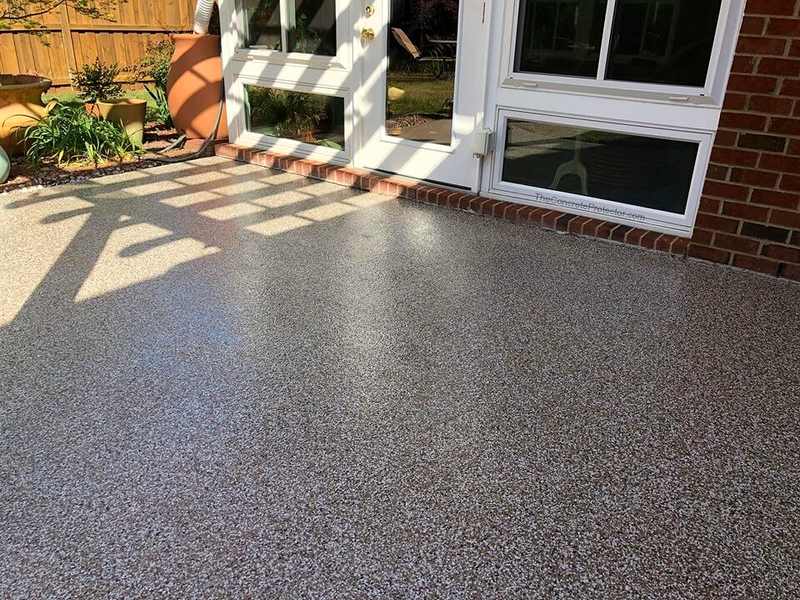 Here's why you should make the switch and take advantage of the benefits of decorative concrete for your garden.
7 Compelling Reasons to Use Decorative Concrete for Your Patio
---
Read Also:
---
1. Versatility of Style
Today's stylish decorative concrete isn't the same as the dull backyard slab you used to know. In contrast to gravel or wood materials, you have thousands of options when choosing the style and finish of your concrete patio.
This includes finishing techniques like stamping patterns to imitate stones, tile, or brick and integrating geometric designs and staining concrete in blended patterns or solid colours.
For a more elegant look, there are sophisticated design options such as engraving or embossing patterns into the concrete surface to emulate a wide array of natural stones.
For instance, you can get that slate or marble surface you've always wanted without paying a huge price. And since concrete is highly versatile, you can also create your own unique design that fits your backyard, budget, and personal taste.
2. Durability
You can expect that your concrete patio will stay functional for the coming years. It will not rot, sink, or warp and is even fireproof. To make sure that your concrete patio stays durable, you need to have proper curing, good drainage, and control joints to prevent cracking.
If you want sturdy support, having a concrete patio will give you a strong, solid base with various features. Think of having a fire pit, patio furniture, spa tub, or even an entire outdoor living space. Visit concrete stamping Nashville to learn more.
3. Easy Maintenance
To keep your decorative concrete patio looking great, all you have to do is sweep it clean and occasionally wash it with water. Concrete's solid surface doesn't harbour weed growth, mould, and insect pests. Just make sure to place a coat of sealant over the concrete surface every other year for maintenance.
Not like paving stones, you don't have to suffer from having sand-filled joints when using concrete. Also, when compared to wood, having a concrete patio will save you from the labour costs that come from resealing and staining every year.
4. Best Value for Your Money
Decorative concrete can be engraved, stamped, textured, or stencilled to resemble pricier brick or stone pavers at a fraction of the cost. Plus, its durability and aesthetic appeal also help boost the resale value of your property.
Depending on your design preference, you can customize a concrete patio to fit your budget, making it an affordable choice.
5. Environment-friendly
Choosing a concrete patio instead of a wood deck helps save lumber and eliminates regular maintenance with solvent-based sealers and wood stains. Moreover, it has a low environmental footprint as it allows you to incorporate different recycled materials like demoed concrete or metal fibres.
6. Fast Installation
You only need a few hours to pour a concrete patio. After 1-2 days, you can start walking on your concrete surface. However, wait at least seven days before you move in your heavy lawn chair onto your new concrete patio.
Compared to paver patios or natural stone, concrete is quicker to install because it requires less labour and goes down like a slab. Expect your backyard to be out of commission in a short time as you can get your outdoor space back to normal quickly.
7. Achieve a Unified Look
Installing decorative concrete for your patio and walkways helps maintain a unified and classy look to your home. This is also similar to when you have concrete walls and concrete built-in chairs and benches. All you need to do is colour or style concrete to complement your house theme or your surrounding landscape.
If you want a solid return on investment and improve the value of your property, make a wise choice by using decorative concrete. With the benefits mentioned above, it's the best shot you have in improving your outdoor space without emptying your wallet.