The most beautiful wall decoration ideas at a glance
When it comes to furnishing our own four walls, we love to order furniture, home accessories, lamps, etc. from online shops. We spend hours adding items to our virtual shopping cart while discovering tons of interior inspiration on Pinterest and Instagram.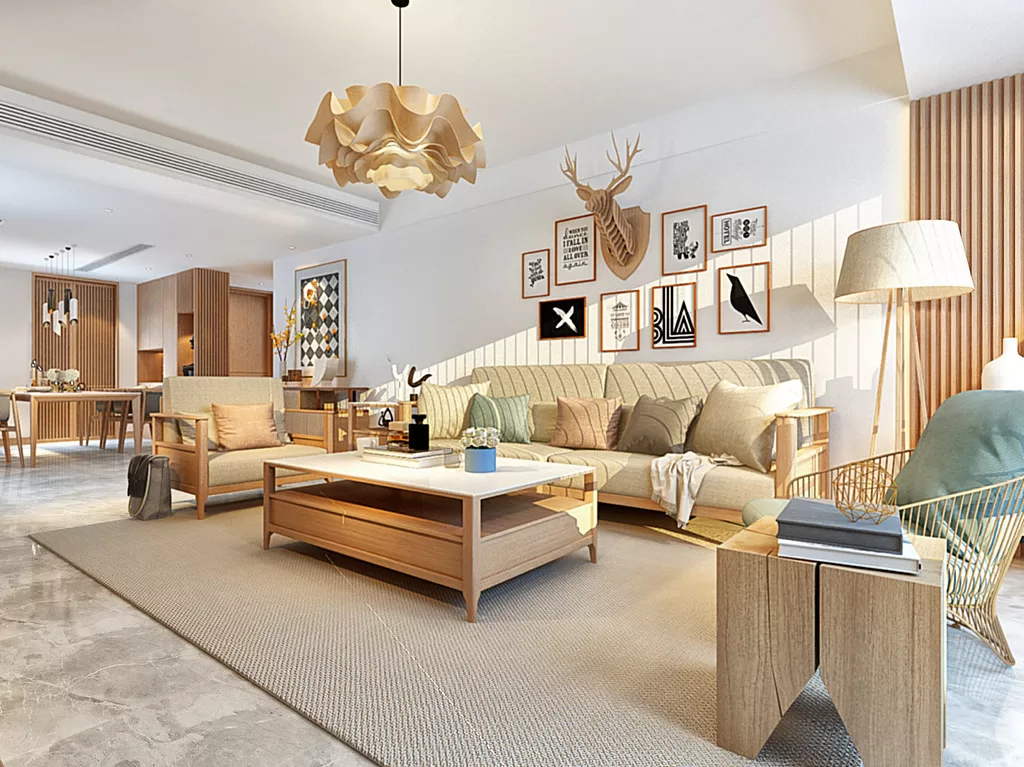 But the walls? They are often forgotten. In the dining room, children's room, or in the kitchen, they often look the same two years after the last move as they did at the beginning: white, empty, bland.
There are several reasons for this. On the one hand, furniture, textiles, and decorative objects have priority – and shopping is also so much fun! On the other hand, tiresome drilling and painting work discourages many from devoting themselves to the "wall decoration project".
But that's the end of it now! Because we show you beautiful wall decoration ideas for every room that you will definitely want to copy – even if you are not a DIY or design professional.
Wall Decoration Ideas: Choosing the Right Wall Color
A beautiful wall color makes every room (whether the living room, dining room, or bathroom) appear more stylish. If you don't dare to paint your bedroom, children's room, or kitchen completely colorful, you can focus on just one wall at first.
Which wall color is right for you? You have to decide that yourself. Our tip: Pay attention to which colors appeal to you in general – for example in fashion – and which of them would look good in your home.
Naturally, neutral tones such as grey, taupe, or cream always work. If you like it a little more unusual, you can opt for eye-catching colors such as red, petrol green, or navy.
Design professionals can also choose black – in this case, however, the room should not be too small, otherwise, it will quickly appear cramped and smaller than it really is.
---
Read Also:
---
Tip For Wall Design: Decorate Walls with Wallpaper
If even a flashy wall color is too boring for you, it is best to opt for a colorful wallpaper.
In recent years, wallpapers have been one of the biggest living trends of all – wallpapers with jungle motifs, in particular, are on the rise to become a trend Olymp. Also, you can learn more here top christian wall art canvas & wall décor.
Wall Decoration Ideas with Canvas
Canvas wall decor is a popular way to add style and personality to any room. Whether you're looking for a unique piece of art or a statement piece to make a bold statement, canvas wall decor is a great way to achieve the look you're after.
There are many different styles and look available, such as pop art portraits, which can fit your style and budget. Canvas wall decor is also very versatile, as it can be hung in any room and easily changed out when you want to switch up the look.
Wall Decoration Ideas with Picture Frames
We no longer put picture frames (just) on the shelf or sideboard, but decorate our walls with them – preferably in the form of a trendy gallery wall, i.e. a picture wall.
There are no limits to your creativity here: Whether classic next to each other, along the center line, or according to the motto "mix and match" – whatever you like is allowed! Incidentally, picture frames can also have different sizes, shapes, and colors as long as they harmonize with each other and remain true to one style.
Wall Decoration Ideas: Wall Design with Picture Ledges
If you would like to have a picture wall in the bedroom, hallway, living room, dining room, or bathroom, but do not want to drill quite as many holes in the wall, wooden picture ledges are the perfect solution.
After all, several pictures, posters, etc. – preferably in different sizes – can be placed on one bar. This is how a Gallery Wall is created very easily – and the drill does not have to be used that often.
Cozy Wall Decoration: Wall Decoration with Fairy Lights
Fairy lights immediately give your house or apartment an extra dose of coziness. They are also the perfect light source for indirect lighting. The so-called Fairy Lights look particularly pretty when you drape them around picture ledges and frames.
Wall Decoration: Pimp Walls with Decorative Accessories
Speaking of picture ledges: These can of course not only be pimped with photos and posters, but also with decorative items.
Mix them up by combining the pictures with small plants such as cacti or succulents, decorative figures, candlesticks, souvenirs from your last vacation, a wall clock, and/or a mirror.
These make the picture rails look more dynamic and also give them a great individual touch. Find more wall art canvas & wall décor accessories in christfollowerlife.com.
Easy Diy Decoration: Wall Decoration with Fashion Accessories
To give your own four walls a personal (and fashionable!) touch, you don't necessarily need a wooden picture ledge.
You can also attach your fashion favorites directly to the wall: for example, hang up hats and longer necklaces with pretty copper nails. This will add more charm and vintage vibes to your interior.
Wall Decoration Ideas: Decoration with Wooden Panels
Anyone who doesn't feel like a new color on the wall or wallpaper can rely on panels made of wood. These make the room look really cozy and also give you a bit of that hut feeling at home – even if you live in the big city.
However, so that the look is not too rustic, but still modern and contemporary, the rest of the furnishing should be Scandinavian-chic, minimalist, or glamorously elegant instead of vintage or country-house.
Wall Decoration Idea for Beautiful Pictures, Books, and Decoration
"But first, let me take a selfie, uh, shelfie!": Nowadays, thanks to Instagram, not only do we and our outfits have to be photogenic, but also our homes. Especially our shelves: There are over 2.7 million posts on Instagram with #shelfie, i.e. "selfies" of pretty shelves.
Books sorted by color as well as stylish and perfectly arranged decorative items turn every shelf into an interior eye-catcher. Biggest advantage: If you rely on a large shelf, you can pimp your wall without having to paint or drill it. So win win!