Hate white blare walls? Most of us spend a lot of time in the kitchen. And, to enjoy your cooking space, you need to give it some soul. Kitchen wall art is one of the best ways to bring blank walls to life and show off your individuality and sense of style.
Baskets, mirrors, potted plants are a few ideas we'll explore to help you introduce color to your kitchen walls. If you want to add visual balance to your space, expert advice will bring you a beautiful kitchen.
1. Install a Neon Sign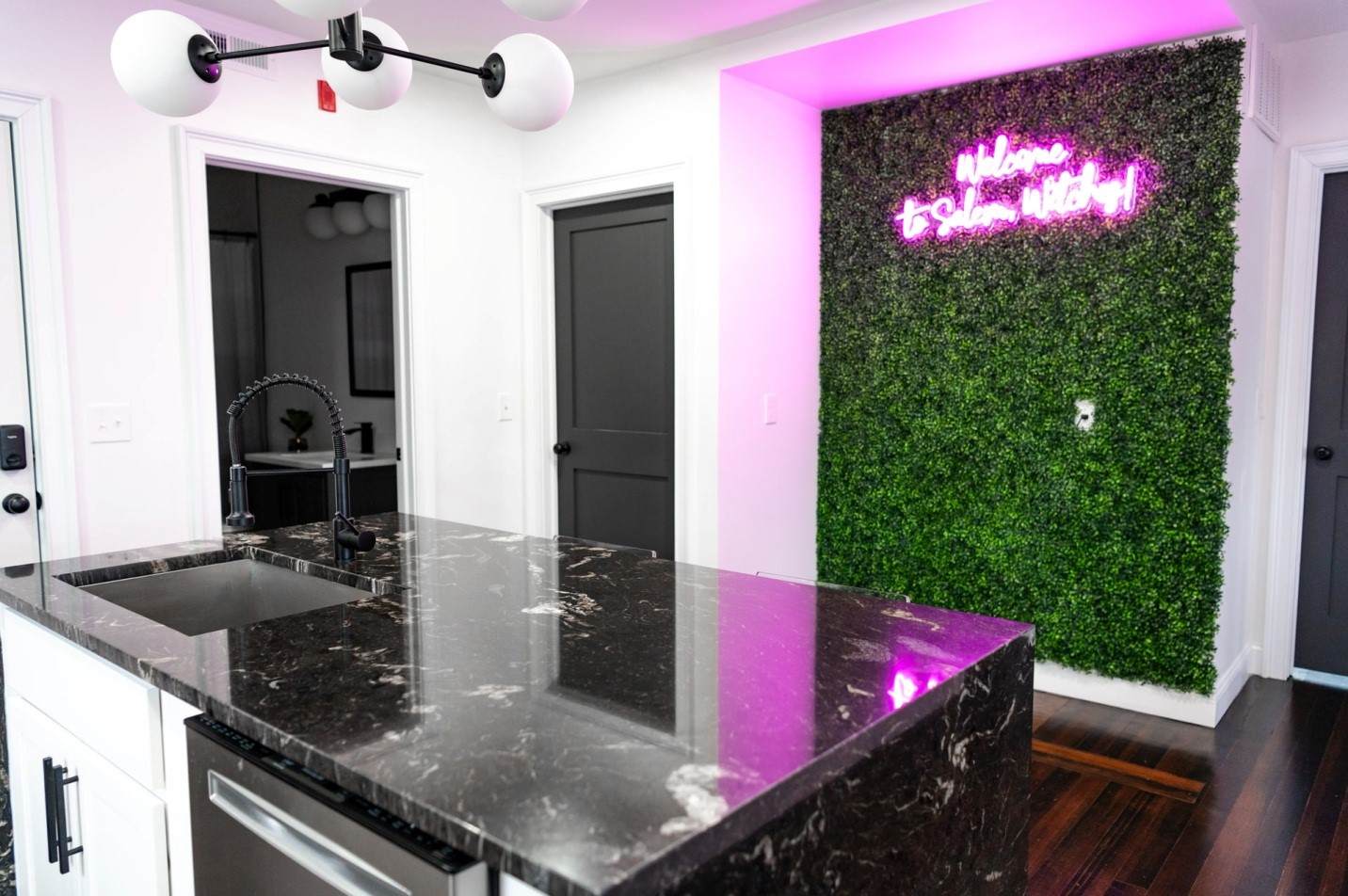 This kitchen wall is easy to recreate. The large grass wall panel brings an outdoor vibe to your indoors and to add more color, install a purple neon sign. Purple light reflects beautifully on the black granite kitchen countertop. This wall décor idea adds intrigue to this black and white kitchen.
2. Roman Clock for a Modern Kitchen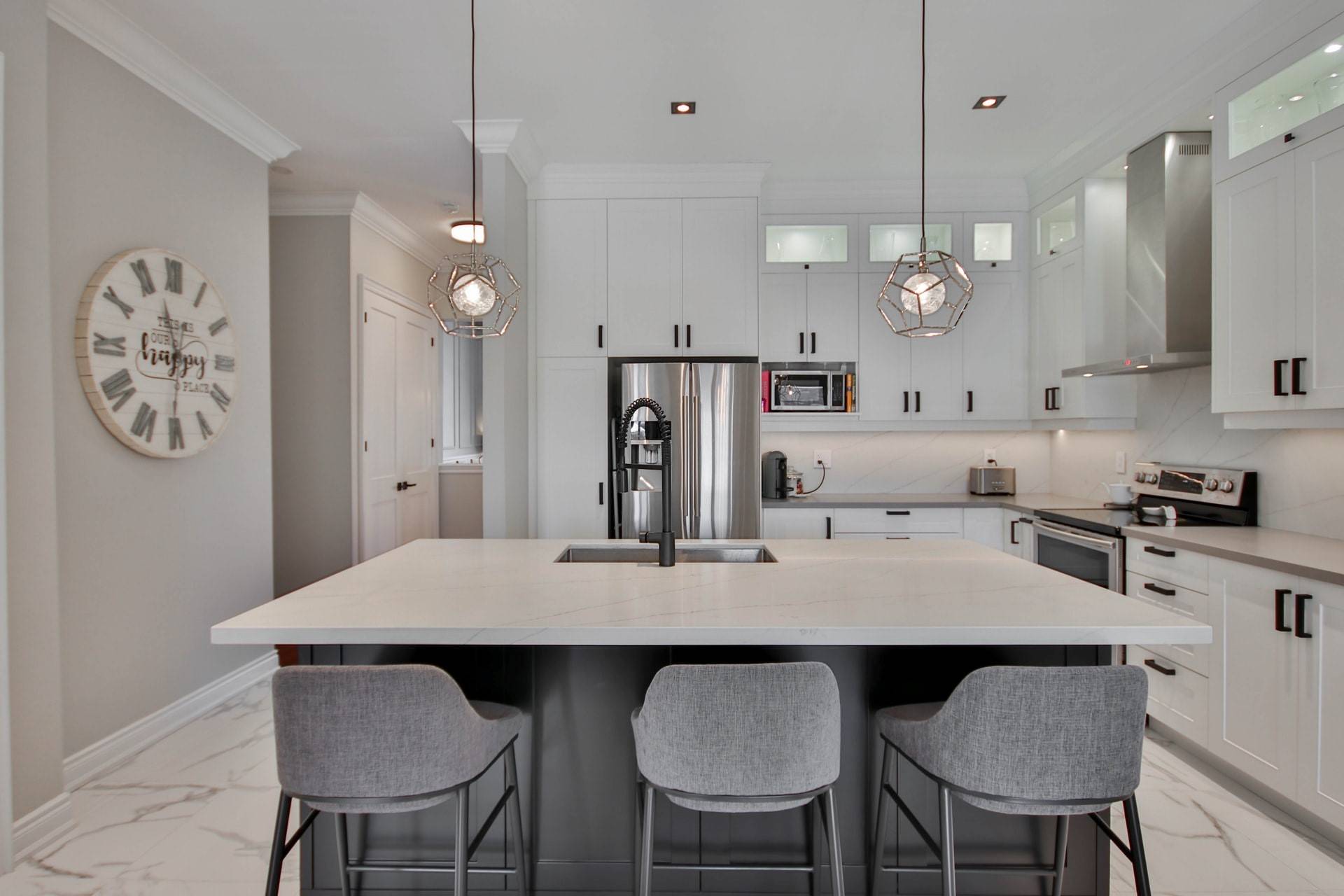 A wall clock will bring personality to your kitchen. And instead of going with a 'normal' clock, opt for a large Roman clock. Apart from filling a blank wall, the personalized message 'This is our happy place is a constant reminder that your home is your haven.
Its gorgeous farmhouse look and feel complements the large industrial chandeliers that hang over the farmhouse sink.
3. Add Something Unexpected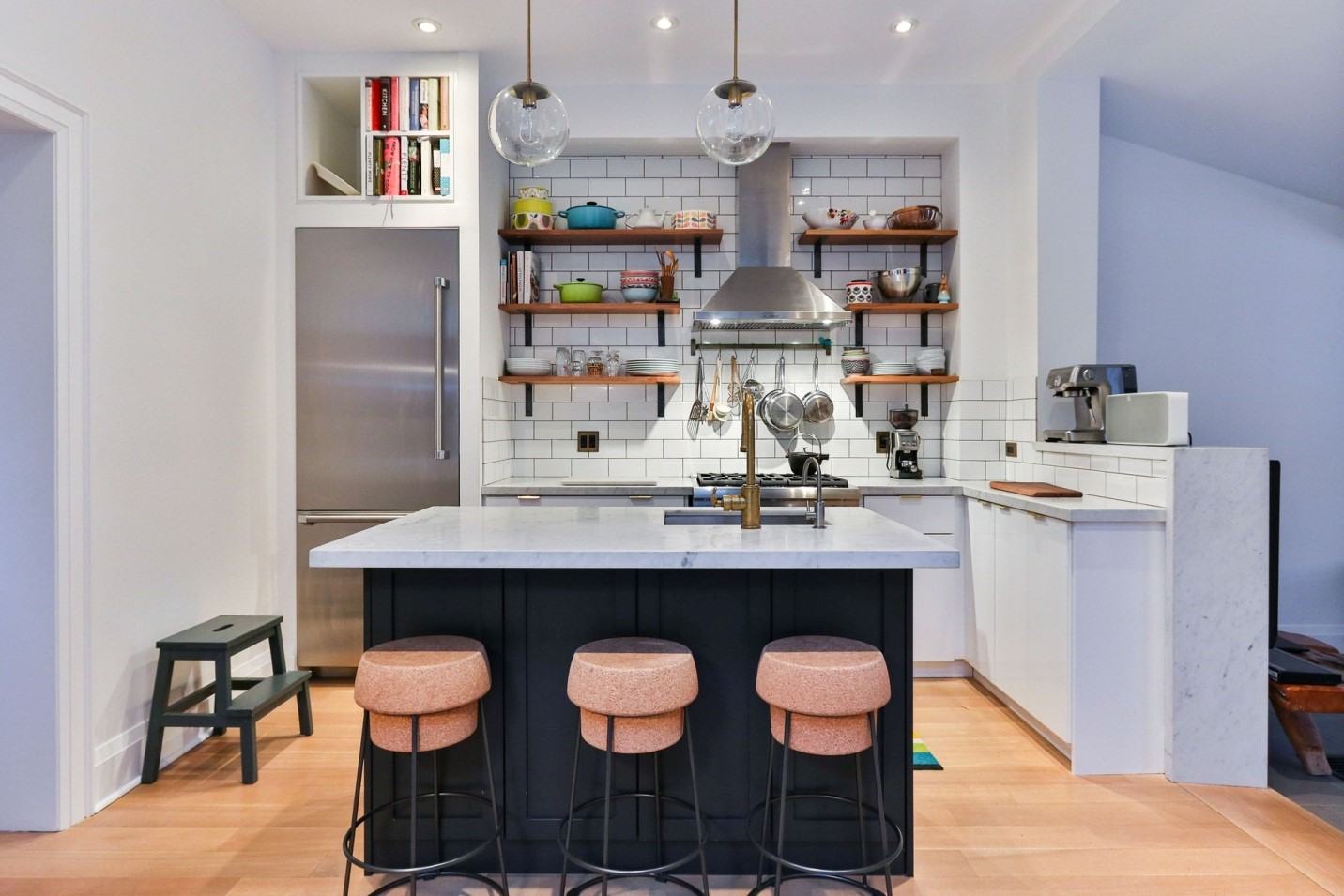 A bookshelf in the kitchen? I believe this idea is unique and uncommon, but perfect for book lovers. If you want to keep your latest reads close, this kitchen wall art ideal is for you.
With a built-in fridge, you'll have plenty of space above it for a bookshelf. This kitchen is well lit and with comfortable seating so you can enjoy reading from this space.
---
Read Also:
---
4. Keep it Classic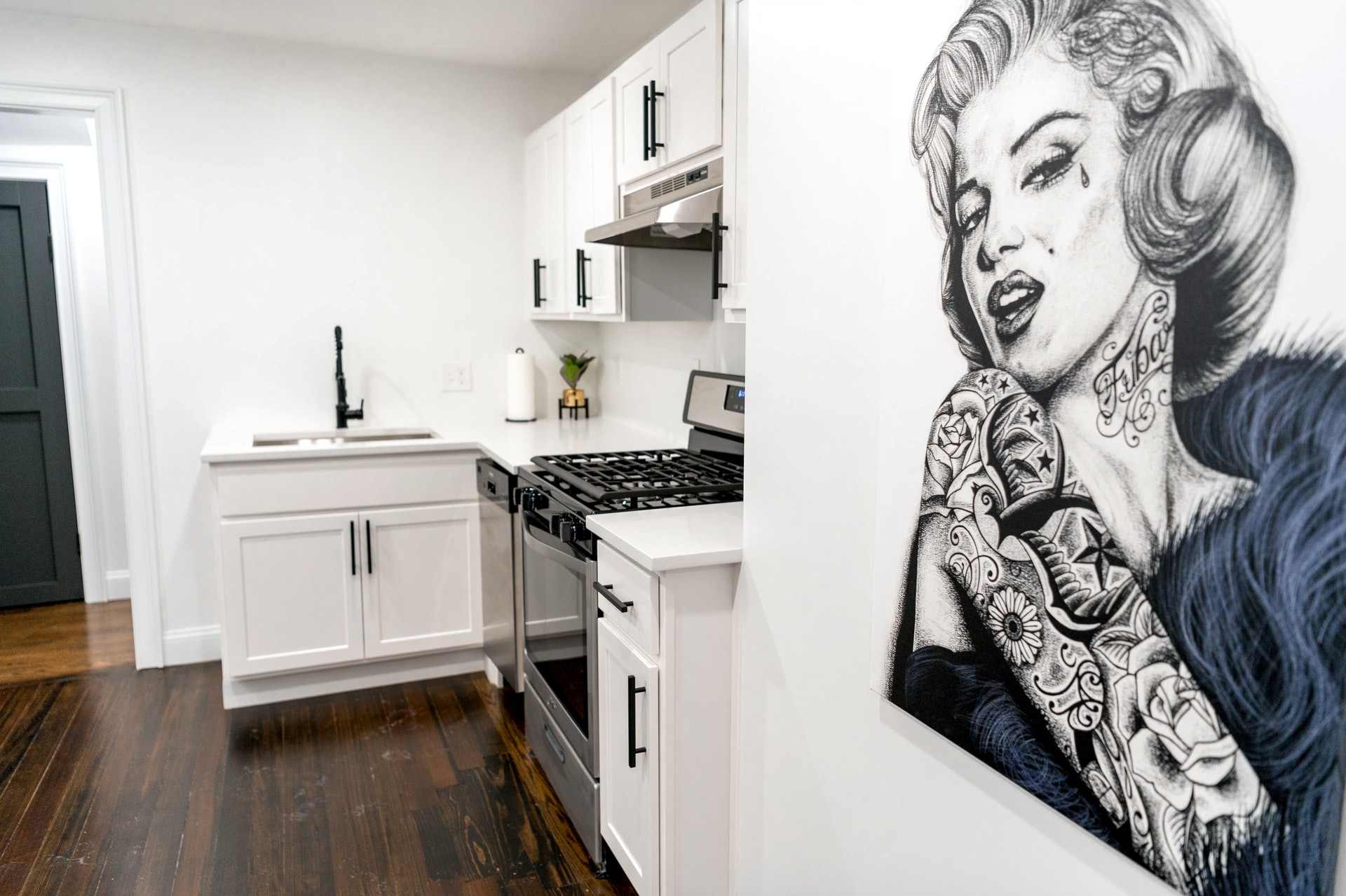 When I think of classic movies, Marilyn Monroe comes to mind. If you love the classics, a good way to add sophistication to your kitchen wall is by hanging a Monroe poster. In this crisp kitchen, the interior designer added some visual interest with a large kitchen wall poster.
5. Go for a Gallery Wall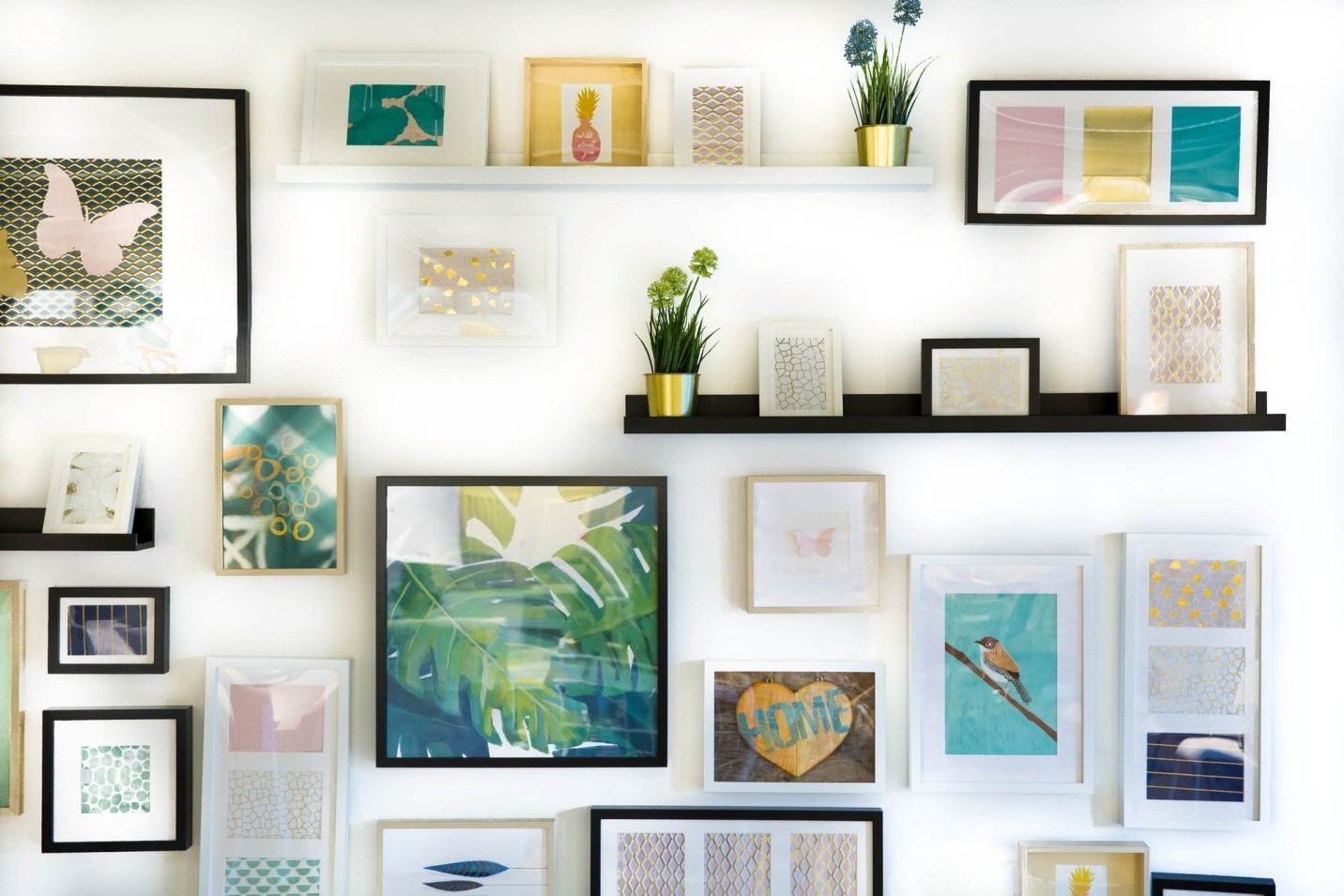 Don't like posters or kitchen signs? Dress up your kitchen wall with framed pictures. This maximalist idea should include photos of different colors and patterns. Throw in a few potted plants for variety.
6. Use a Potted Plant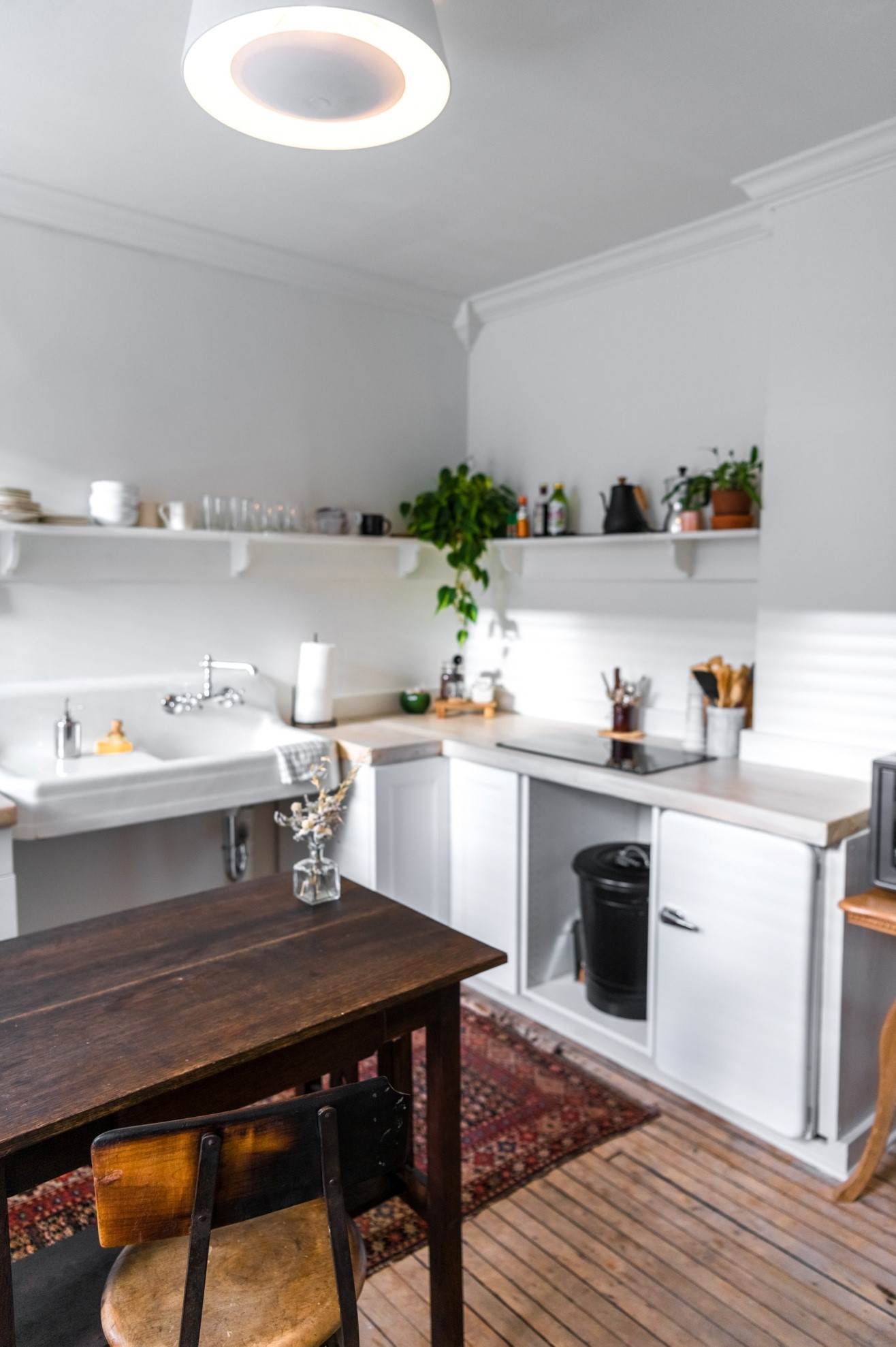 For a small kitchen with open shelves, you can add color to this space with one or two potted plants. This designer used a money plant which according to many cultures brings prosperity and good fortunes.
7. Hang a Wreath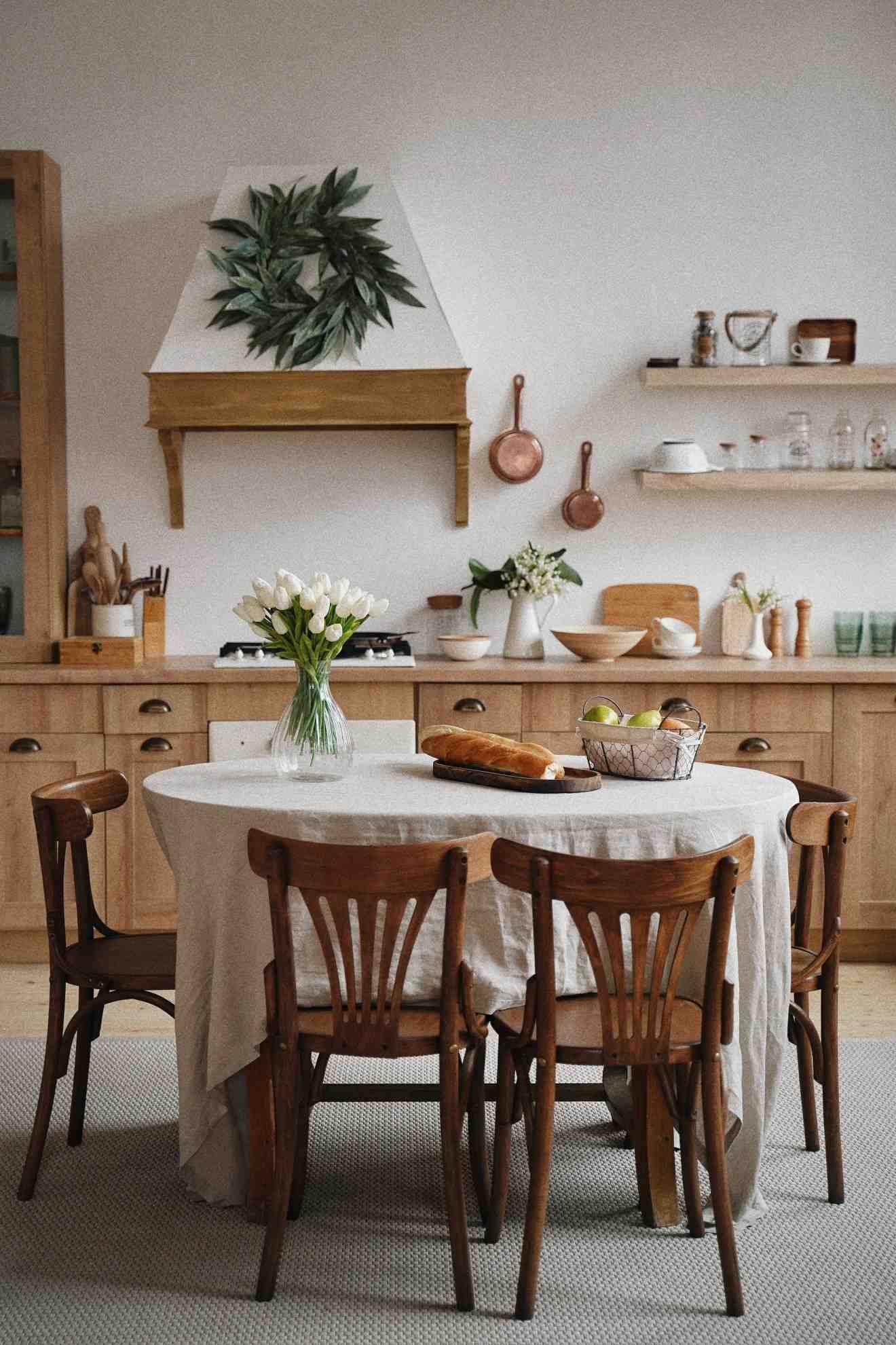 Most people hang wreaths on their front doors. But, having one on your kitchen wall will make the décor more interesting. Go for simple wreaths and place them on the hood. On the round kitchen table you can place a flower vase with some gorgeous lilies. Rustic chairs add Scandinavian charm to the space.
8. Create a Gallery Wall with Rustic Kitchen Signs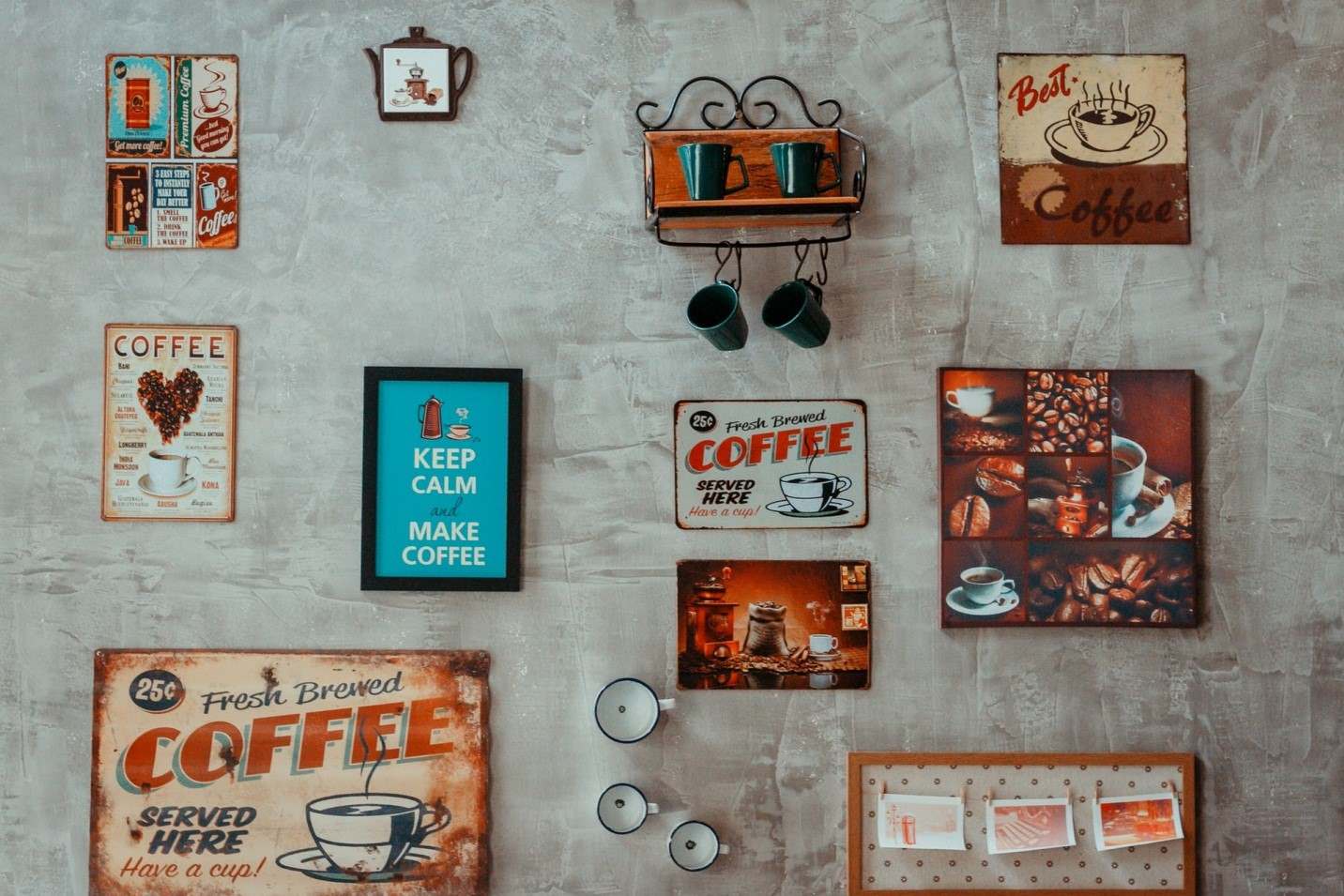 Instead of decorating your kitchen wall with one poster, opt for a wide range of kitchen décor pieces. If you have a farmhouse-style kitchen, you can get a few rustic signs to enhance its beauty.
Here, the designer covered the blank wall with 10 kitchen wall art pieces.  You could go with all coffee décor pieces or go for art with personalized names or messages.
9. Simple is More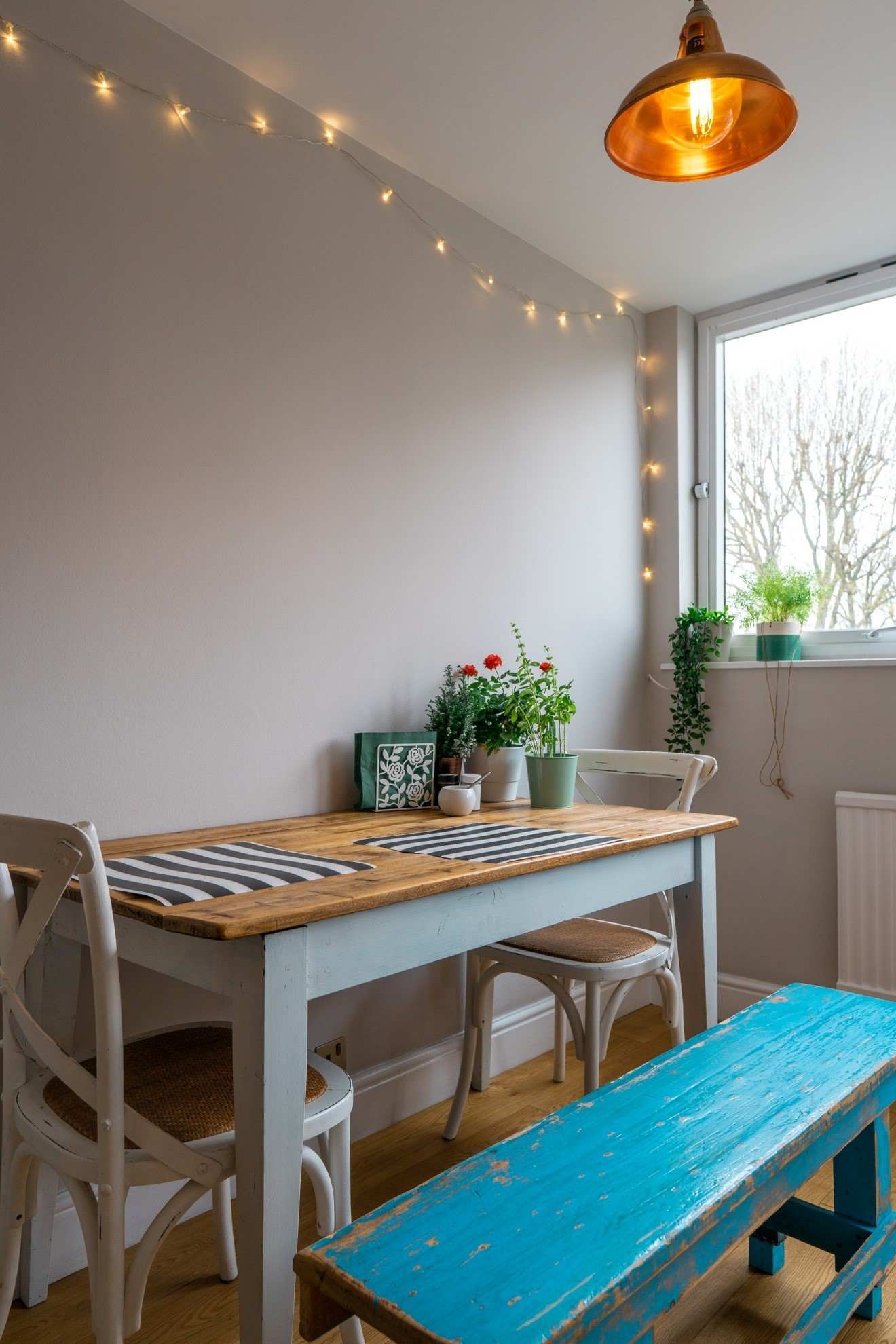 If you are a minimalist, this kitchen wall décor idea is ideal for you. To cover your bare wall, you can add one string light to complement your barn-style light. You can go for a multi-colored light to make the space more fun. A few plants add color to this space.
10. Barn Style Hanging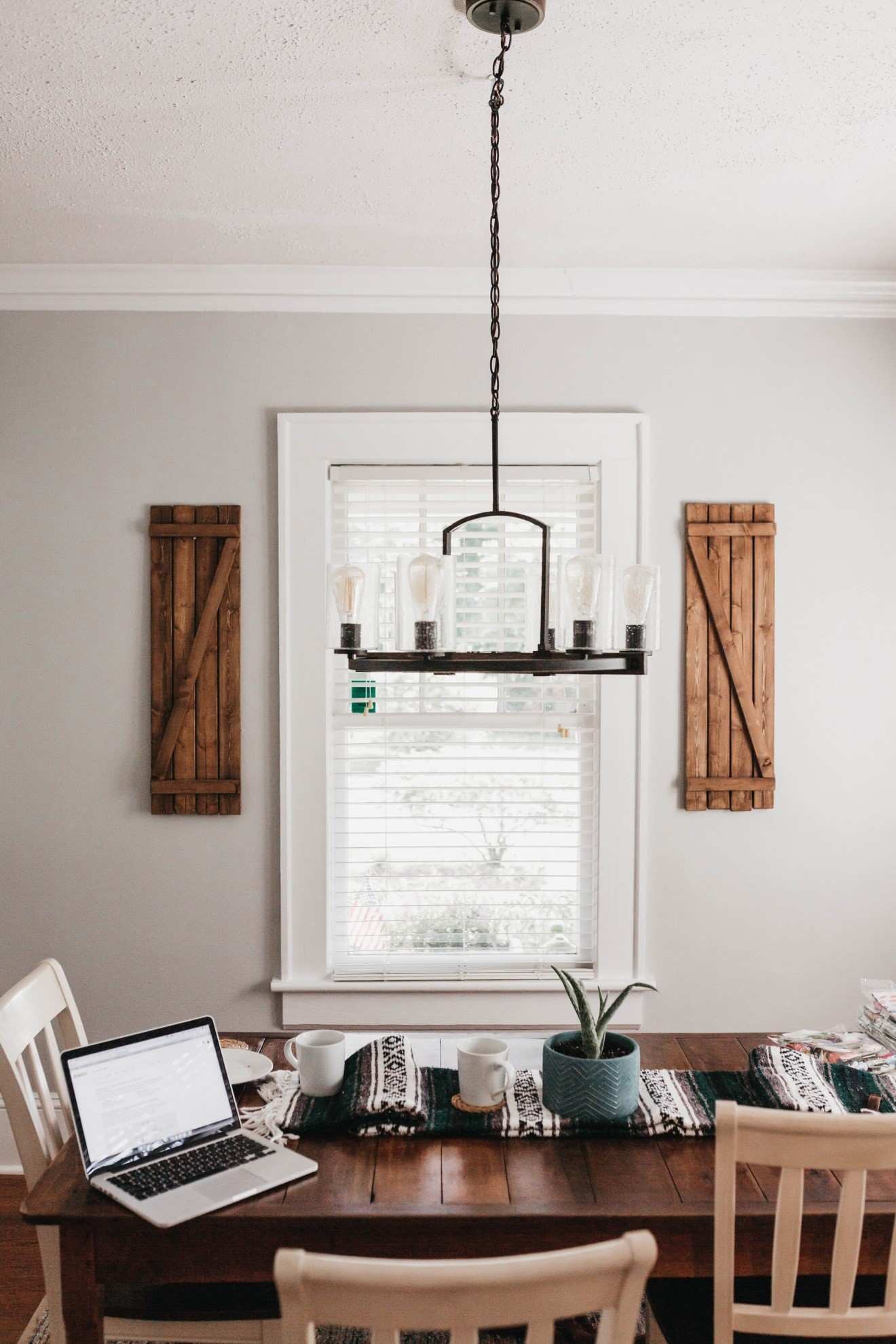 If bold hues and patterns are not your things, two small barn-style hanging doors could be what you need to decorate your kitchen walls.
Their brown distressed look is a welcome surprise that complements the large rustic light without overshadowing it. This kitchen wall art is also ideal for a minimalist home.
11. Install Small Shelving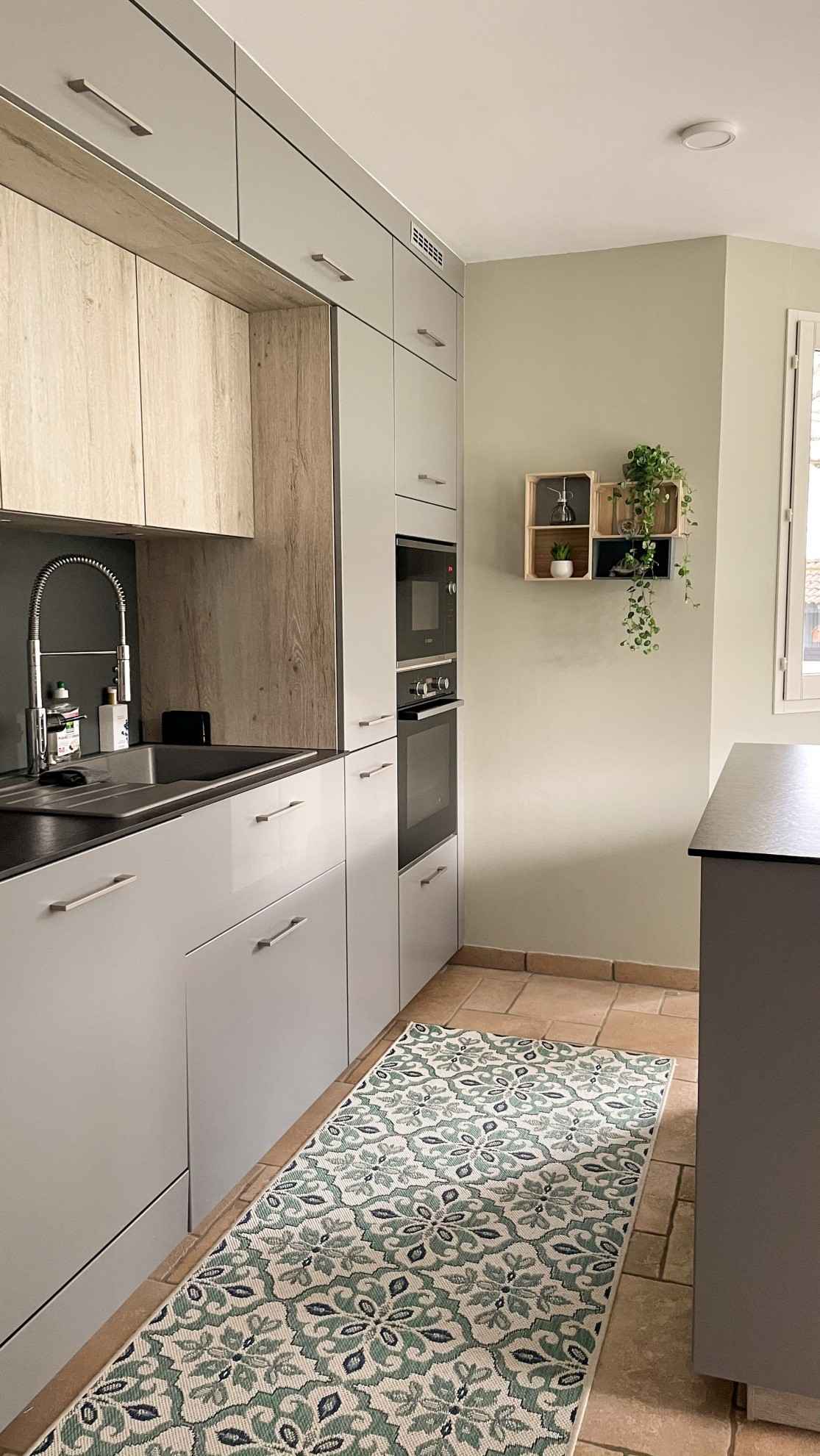 A small apartment may not have a lot of blank walls to style. But, if you have that small space, you can use it to create balance in your open kitchen. Installing small shelves allows you to place a few houseplants or a few souvenirs. To make it more intriguing, you can build hexagonal shelves.
12. Embrace the Naughty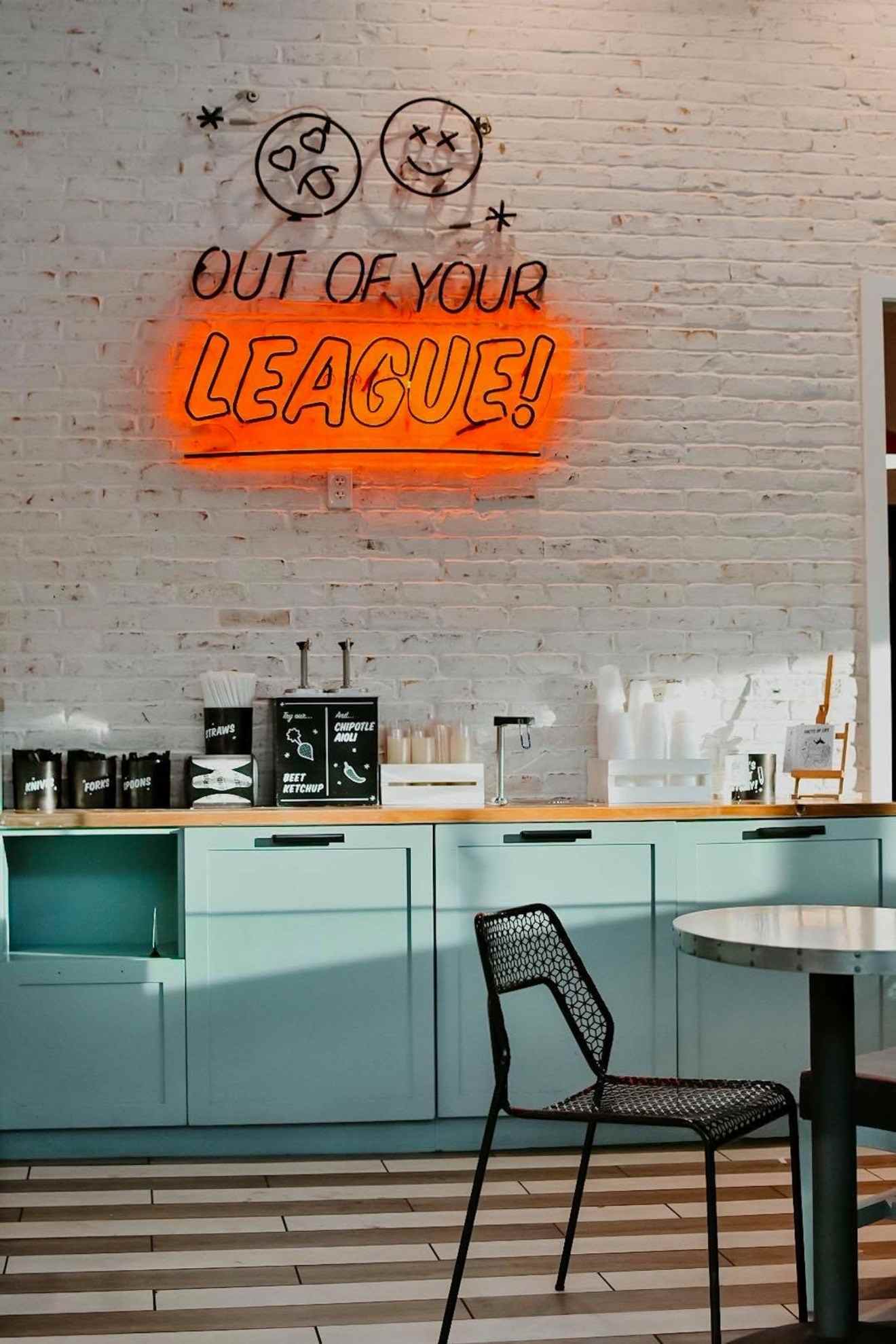 Laughter is medicine. And one of the best ways to start good conversations around the kitchen is having a great piece of wall art that will intrigue your guests. This homeowner has installed a cool funny sign that easily attracts her guests. Add a few black canisters to complete the look.
11. Hang a Statement Basket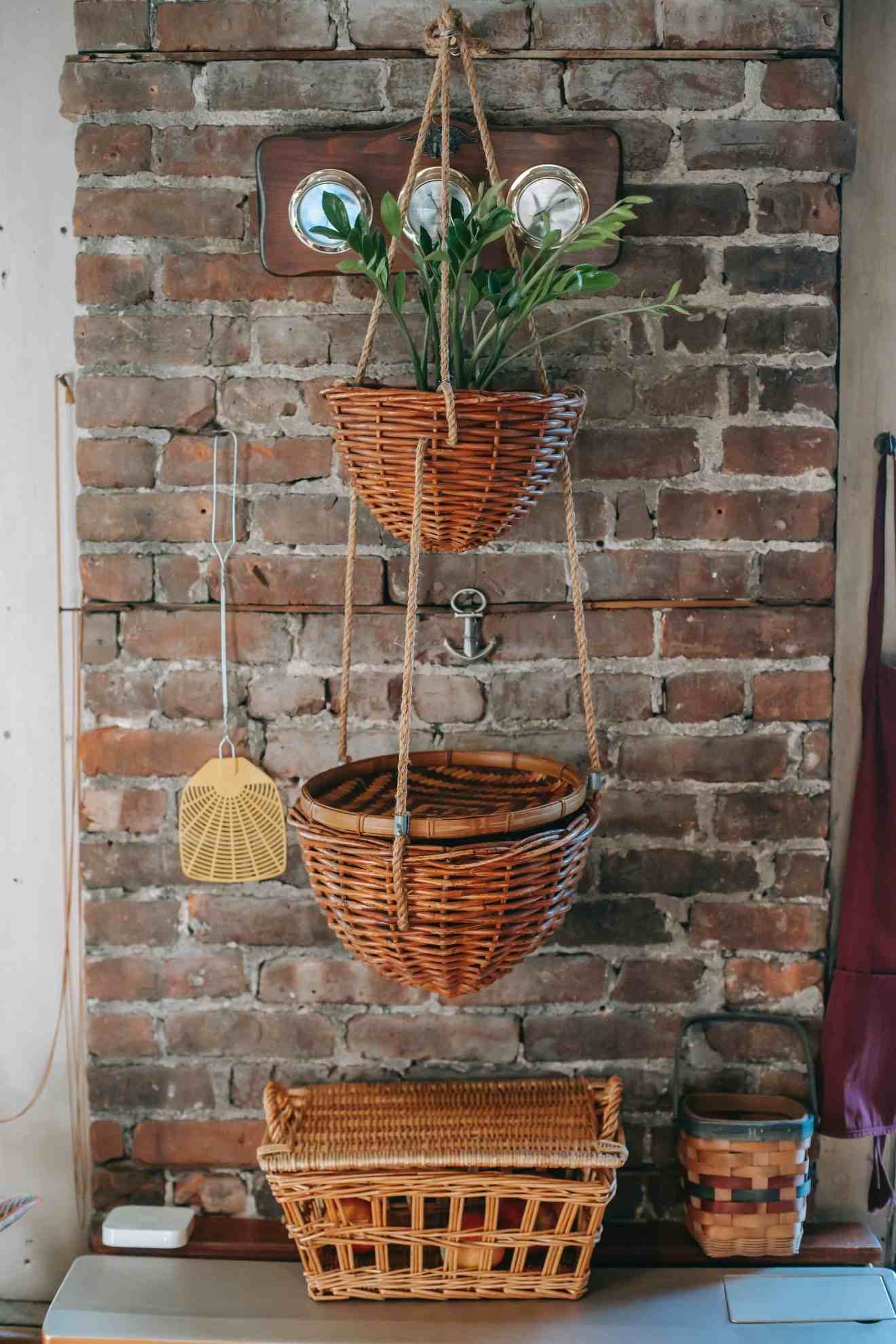 Want to style your bare brick walls? Add an eye-catching two-tier basket. Not only does it make the space more beautiful, but more functional. These wall baskets are large enough to hold fruits for a week. A small antique anchor in the background adds charm to this setup without looking too showy.
13. Make it Cheerful
You don't have to hang the kitchen wall décor for it to be impactful. Instead, you can have it built-in when remodeling your kitchen. Like this interior designer, consider installing multi-colored tiles for the kitchen backsplash. A large white kitchen island adds sophistication to this cooking space.
14. Mix and Match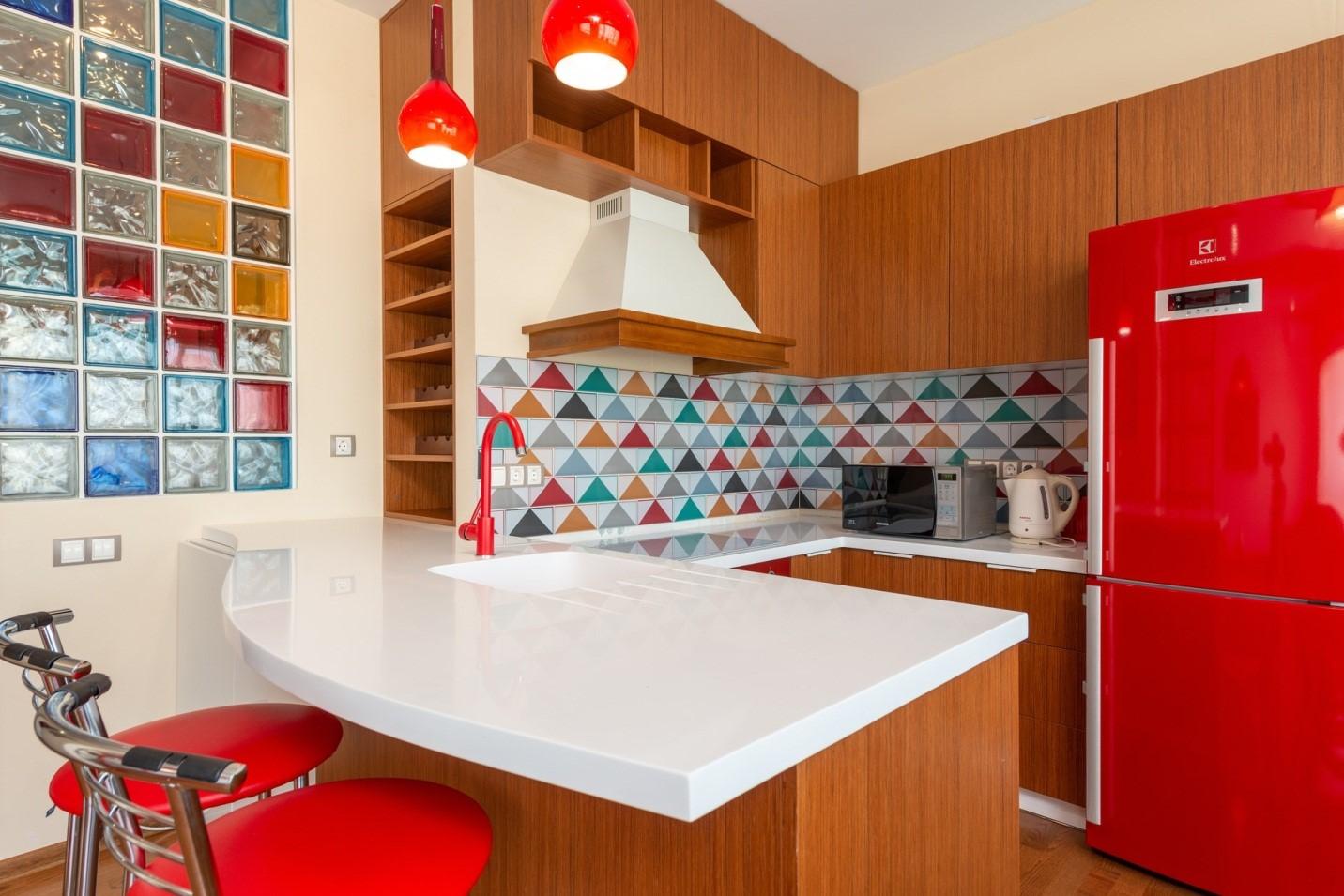 Looking to decorate your glass door cabinets? A mix of colored vases could be what your space is craving. As you play with the hues, consider wall vases of different shapes to make a statement. Turn your cabinets into an instant work of art on a budget.
15. Hang up a Few Mirrors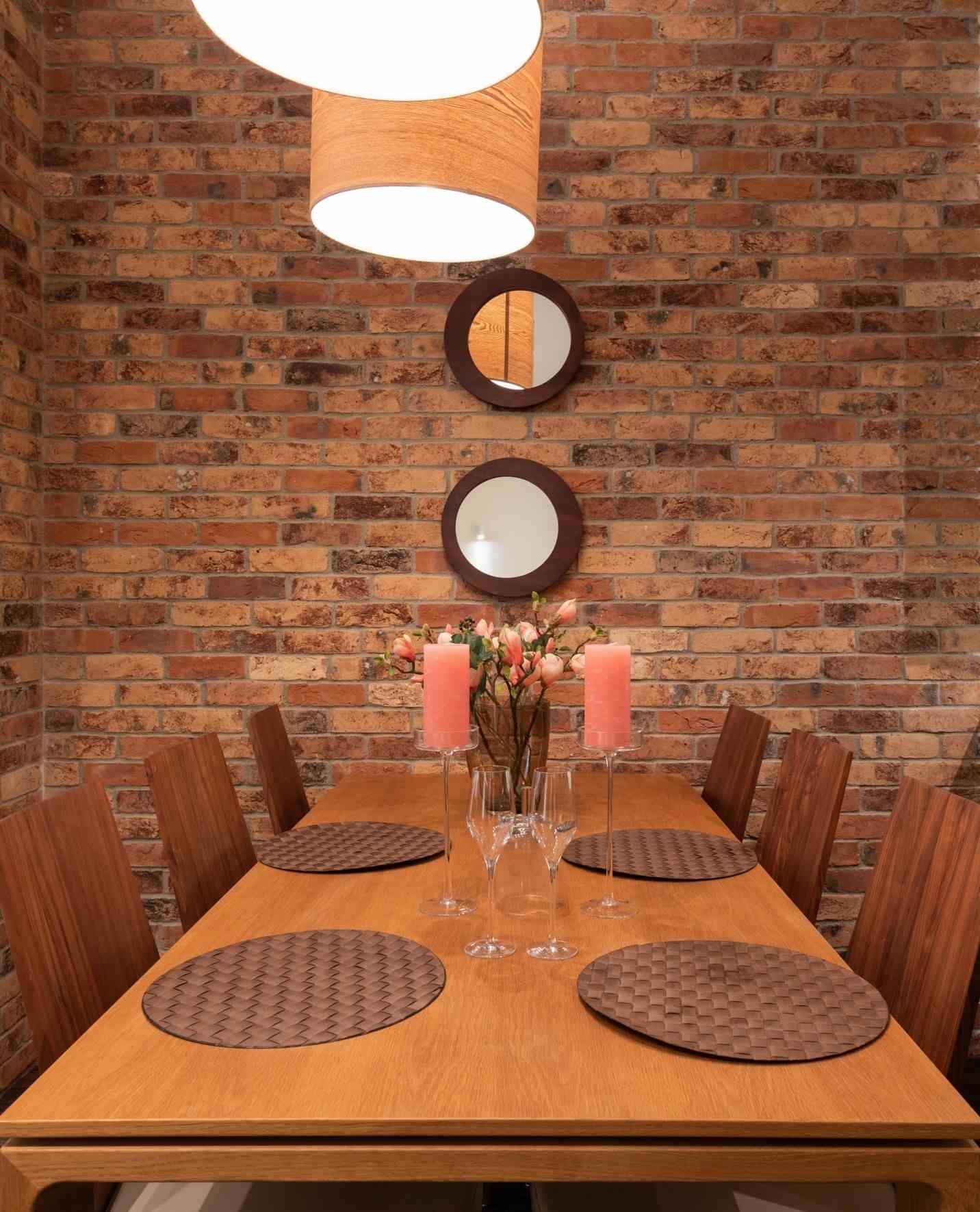 Mirrors are the perfect way to create the illusion of a larger space. If you have a small kitchen, consider hanging a few round mirrors on your wall. Also, a good set of wall mirrors will increase your kitchen's appeal and maximize its lighting.
16. Leaning Kitchen Wall Décor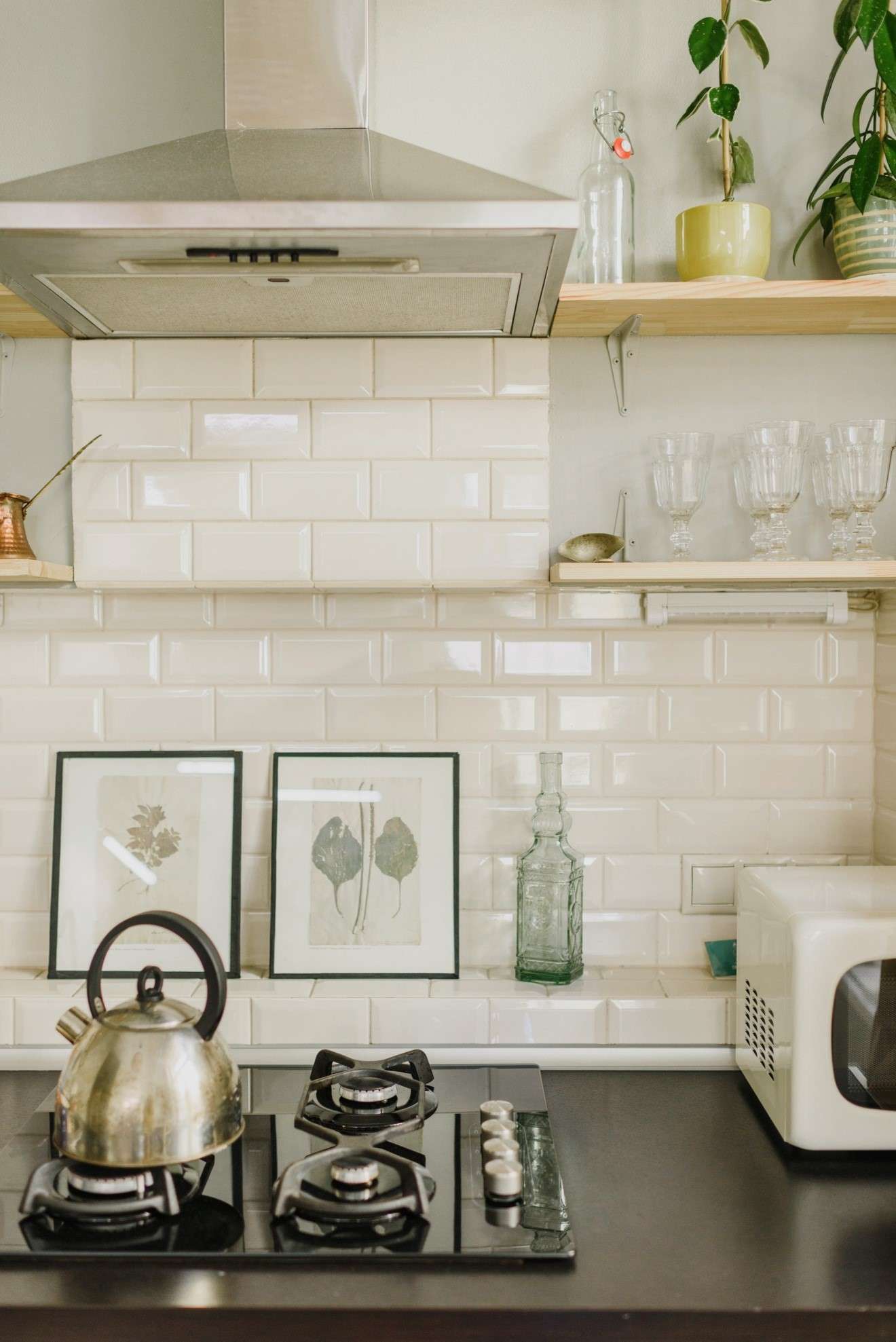 If you don't love hanging or installing kitchen wall décor accessories, consider getting leaning framed images. The designer opted for simple neutral-colored pictures, nothing crazy. But, if you want to add a pop of color, go for bolder hues.