Landscaping is a labor of love that transforms your outdoor space into a lush, inviting haven.
Proper drainage is essential to keep your landscaping dreams from becoming a soggy nightmare, whether you're planning a picturesque garden, a tranquil pond, or a charming patio.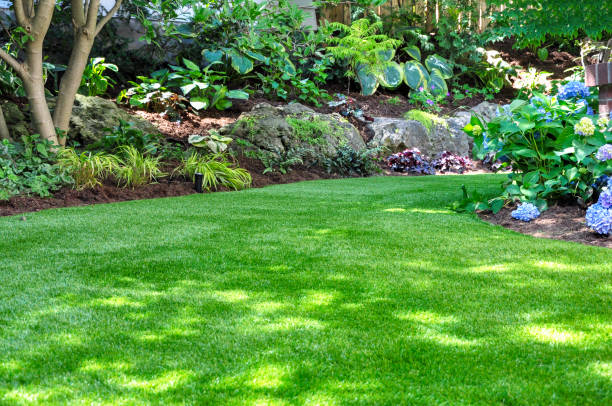 But when achieving the perfect drainage system, is the do-it-yourself approach truly cost-effective, or should you trust the experts? This article will uncover the true costs of DIY landscaping drainage versus enlisting professional services.
The Initial Appeal Of DIY Landscaping Drainage
Choosing the DIY route for your landscaping drainage can be appealing at first for several reasons. One key draw is the potential to save money on labor costs since you won't need to hire professionals for tasks like planning, digging, and installation.
If you enjoy taking on DIY projects, landscaping can become your creative playground. When it comes to drainage, you get to call the shots, deciding everything from how it's laid out to the materials you use.
Moreover, DIY projects are fantastic learning opportunities. You'll gain hands-on experience and pick up valuable skills that can be useful for future projects or other aspects of life.
However, it's not always rainbows and butterflies when DIY landscaping. Sometimes, it truly does pay to call the professionals: Naperville drainage specialists.
Before discussing the benefits of hiring experts, we will touch on the hidden costs that DIY lovers can sometimes overlook.
The Hidden Costs of DIY Landscaping Drainage
While the prospect of saving on labor costs can be enticing, the DIY approach to landscaping drainage comes with its own set of hidden expenses. From materials and tools to the value of your time, here are some truths about what DIY truly entails.
1.   Materials and Tools
While DIY may save on labor costs, it often requires a significant investment in materials and specialized tools. Drainage systems demand pipes, gravel, geotextiles, and more. You may also need heavy equipment for excavation, adding to your expenses.
2.   Time and Effort
DIY landscaping drainage is time-consuming. Excavating, installing pipes, and ensuring proper grading can take weeks or even months. Your free time and energy become dedicated to the project, which may disrupt your daily routine.
3.   Risk of Errors
Lack of experience can lead to mistakes. Poorly designed or installed drainage systems can result in water pooling, erosion, or damage to your landscaping investments. Fixing these issues can be more expensive in the long run.
The Benefits of Hiring Experts
Let's face it: when it comes to landscaping, there's no substitute for experience and expertise. Here, we'll look closer at the advantages of entrusting your project to professional drainage experts.
---
Read Also :
---
1.   Expertise and Experience
Professional landscaping drainage experts bring years of experience to the table. They understand soil types, grading, and water flow dynamics, ensuring your drainage system functions flawlessly.
2.   Efficiency
Professionals work efficiently and complete projects in a fraction of the time it might take a DIYer. It means less disruption to your daily life and quicker enjoyment of your landscaped paradise.
3.   Warranty and Guarantee
Many professional services offer warranties or guarantees on their work. If issues arise, they will return to rectify the problem at no extra cost, providing peace of mind.
DIY Vs. Professional Drainage Costs
The battle between DIY and professional landscaping drainage often boils down to the bottom line. Below, you can compare these figures to the costs associated with professional services to gain clarity on which option aligns with your budget and goals.o
1. DIY Costs
To calculate the true cost of DIY landscaping drainage, add up the expenses for materials, tools, equipment rental, and any unexpected costs due to errors or setbacks. Also, consider the value of your time spent on the project.
2. Professional Costs
Professional landscaping drainage services come with a price tag that typically covers labor, materials, and any warranties.
In contrast, initially, it might seem higher, but factor in the savings in time, effort, and potential long-term costs of DIY mistakes.
The Long-Term Perspective
When it comes to landscaping drainage, durability is a critical factor. Below, you can discover how the quality of your project, the expertise behind it, and the materials used can impact the system's longevity.
DIY Drainage Longevity
The durability of a DIY drainage system depends on your expertise and the quality of materials used. A poorly executed DIY project may require frequent repairs or a complete overhaul.
Professional Drainage Longevity
Professionally installed drainage systems are designed to last for decades. Experts ensure the system's proper functioning, reducing the likelihood of costly issues down the road.
The Final Verdict: DIY or Professional Landscaping Drainage?
As you approach the crossroads of DIY and professional landscaping drainage, it's time to decide. Consider your budget, timeline, and long-term goals as you prepare for your landscaping journey.
Whether you roll up your sleeves or enlist the expertise of professionals, your outdoor paradise awaits.
DIY
Cost-effective with experience: DIY drainage can be cost-effective if you have the necessary skills and experience.
Customization: Ideal for those who want complete control over their project's design.
Learning opportunity: Offers hands-on learning and skill development.
Professional
Expertise and efficiency: Professionals bring expertise and efficiency to the project, completing it quickly and accurately.
Warranty and guarantee: Many professional services offer them for the peace of mind of the client.
Long-term durability: Professionally installed drainage systems are built to last, reducing the likelihood of future problems.
Making Your Final Decision the Right One!
Regarding landscaping drainage, the choice between DIY and professional services depends on your specific circumstances. DIY can be a rewarding option if you have experience, the necessary tools, and are prepared for the time commitment.
However, investing in professional landscaping drainage services may be the wiser choice for complex projects, lack of experience, or a desire for guaranteed results.
Consider your budget, timeline, and long-term goals before making your decision.